3 Easy to Make Handmade Birthday Cards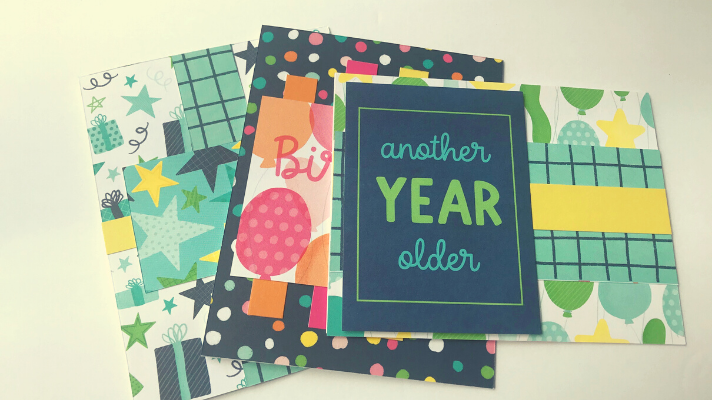 Note: As an Amazon Associate, I earn from qualifying purchases. If you click on a link from Amazon or another of my advertising affliates, I will earn a small commission at no additional cost to you. Please see my full disclosure policy here.
Do you see beautiful cards and think I would love to make them, but get overwhelmed at the idea? Well don't be overwhelmed anymore. Creating beautiful handmade cards is really quite simple because it's basic shapes glued together to create a design. Sounds pretty simple when you say it like that right? Here are 3 easy to make handmade birthday cards that you can make in under 30 minutes with scrapbook paper, glue and a paper trimmer.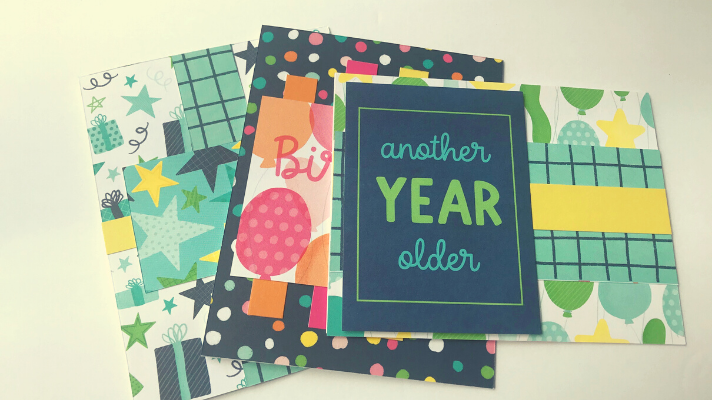 I sat down to make these cards with some paper scraps that I had leftover from my birthday scrapbook pages with the  Close To My Heart Party Time Paper.  I honestly sat down with no sketch ideas at all, but they just came to me as I looked at the pieces of paper. After awhile it will come easily to you too. Every year I feel like birthdays sneak up on me and then I feel so rushed to get the cards in the mail. Does that happen to you? Even though I have all birthdays on the calendar and know when they are, it still happens. I hate to admit it, but my husbands is the worse one. It's a couple days after Halloween (I know it's coming), but I'm never prepared for it. 
A couple years ago, I made all my birthday cards for the year and it was perfect. This year I'm trying to get back to that and I almost have all my cards made for the year. 
Supplies for Easy and Cute Handmade Birthday Cards
Party Time Picture My Life Cards
Paper + Sticker Sheet Party Time
Party Time Coordinating Card Stock
White Cards and Envelopes
Adhesive Runner
3D Foam Dots (optional)
3 Easy To Make Handmade Birthday Cards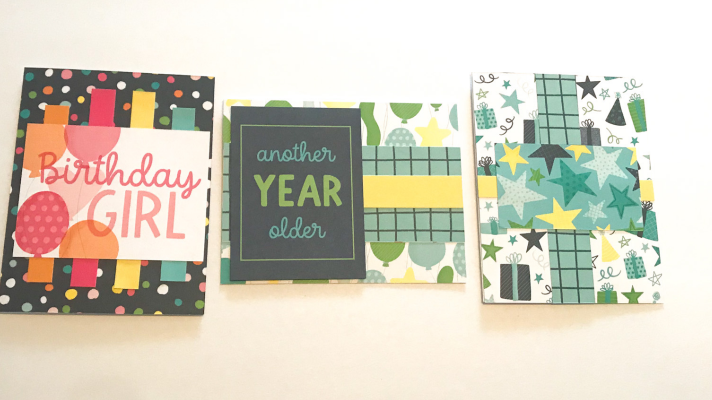 My top 3 tips for making super cute birthday cards are: use paper from the same collection, use pre-made cards and a paper trimmer. I highly recommend paper from the same collection because then everything matches and has the same color tones. Pre-made cards make it super easy to decorate them, just fold and go. A paper trimmer makes it easy to measure and cut the paper straight.
Cute Birthday Wishes Card Sketch #1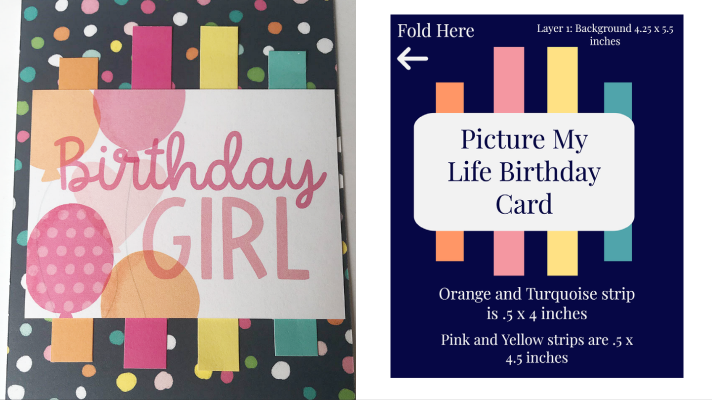 I made this card for my niece because she loves colors and it's perfect for a young girl. This card sketch is timeless to me and can be for anyone of any age (just change the picture my life card). You can also fishtail the edges of the rectangles for a different look. Can you believe this card only took about 5 minutes to make? Use this sketch to make your own today.
Happy Birthday Card Sketch #2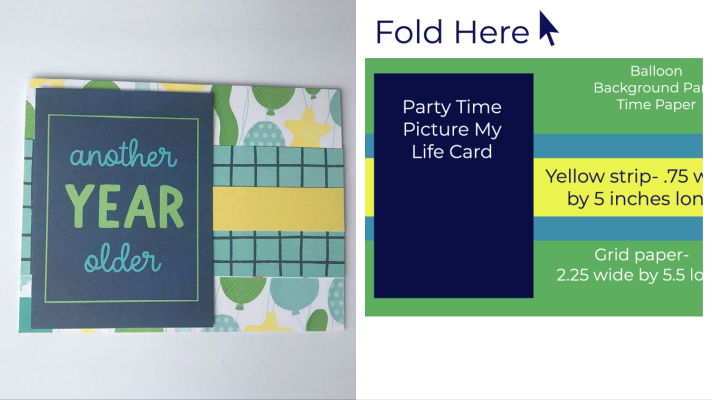 This card is featuring the party time paper with the yellows, blues and greens. The balloons are so playful, but the grid paper gives it a mature feel. Again it's all basic rectangles put together to make a special happy birthday homemade card design. 
#3 Handmade Birthday Card Design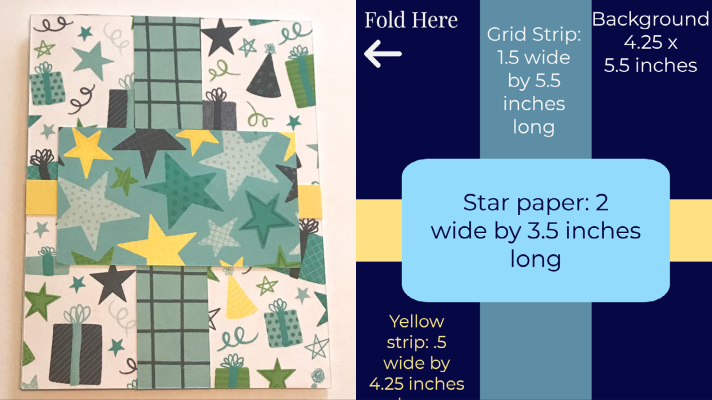 Everyone loves presents on their birthday so why not make a birthday wishes card that looks like a present. Again the party time paper is timeless and works for all ages. The color tones are my favorite thing about this paper. To add the birthday wishes onto this card I'll be adding a white rectangle in the center to put a message on. 
Adding a Message to Handmade Birthday Cards
Now you might be like- I have no idea what to do, but don't worry I have lots of suggestions for you. The picture my life cards make this super easy and simple by adding the message for us. 
My ultimate goal is to be able to hand letter my cards and that's a goal I'm working on with the penmanship how to book. I really find the hand lettering practice soothing and enjoy doing it. I've always loved penmanship and this is bringing me back to that love.
Ideas for Message on Birthday Cards:
Cricut 
Stamping
Die Cuts
Hand Lettering
Stickers 
All of these ideas will work out great on the cards. I recommend adding a white rectangle and putting your sentiment on that, but color is fun too. 
I hope you have seen that making handmade birthday cards is easy, fun and it can also save you money. Creating personal beautiful cards for those you love will bring you a sense of joy and happiness that will warm your heart.