4 Cricut Christmas Scrapbook Pages- You Must See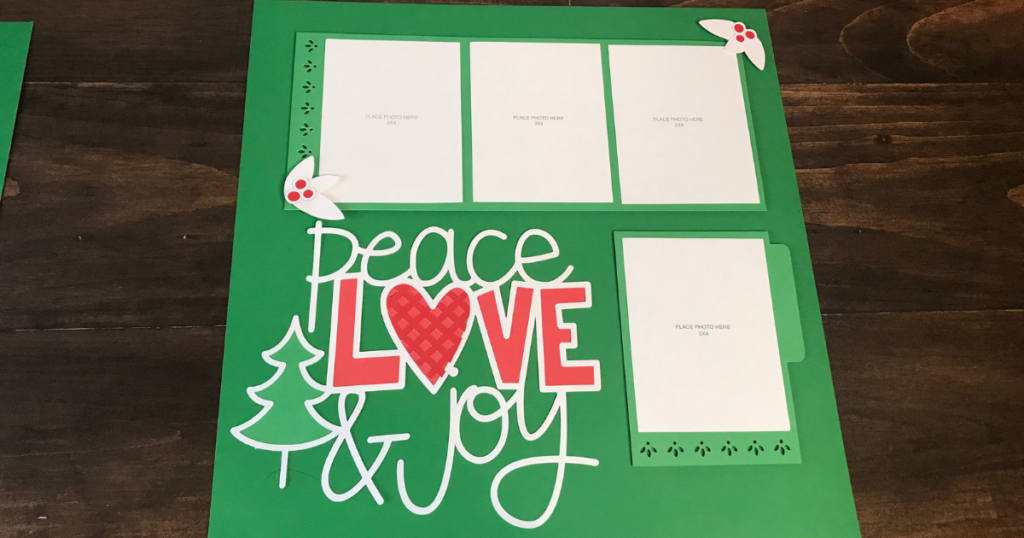 As a Close To My Heart Maker, I'm an independent consultant and may earn a commission when you buy products through my links and my shop (at no cost to you). All thougths and opinions of the products are my own.
Christmas time is coming near and I like to have a few scrapbook pages already made for the holiday. I did this with Halloween too and it worked out perfectly. It was so nice to have pages already designed, cut and glued that I just popped pictures on to. I'm a traditionalist with green, red and I love buffalo check so general themed Cricut Christmas scrapbook pages will work great with my photos, but like all things with Cricut use the colors that speak to your holiday.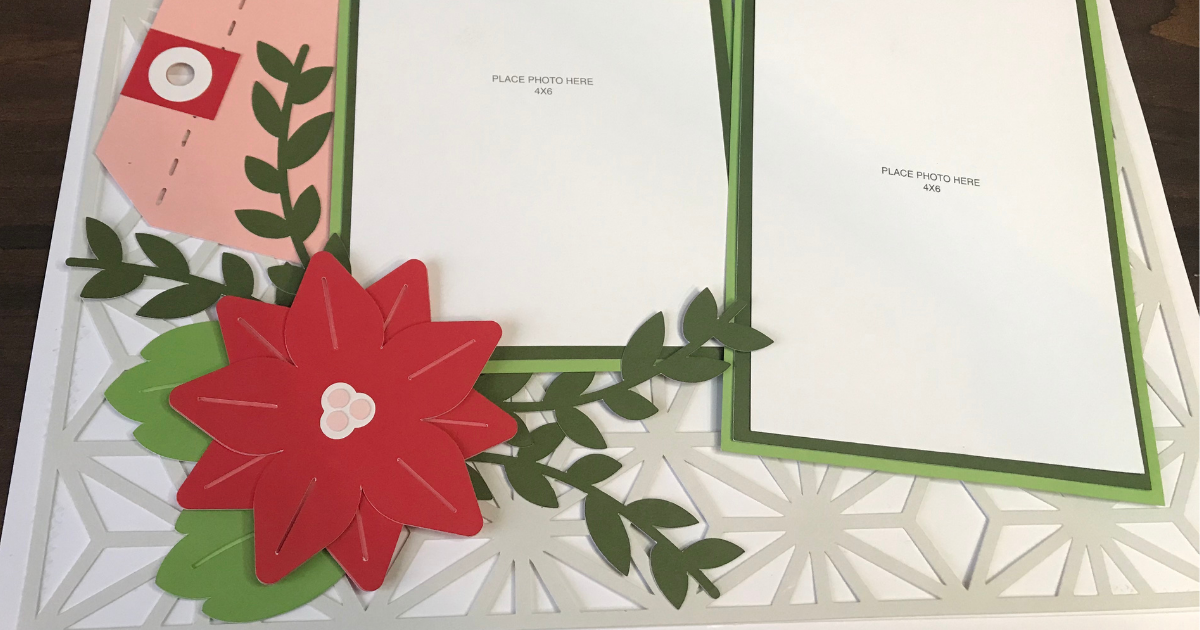 I'll be sharing all the Cricut Christmas Ideas with the Complete Creativity set and some tips and tricks I learned along the way creating these. Here are the Halloween Scrapbook Pages from the Complete Creativity Set. 
CTMH Complete Creativity Image Set
I'm showing you today 4 pre-made templates that you can use in Cricut Design Space. The CTMH and Cricut Complete Creativity set is totally worth the price ($29.95), plus if you are a Cricut Access member you get a percentage off. Not only do you get all the scrapbook and card designs for the holidays and seasons throughout the year, but you can use these images to make other items. Like gift tags, cards, signs, and more scrapbook pages. 
I'm totally obsessed with these evergreen trees and can't wait to make a Christmas card with them. These trees are so cool and easy to make.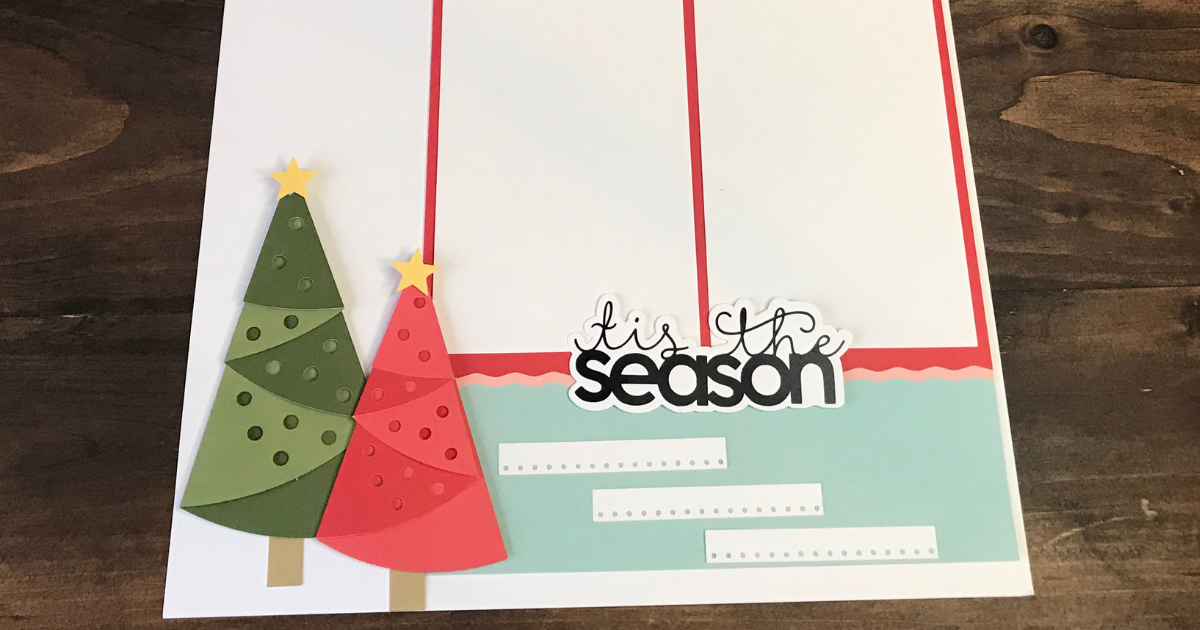 How about the peace, love and joy image? It's so cute and would look adorable on a present, a gift tag, a sign or on an ornament. Just think beyond the scrapbook designs because these Cricut Christmas scrapbook pages have so many parts that you can use for other projects. My mind was going the whole time thinking of other ways to use these images in Christmas projects or in general. How cute would this poinsettia gift tag be?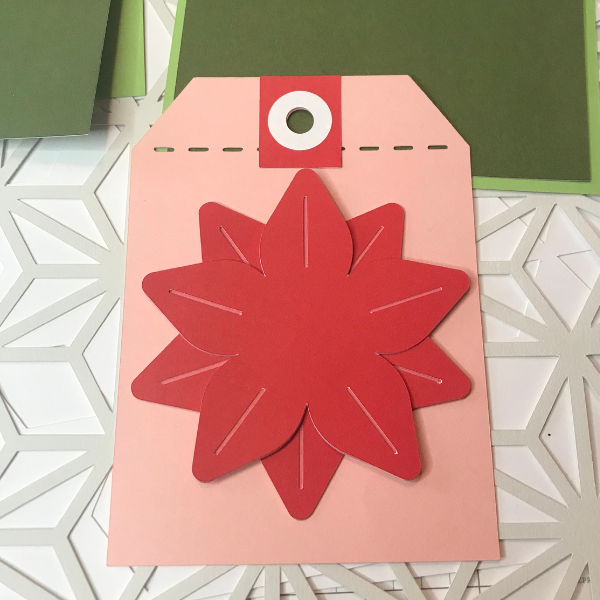 As for the Cricut Christmas Scrapbook Layouts, this set has two 8.5×11 pages that can easily be turned into 12×12 pages. Two single 12×12 pages and one double page 12×12 layout. Usually I'm all about quick, simple and effective scrapbook designs, but these Cricut pages are detailed. Be prepared to have two mats going so you can load one as your taking the design off another and put aside some time. The time spent on these pages though is totally worth it.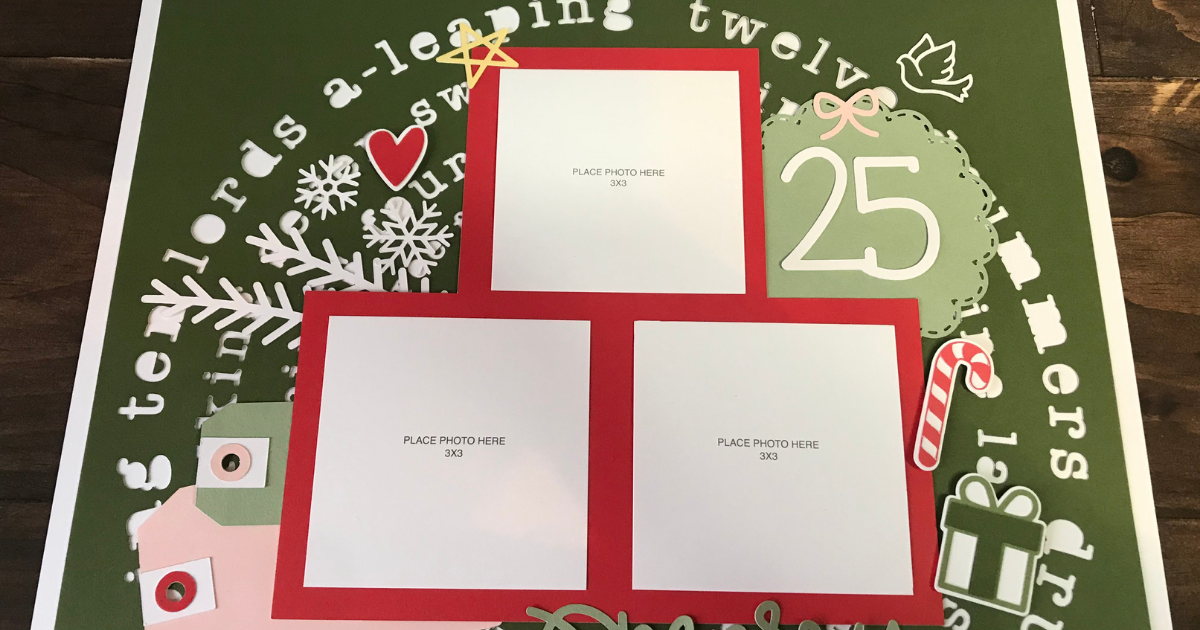 Supplies for Christmas Scrapbook Ideas
Cricut Machine
Light Blue Grip Mat or Green Mat
Variety of Card Stock
Piercing Tool
Digital Image Set Close To My Heart Complete Creativity
3-D Foam Tape
Adhesive Runner
Glue Dots
4 Cricut Christmas Scrapbook Pages

 
My main scrapbook is a 12×12 so to turn this page into a 12×12 page, I just cut them as is and add them to a 12×12 base. Then I move a few pieces around, but that's the cool thing about the Cricut and scrapbooking is you can do that. 
For all of these layouts I suggest you start glueing the pieces together that you can before creating the page. Also looking at the complete scrapbook page was a huge help when putting the page together. Every time I do a Cricut scrapbooking page, I always like to layout the design before glueing it down. It helps me visualize it and adjust as needed.
'Tis The Season
For the Tis the Season page, if you are putting it on a 12×12 white base, you can hide the 8.5×11 white rectangle and don't cut it because you won't need it. I think this page will be perfect for photos of picking out our Christmas tree. I used vinyl for the title because I love how it looks and it's self-self-adhesive. 
This scrapbook page holds two 4×6 photos.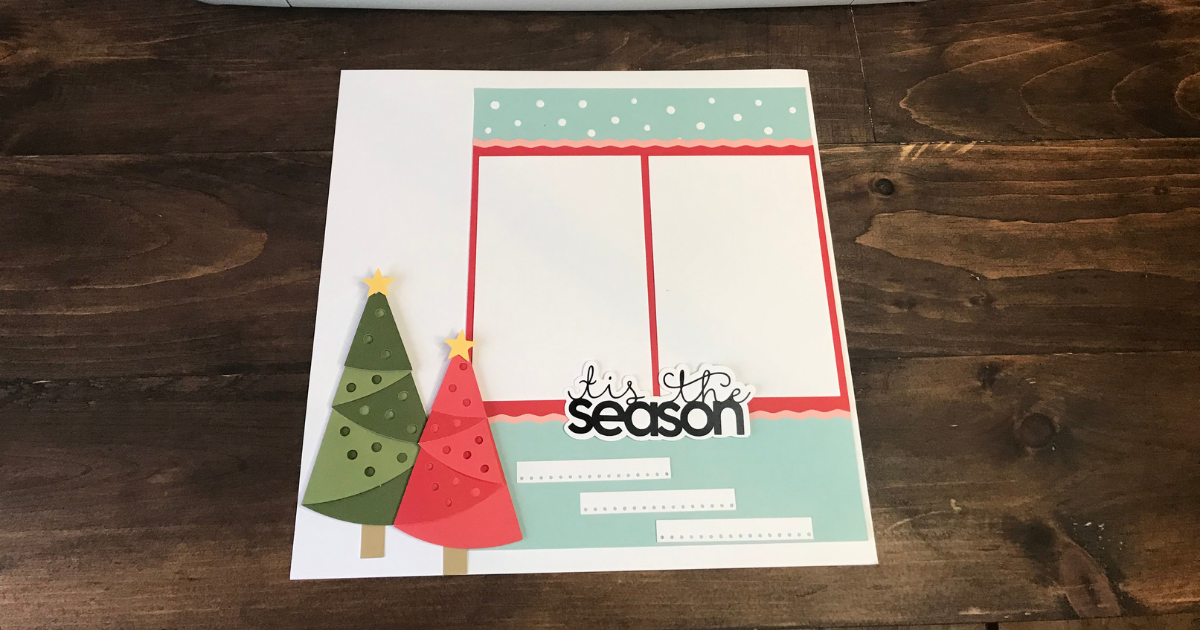 Merry Christmas

 
Since these pages are in Cricut Design Space, you can pick and choose what you want to add to your page. For this one, I didn't add in the small pieces for the letters (that was just too much for me) and I didn't do the small outline around the photo boxes. The page still looks amazing and really cool with the 12 days of Christmas in a circle design as the background. Put it on a white daisy card stock base and your page is complete.
The Merry Christmas Scrapbook layout holds three 3×3 photos.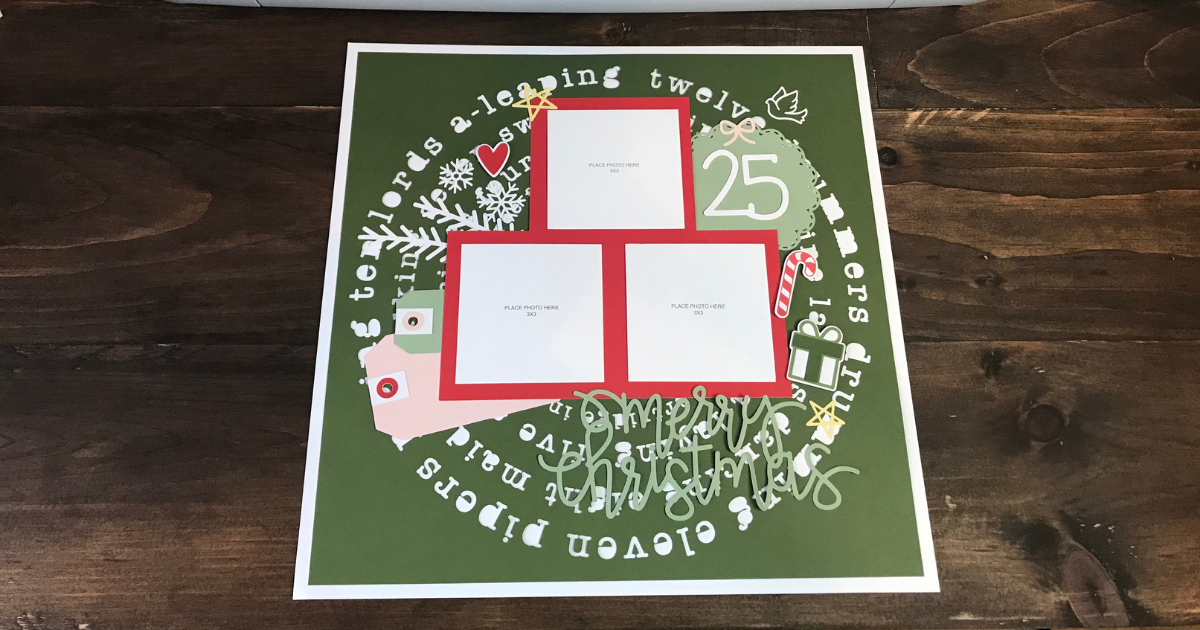 Merry and Bright
On this page, I used white vinyl for the letters Merry & Bright. I love using vinyl for lettering because they are self-adhesive. My favorite part of this page are the poinsettia and the gift tag. I love the gift tag design and can't wait to use it for Christmas gift tags. This page holds two 4×6 photos.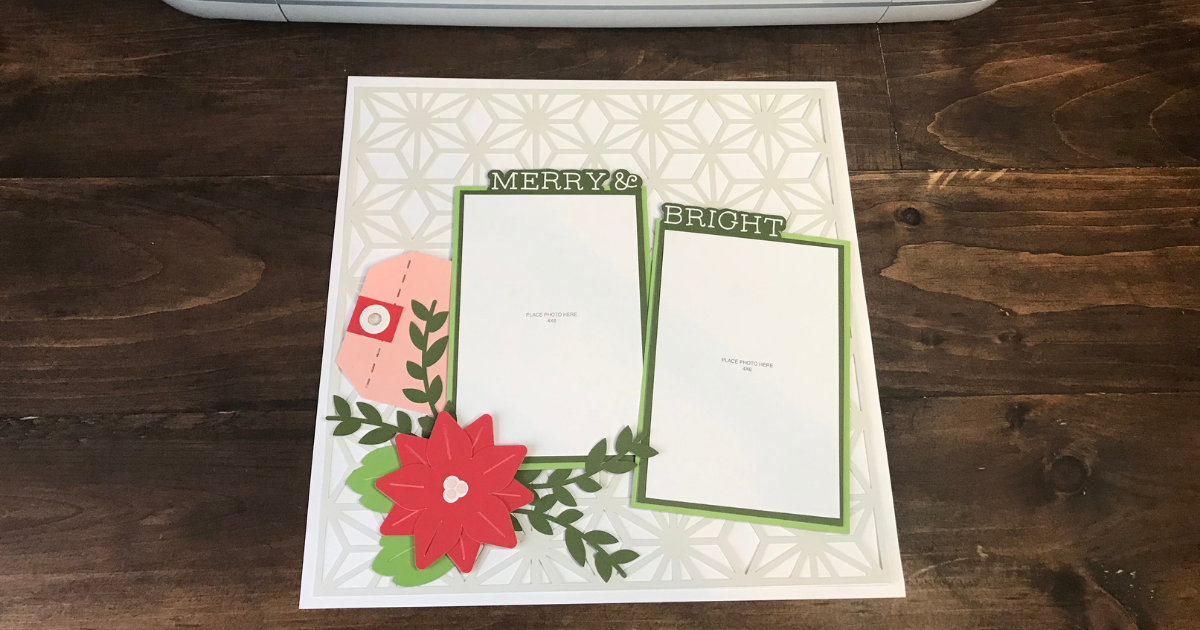 Peace, Love and Joy Double Page Layout

 
The wreath on this page was overwhelming. This one honestly took the longest with the wreath, glueing the holly berries and putting it together. My husband said the bow looks like a bra and he's totally right. I probably will not use that image anymore. The peace, love, and joy page holds one 4×6 and four 3×4 photos.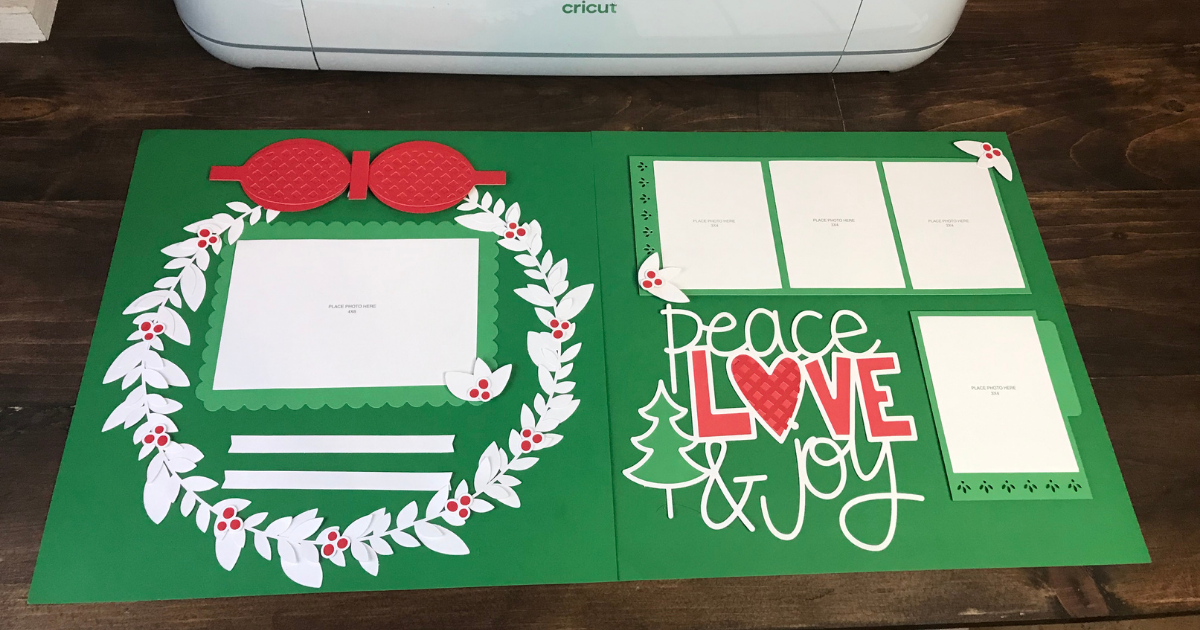 I hope that you have been inspired to create these pages too. These pages are detailed and have several cuts for each, but they are totally worth it. It took a lot of time and patience, but now I can't wait for Christmas to add photos to these. Plus I'm thinking of all the other things I can make with the Complete Creativity images because these gift tags and images are perfect for Christmas crafts.