Cricut Pool Scrapbook Idea to Make the Best Layout for Summer Memories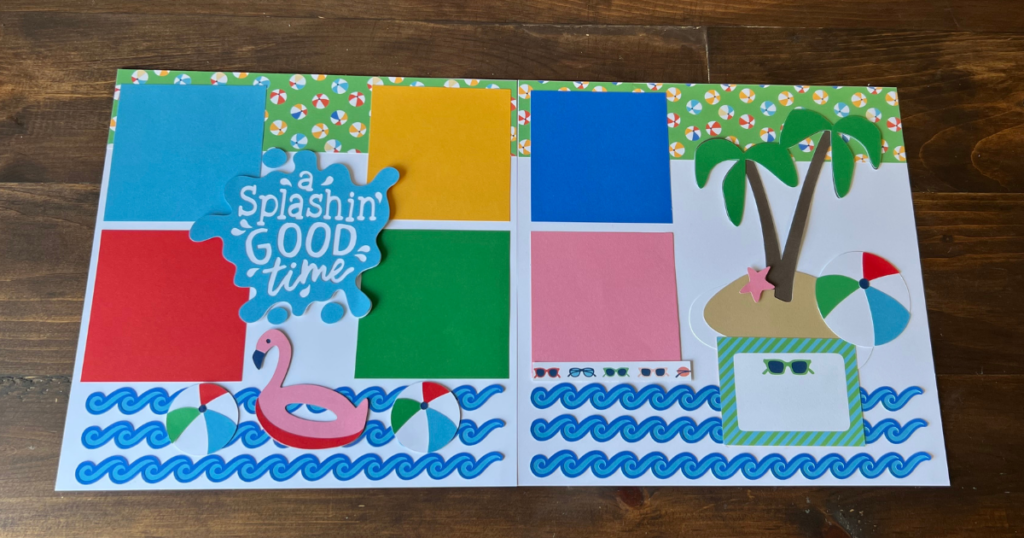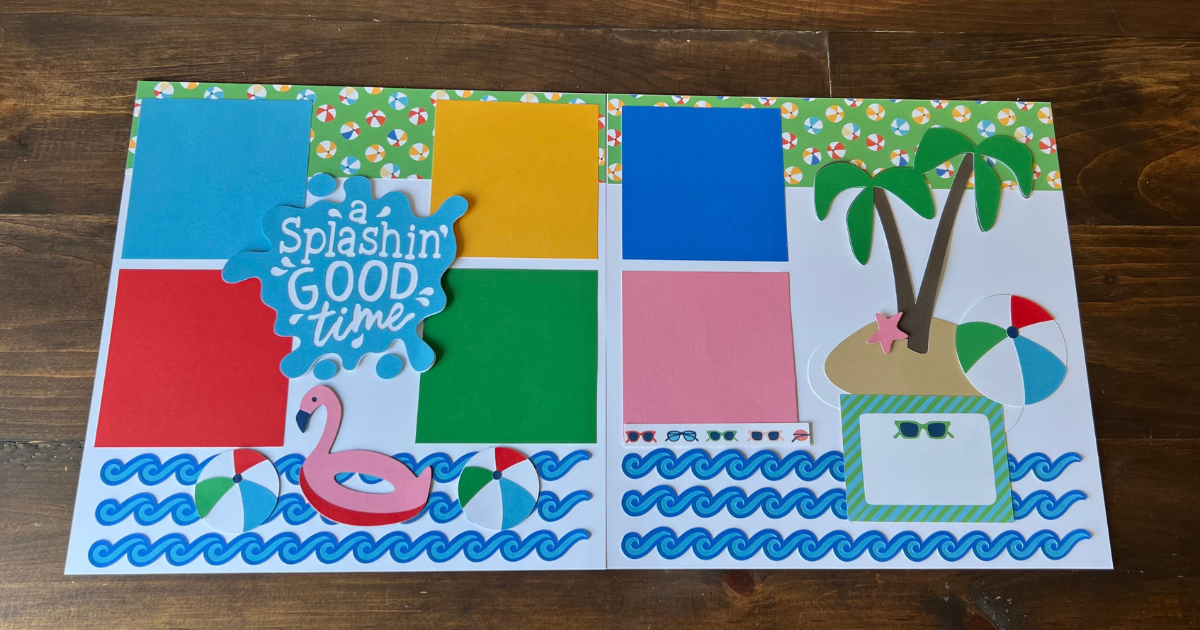 Note: As an Amazon Associate, I earn from qualifying purchases. If you click on a link from Amazon or another of my advertising affliates, I will earn a small commission at no additional cost to you. Please see my full disclosure policy here.
Splashing, playing, floating, screaming in the pool, that sums up most of my summer days watching the kids in the pool. You won't find me in the pool because it's not heated and that water is too cold for me. Since so many of our summer days are pool days, I had to make a pool scrapbook page decorated to all those fun memories. Here is a fun and colorful Cricut pool scrapbook idea with a whole bunch of summer vibes.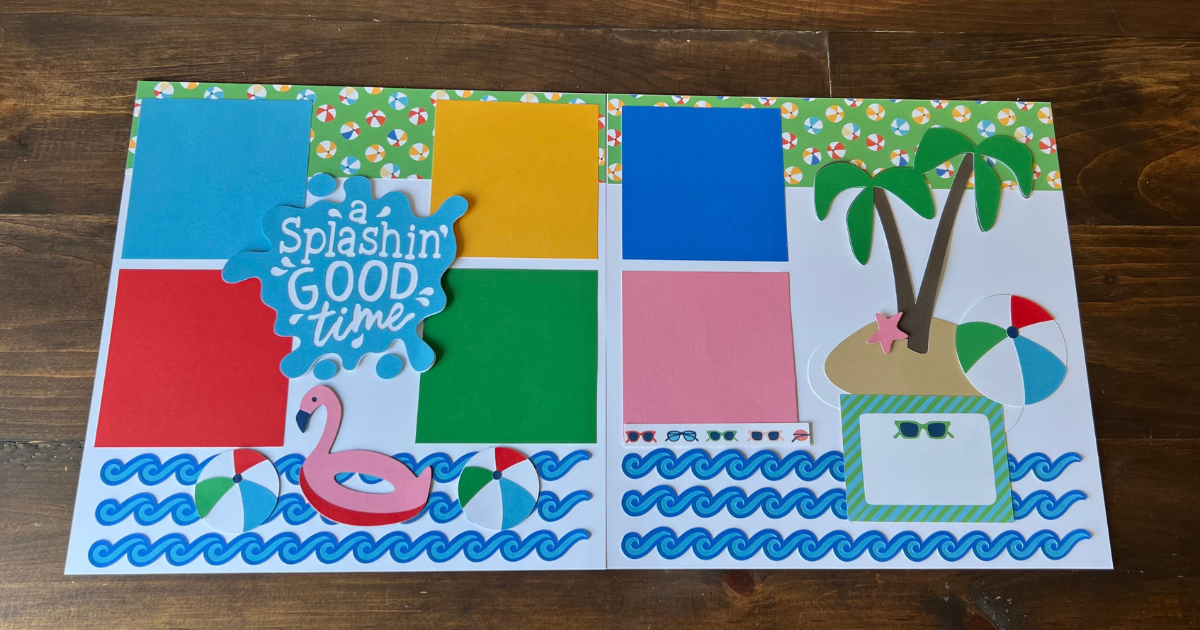 Cricut Scrapbooking Layouts
Creating scrapbook pages with your Cricut is really easy once you figure out how to do it. Follow this step by step how to create a scrapbook page with Cricut to learn how to design pages in Design Space. I'm a visual person so I like to design my page, cut the page and look at it (in paper form) for a bit to decide if it needs something more. Everyone has their own process right? 
Also for Cricut scrapbook pages, I like to cut any paper that is 12 inches long with my paper trimmer because on the Cricut you would need a 12×24 mat just to cut that little tiny strip. I also used the paper trimmer for the photo mats too because this was a last minute decision and it was faster and easier for me. 
Let's talk about these adorable images and titles on this pool scrapbook layout. All of these images are from the Beach Party Digital Art Collection from Close To My Heart. These images work in any cutting machine program that uses SVG. Plus these images are yours once you purchase the collection and you can do anything with them. That's what I love about having a Cricut because the creativity is endless.  
With the Beach Party Collection, I've already made 7 Fun and Exciting Summer Scrapbook Layouts and only had one piece of patterned paper left to put on this double page pool layout. Then the rest of the pool scrapbook is created with card stock. My absolute card stock for my Cricut is the Close To My Heart card stock. It cuts smoothly in the Cricut and I know longer have a bunch of ruined projects because of the paper tearing. The small intricate cuts are amazing with this card stock. 
Scrapbook Supplies Needed
Card Stock- 
Beach Party Patterned Paper 
3D Foam Dots
Adhesive
Paper Trimmer
Cricut Machine 
Cricut Pool Scrapbook Idea
The layout for this double page is very basic and holds six 4×4 photos. Each of the pages have the top strip of the patterned paper and the waves at the bottom. Don't the waves look so cool in the two shades of blue?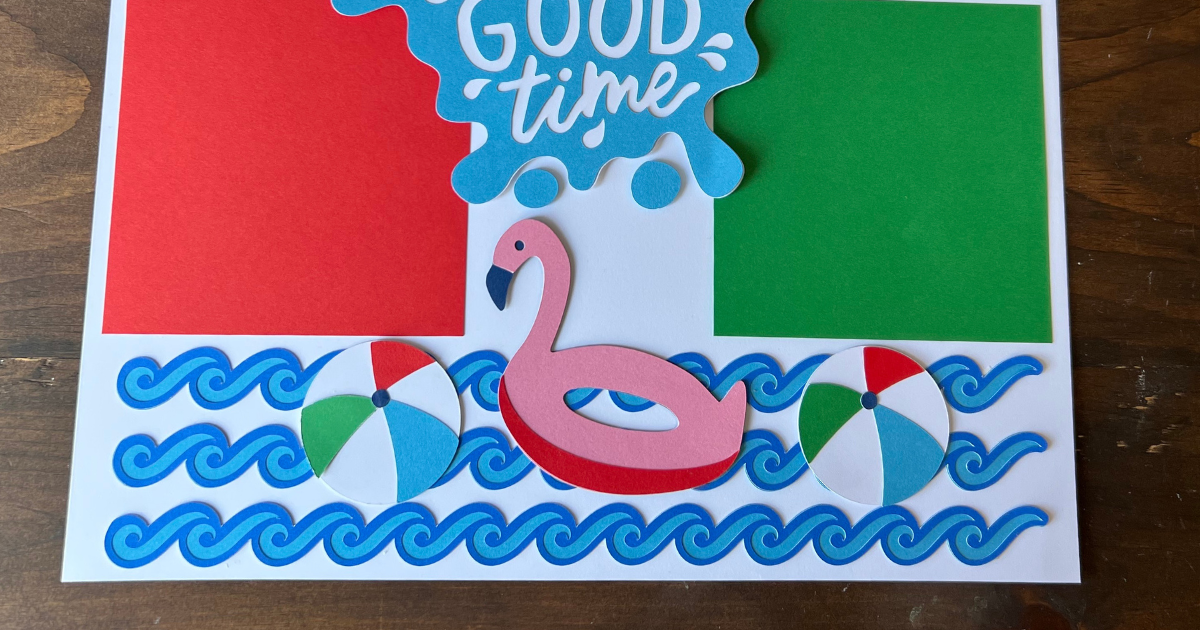 Then I added the tile that was perfect for any type of swimming or pool time. To have a fun time at the pool, you definitely need a float and some beach balls. 
The second page has the cute palm tree and beach ball to round out the pool vibes. I did add two elements from the Beach Party Paper Collection and Picture My Life Cards. The sunglasses zip strip is from the paper collection and I used it as decoration under the one photo and the sunglasses journal card is from the picture my life cards. So my advice is to use whatever you have to make a great scrapbook page!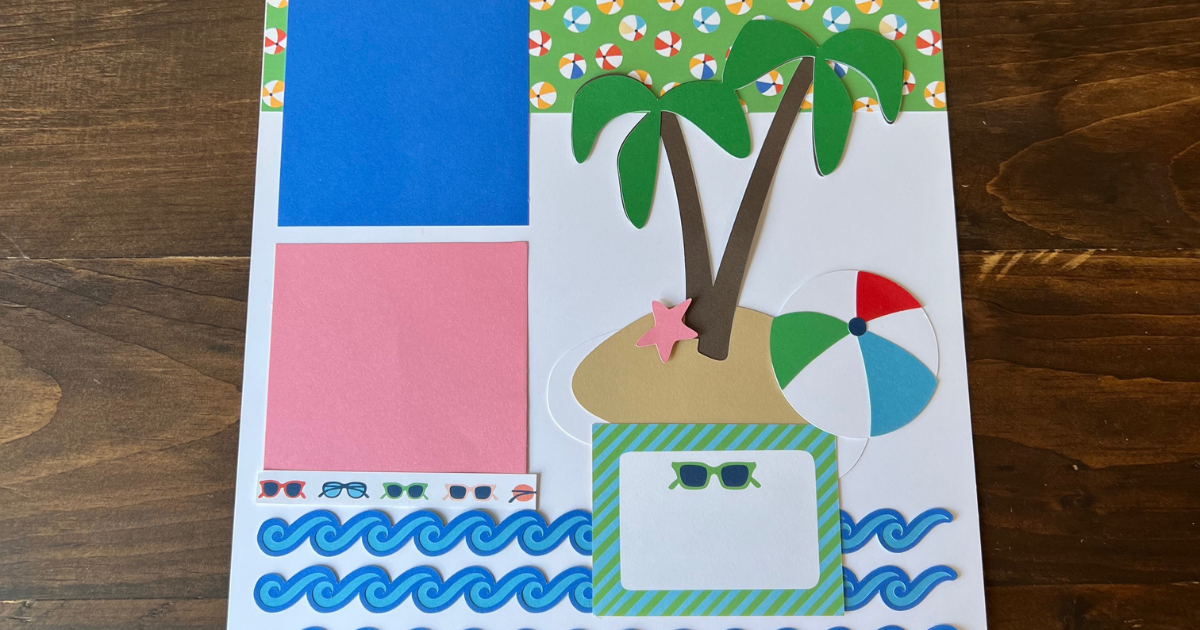 The pages look like summer fun to me and is so colorful and bright. It's perfect for a pool party, pool fun and all those summer memories made floating around. 
Pool Scrapbook Layout #1
 Pool Scrapbook Layout #2