7 Fun and Exciting Summer Scrapbook Layouts For You + a Bonus Page Idea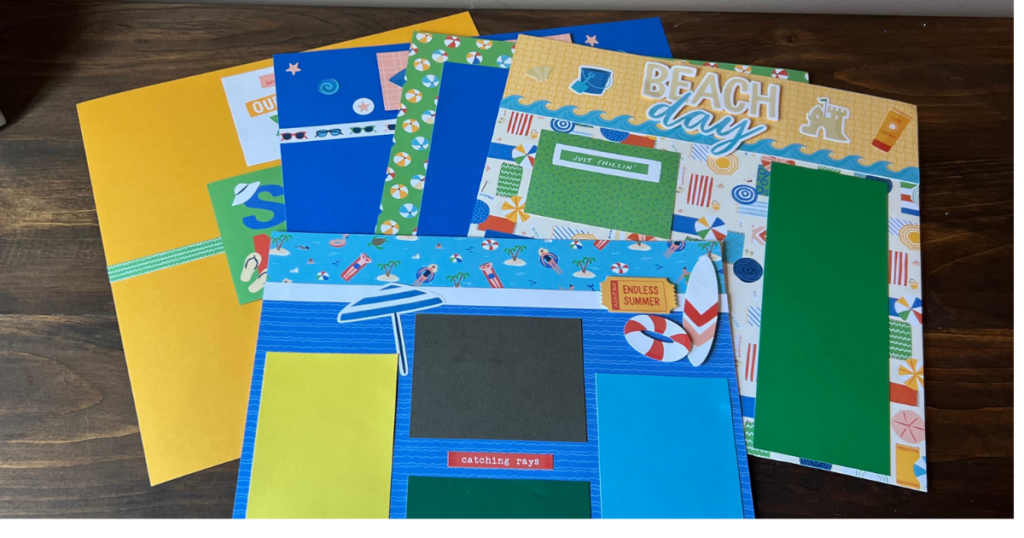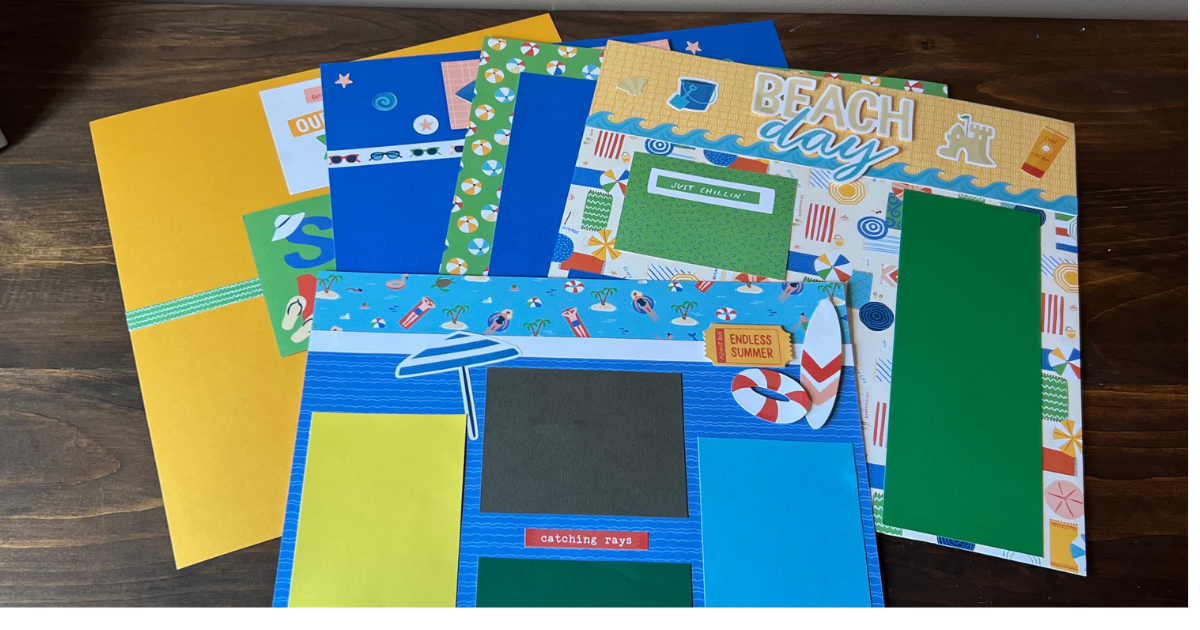 As a Close To My Heart Maker, I'm an independent consultant and may earn a commission when you buy products through my links and my shop (at no cost to you). All thougths and opinions of the products are my own.
Do you love summer? I love sunglasses and flip flops, but absolutely can't stand humidity. It's my summer nemesis. So far the summer weather has been beautiful. Lots of days of sunshine and fun. One of the new Close To My Heart Collections in the July/August/September catalog is Beach Party. Don't be fooled but the name, it's made for all summertime activities. Today I have a treat for you of all summer scrapbook layouts that can be created with one set of paper and sticker sheet.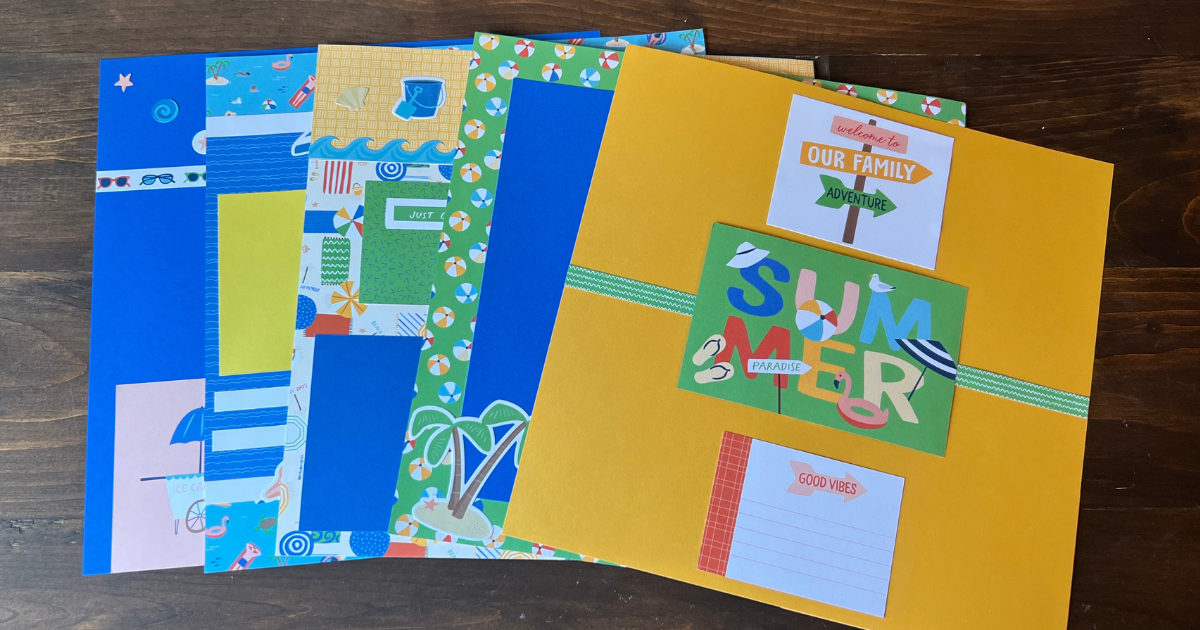 Life right now is really expensive with the cost of everything, but I want to show you how to make the most of your scrapbook supplies. All of these pages were created with one pack of beach day paper + sticker sheet, the beach day picture my life cards and scrap card stock.
I still wanted adorable summer fun pages and to stay within my budget. I also wanted to fit more than one photo on a page so I could maximize how many photos I could fit in for the summer fun.
These layouts can be made with a paper trimmer and glue (add 3D foam dots for fun). They all just take a few minutes to make and are super simple. I used mostly card stock scraps and a couple sheets of card stock from my stash. It's always good to have scrap card stock to use on pages.
Summer Scrapbook Layouts Materials
Beach Party Paper Pack + Sticker Sheet
Beach Party Picture My Life Cards
Paper Trimmer
Glue
3D Foam Tape
CTMH Beach Party 7 Summer Scrapbook Layouts + A Bonus
#1- Summer Fun Scrapbook Layout
Using a zip strip and 3 picture my life cards, this page took about 5 minutes to make. Remember that picture my life cards can be cut to fit your page or build your page around them.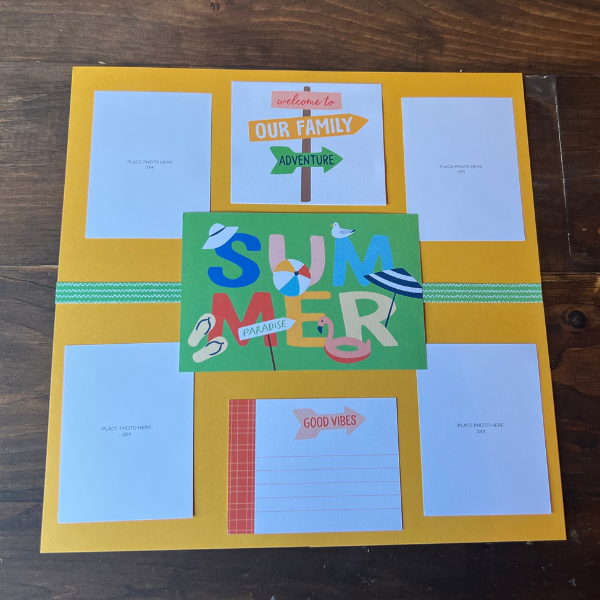 #2-You Rock
This is my favorite piece of patterned paper from the beach day collection, it likes like calming waves from the ocean or pool. It uses 2 zip strips a piece of the patterned beach towel page. Then a journaling card and lots of cute stickers.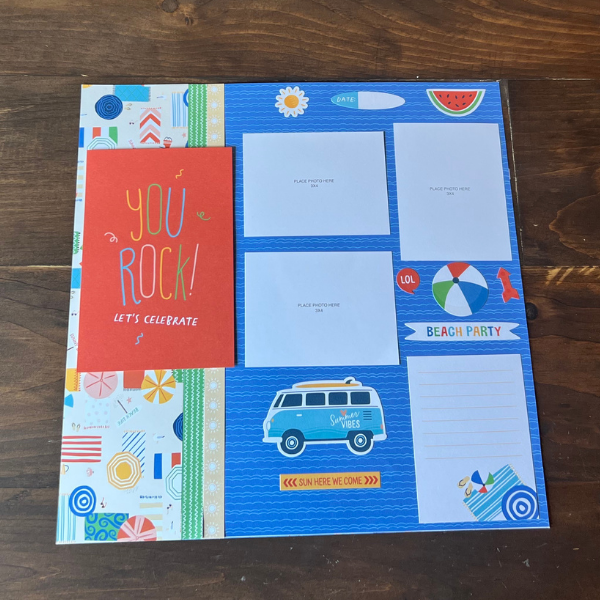 #3- Beach Day Scrapbook Layout
A beach day themed paper pack must have a beach day scrapbook page. Remember how I talked about using every piece of this collection? Well the bottom of this page is leftover from the you rock page. Again I used scrap pieces to mat the photos, added a sticker to a picture my life card and more cute stickers all about beach day.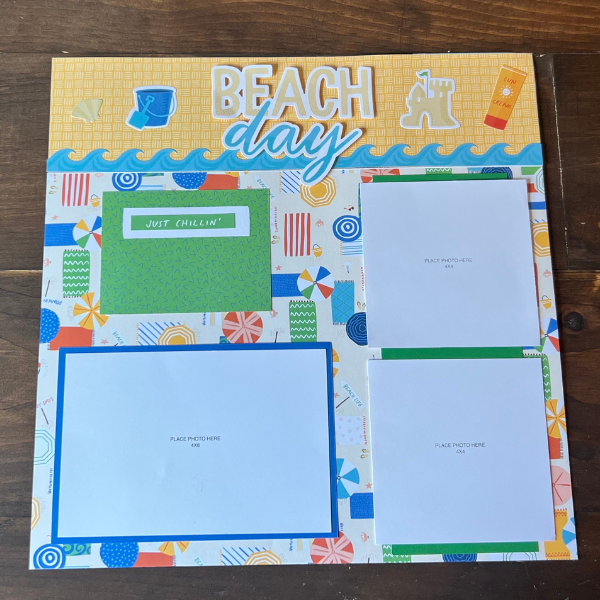 #4- Sun and Fun Summer Scrapbook Page Idea
Take a picture my life card and sticker to create the page title, then add fun and colorful mats to go with the polka dots. Add a few more stickers and your page is all done.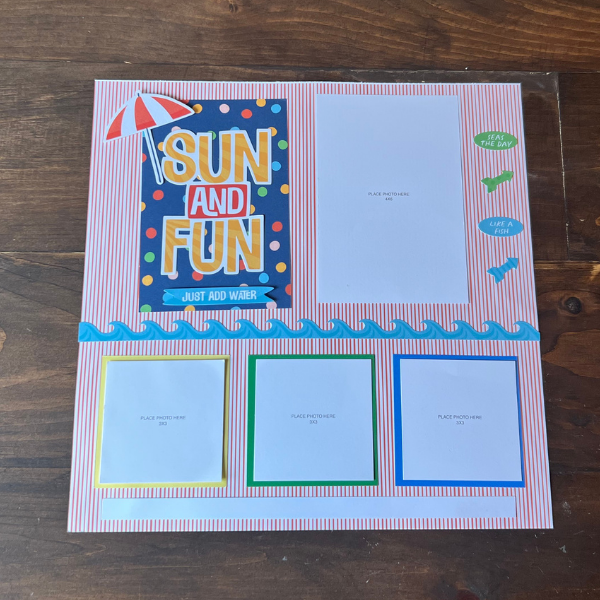 #5-
 

Summertime Paradise Layout

My kids spend a lot of summer in the pool and I thought the beach ball paper was perfect for pool time fun. Add a card stock square in the center and a few fun summer stickers from the beach party sticker sheet.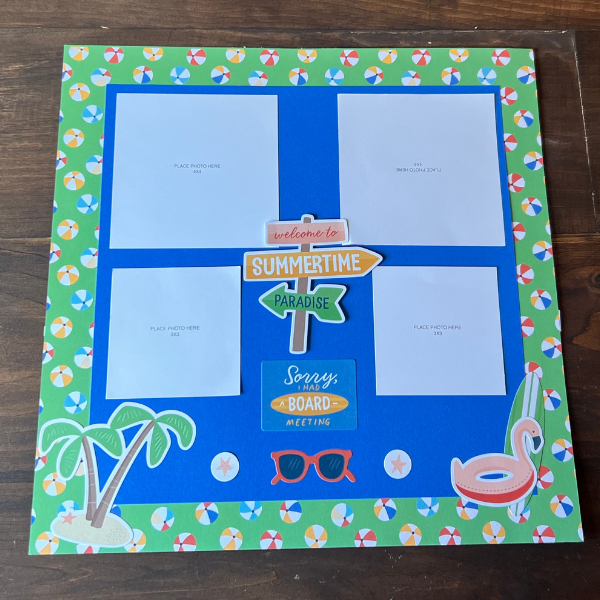 #6- Vacay Mode Summer Idea with Ice Cream
If you need card stock, you can purchase the Beach Party Coordinating Card Stock to match the patterned paper or you can use card stock you have. There is a coordinating card stock for the beach party collection (which I love)  because it makes it so easy to do my summer scrapbooking when everything matches. 
The picture my life cards came in handy again on this page as a background for the title- vacay mode and with the ice cream cart. The ice cream cart is great because it's decorative and has journaling strips. Add a zip strip and some adorable stickers to finish off this page. My inspiration for this page came from the title sticker and the rest fell into place. The colors look perfect together.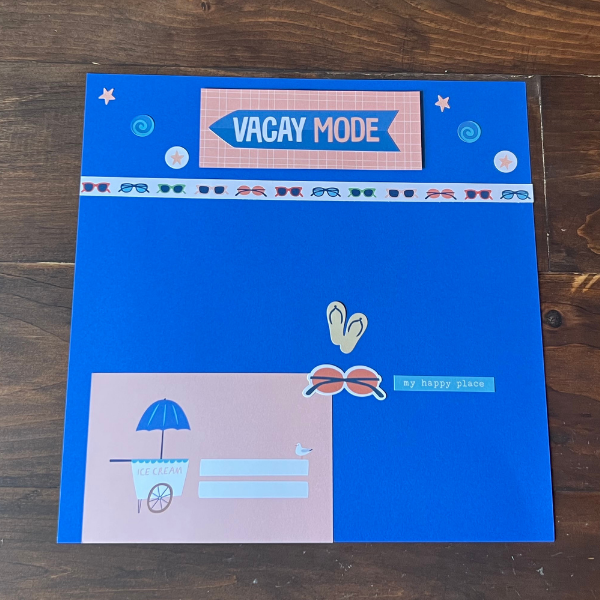 #7- Summer Bucket List Page
I've never done this before, but my daughter did a summer bucket list at school and I thought it would be super cute to put pictures of her doing the items on her bucket list. Well she can do all of them except for getting a bunny. 
For this summer page idea, I used my secret to quick scrapbook pages. All you need are picture my life cards or homemade scrapbook cards and card stock to create this page.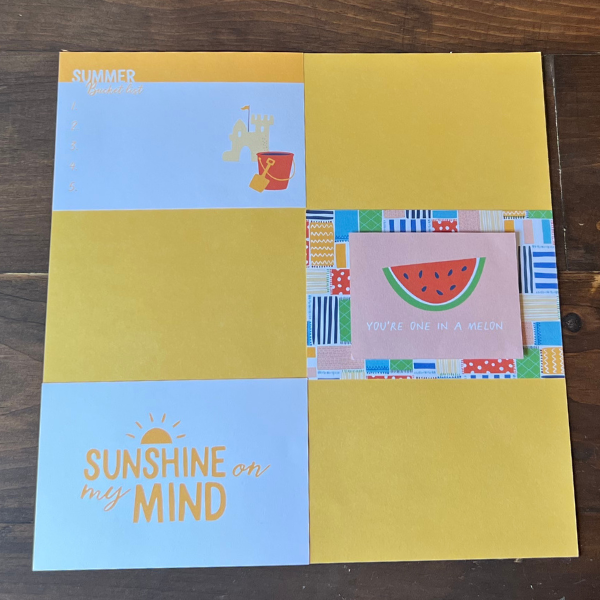 Bonus Summer Scrapbook Page Idea
In my scrapbooking and crafting all about simple and cute! I created a very simple scrapbook page using 5 pieces of paper and it's my most popular post. 
This layout used the last of the stickers from the sticker sheet and scrap card stock. I love it!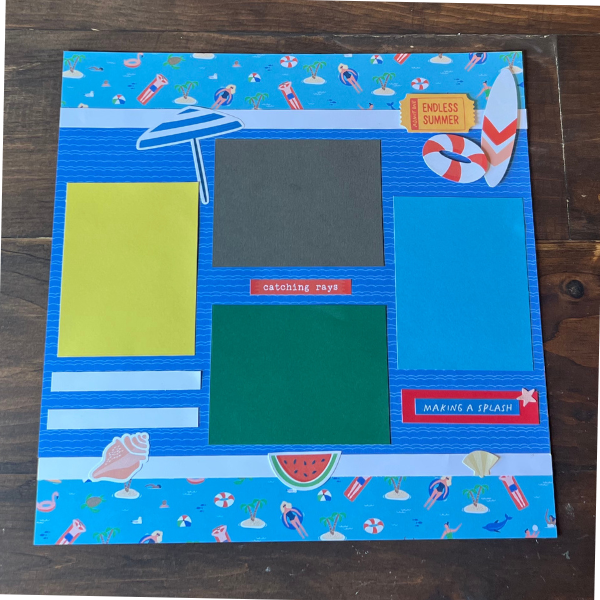 With one pack of Beach Party with Sticker Sheet and picture my life cards, I now have 8 scrapbook pages ready for summer memories! To me that's well worth the $9.95 that I paid for the paper pack with stickers.
Another bonus is how good your scrapbook will look!
I have a few picture my life cards left and one patterned paper sheet, but soon I'll be sharing some Beach Party scrapbook layouts with Cricut and the digital image collection. 
Are you ready to get started with the Beach Party Collection?