Simple Scrapbook Ideas Using Only 5 Pieces of Paper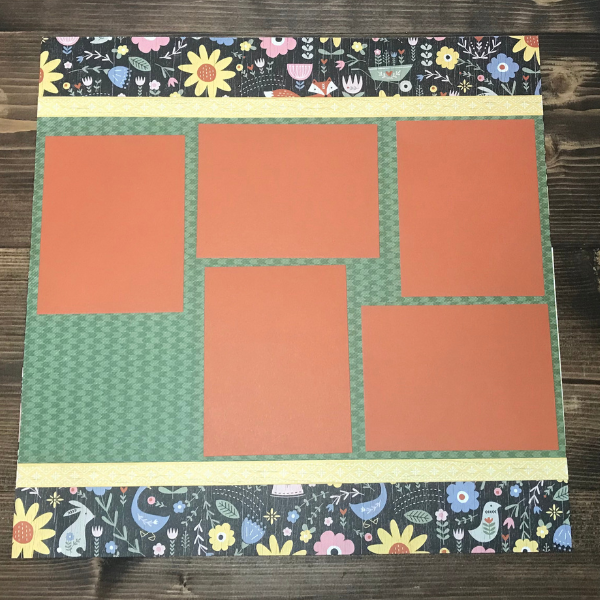 As a Close To My Heart Maker, I'm an independent consultant and may earn a commission when you buy products through my links and my shop (at no cost to you). All thougths and opinions of the products are my own.
As a beginner scrapbook it can be overwhelming to start scrapbooking. I totally remember those days and honestly I still have them. Somedays you just don't have your creative spark. Yesterday I was sparking and created two super cute, quick and easy scrapbook pages that you can make right away. I totally forgot to mention the best part, these simple scrapbook ideas use only 5 pieces of scrapbook paper. That's right- two 12×12 layouts with only 5 sheets of paper.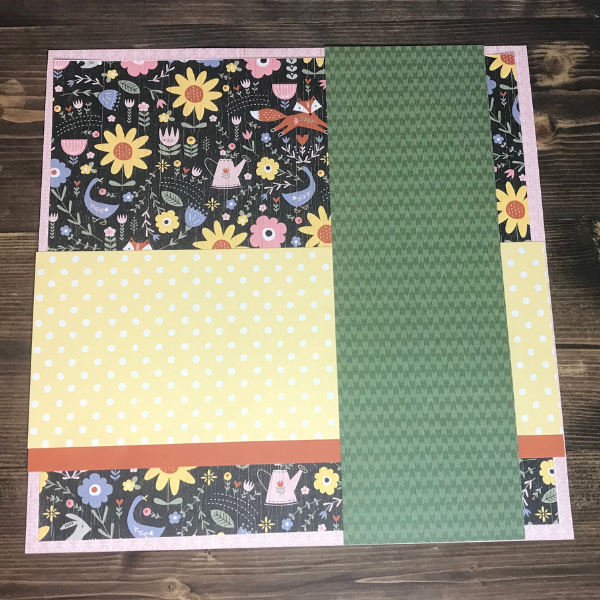 I love to scrapbook on a budget. Yes, I would love to have everything I see, but the reality is I can't. Plus my house just can't hold anymore craft stuff. Even if you scrapbooking on a budget, you can still use quality pretty scrapbook paper. 
Scrapbook Paper Used in this Creative and Easy Pages
Hillside Cottage Bulk Paper
Mixed-In Scrapbook Paper
Card Stock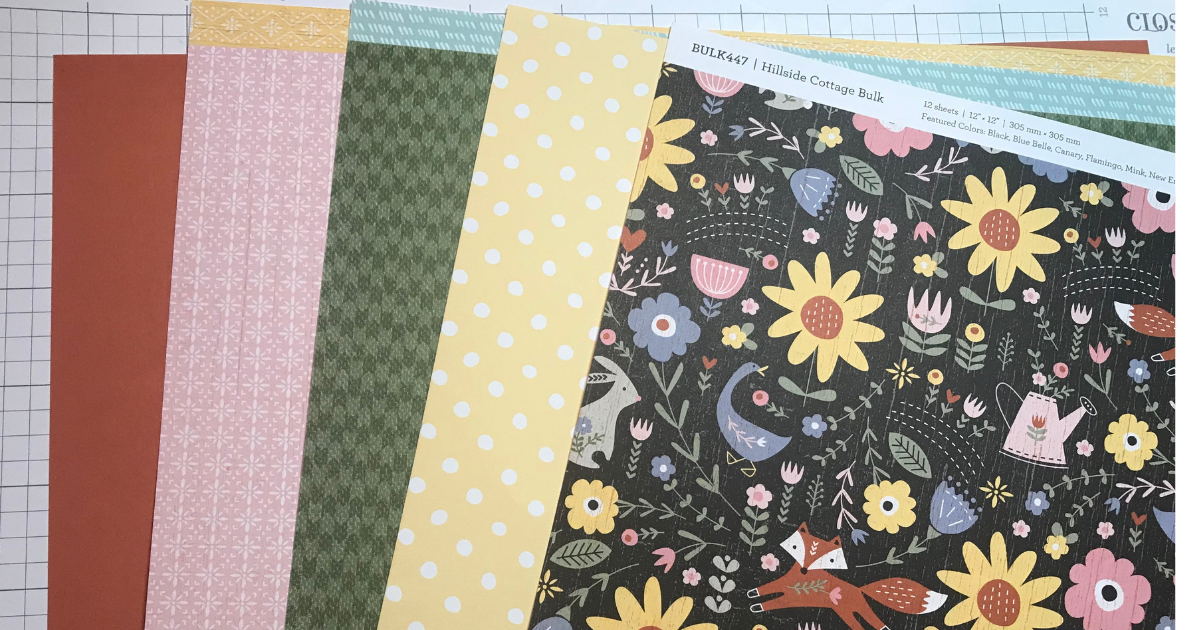 I find the CTMH paper is top of the line quality and I actually do save money because everything matches. I have wasted so much money on paper stacks that I never use and lots of time trying to match paper. That's the amazing thing about CTMH is everything has the same color tones so it's so easy to take Mix-In paper packs and use them with the newest collections. Mix-in paper packets are patterned paper that you can mix and match with any of the collections, together or with card stock. They are a must have in any scrapbookers collection. You seriously can not go wrong with them! 
Simple Scrapbook Ideas Using Only 5 Pieces of Paper
One of my budget scrapbooking tips is to use double sided paper which is exactly what I'm doing with these two layouts. The CTMH patterned paper and the card stock are both strong enough to hold a double sided page. Make sure the black base page with the fox and sunflowers are facing in the right direction. I accidentally did mine with the pattern upside down, but thankfully I didn't glue it like crazy and was able to switch it. It was nerve wracking. 
For both of these scrapbook pages, all you need is a paper trimmer and adhesive. You can do so much scrapbooking with just the essential scrapbook supplies. 
Easy and Simple Scrapbook Design #1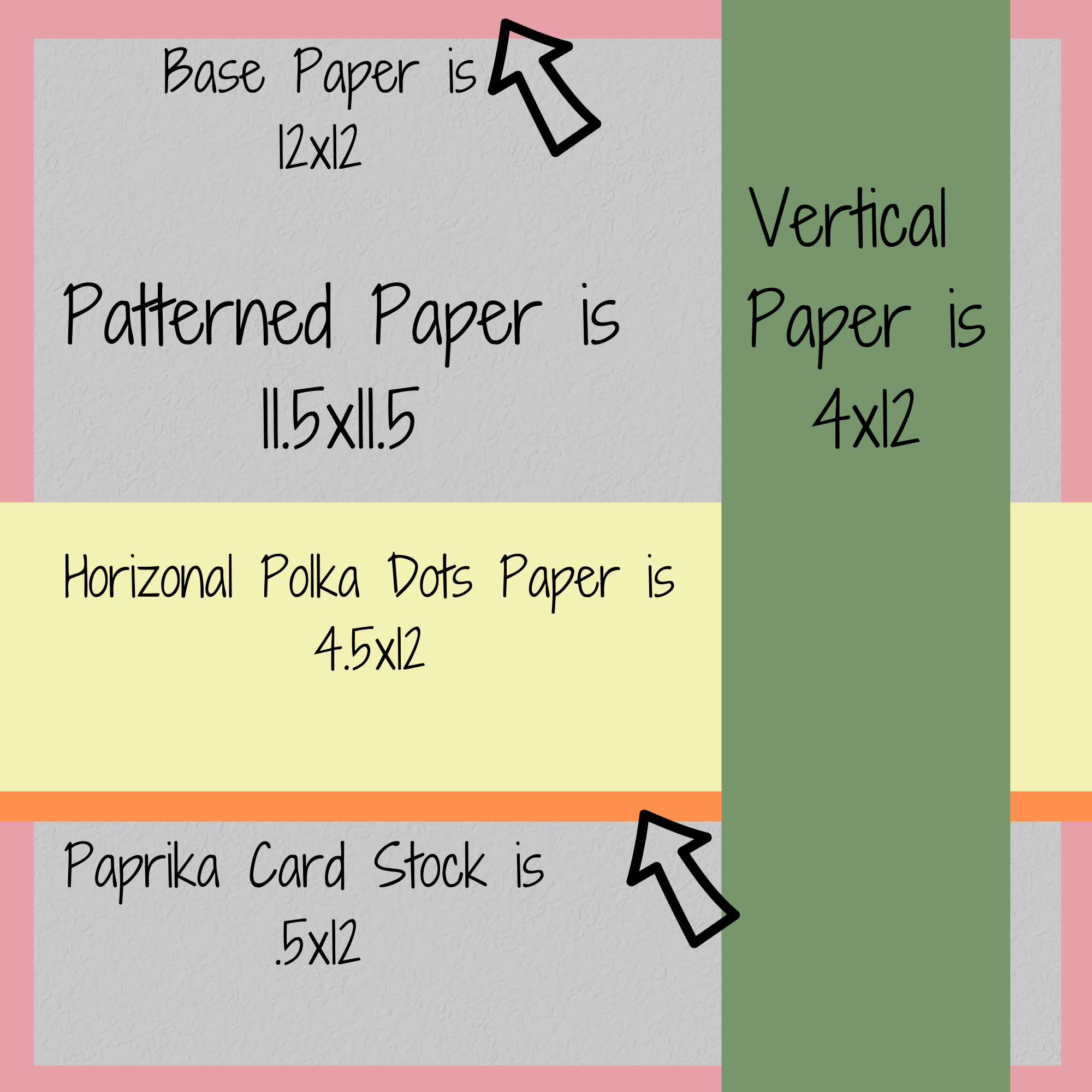 Choose your paper. This will work with a combination of patterned paper or all card stock or a nice combo of both. Sometimes I let my pictures lead me and sometimes I let the paper lead me. For some reason this paper just said fall to me. The sunflowers and the orange fox just made me think of how I could use it for our recent visit to the sunflower farm. For the paper to have more of a fall feel, I used the deeper color tones of the card stock and darker colors as accents.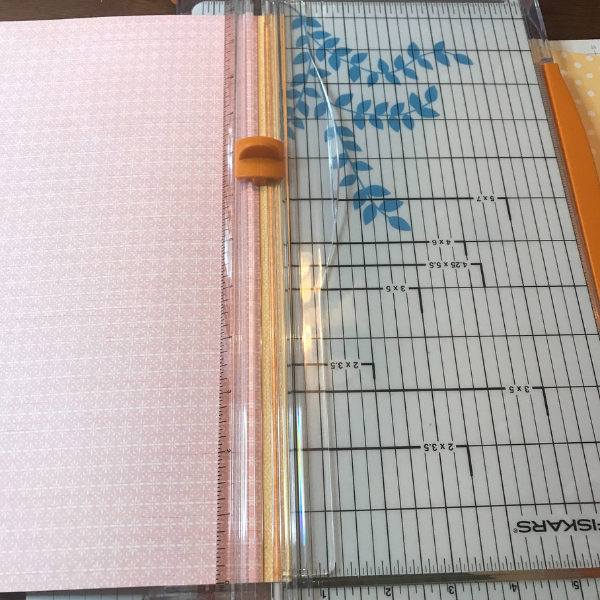 Start by cutting all the zip strips off of the scrapbook paper (if it has it). The zip strip is the .5×12 strip at the top of the scrapbook paper from Close To My Heart. 
Cut all the pieces according to the measurements on the scrapbook design and set aside the extra pieces of paper. All of the pieces can be cut using a paper trimmer. 
First step in putting the scrapbook page together is to glue the large square on top of the base page. Then glue on the yellow polka dot rectangle and next glue the zip strip under the yellow rectangle. Next part to glue is the vertical rectangle in the green paper.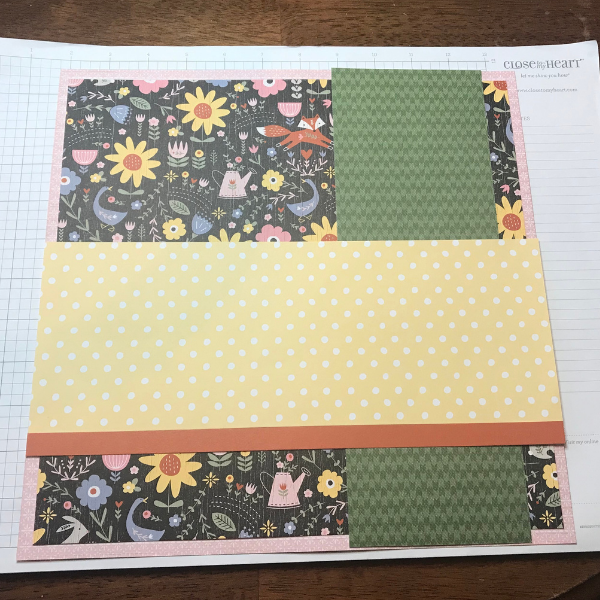 Your first simple scrapbook idea page is ready for photos now. The cool thing about this page is the versatility of it. For photos you could do several options and I'm showing them below with photo place card holders. 
#1- 4×6 vertical with 4×4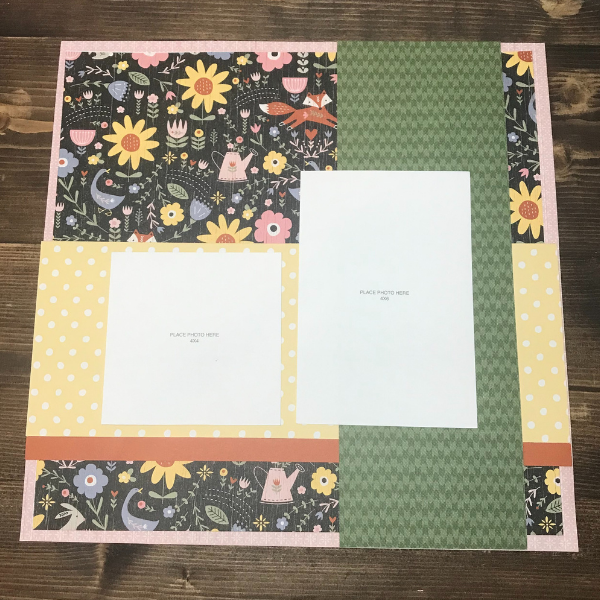 #2- 4×6 vertical with 2 3×3 or you could do just one 3×3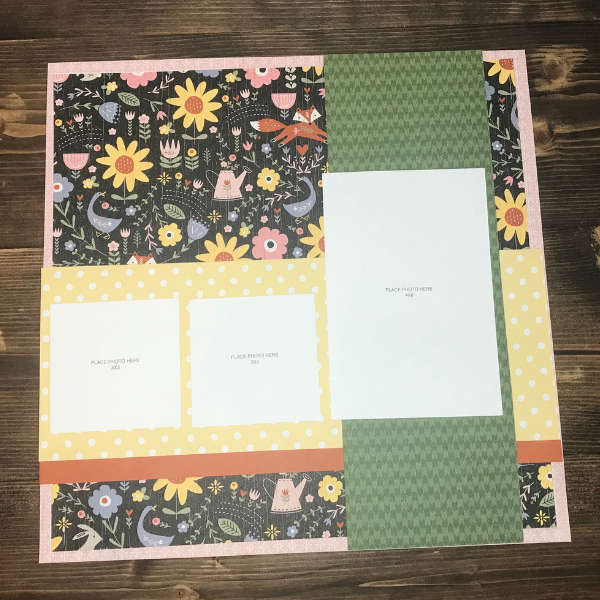 #3- 4×6 vertical with 2 vertical 3×4's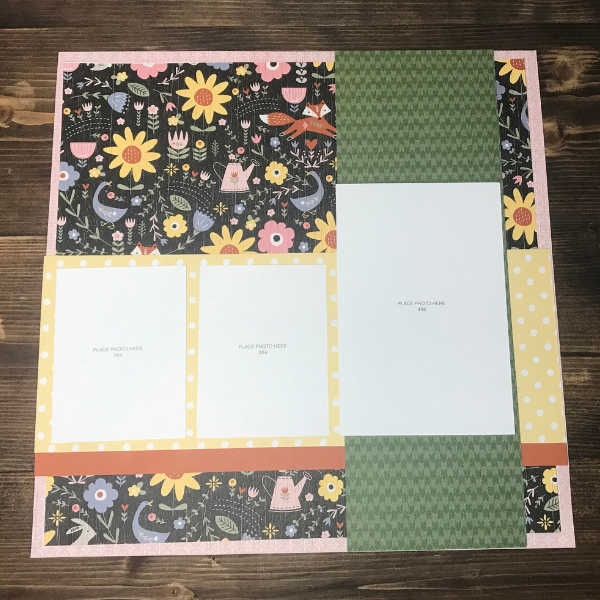 After choosing the photos and adding them, add the title at the top and some embellishments. 
I love using simple scrapbook ideas that you can use over and over again. This one is great because it doesn't use a lot of paper, has lots of photo options and the design is timeless. It's also a great beginner scrapbook idea because the sketches have measurements and it's so easy to follow. 
#2 Simple Scrapbook Ideas (Perfect for beginners)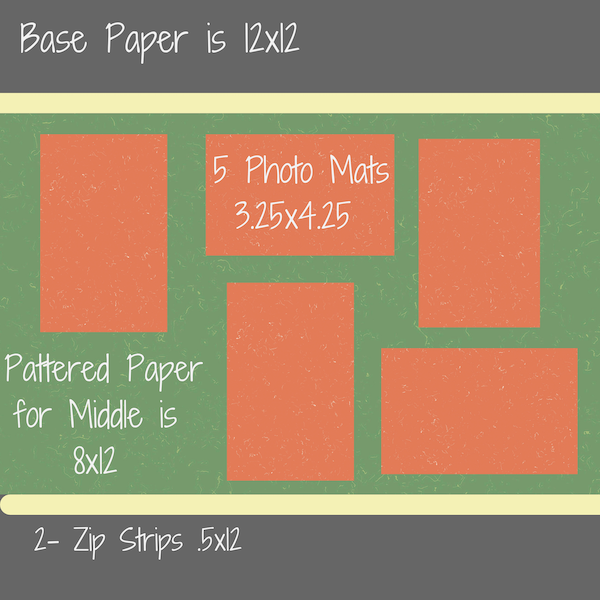 To start, flip over the page you just created. Using the rest of the green paper, place it in the center of the paper horizontally. 
Add zip strips to the top and bottom of the green paper. I used the yellow zip strips from the **Hillside Cottage Paper. 
Using paprika card stock, cut 5 photo mats that are 3.25×4.25. This simple page will hold 5 3×4 photos with a space for journaling. 
Choose your photos, add journaling strips and embellishments and your simple scrapbook page is complete. 
This page takes less than 5 minutes to create and looks amazing!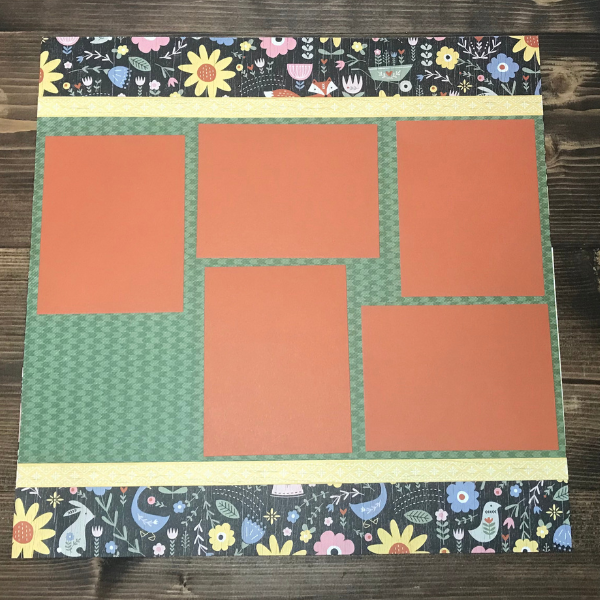 These simple scrapbook ideas are perfect for beginners or any DIY scrapbooker. The layouts are timeless and can be used for all kinds of memories. The other plus is that these scrapbook ideas can be created in less than 20 minutes.