Cute Happy Birthday Scrapbook Ideas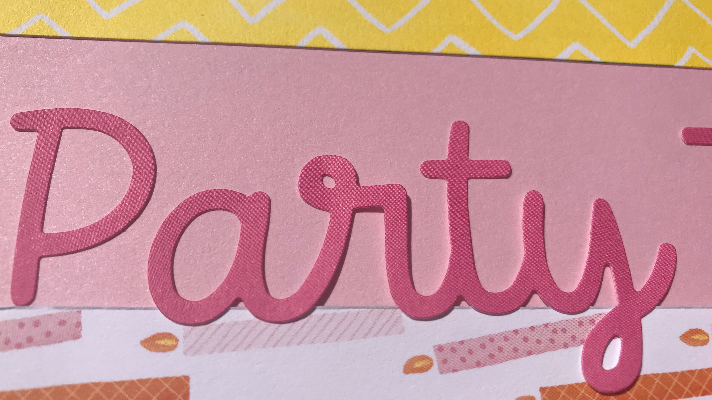 Note: As an Amazon Associate, I earn from qualifying purchases. If you click on a link from Amazon or another of my advertising affliates, I will earn a small commission at no additional cost to you. Please see my full disclosure policy here.
Birthdays come every year and you might be running out of ideas or pages to create, but Close To My Heart has got your back. They created this cute party time paper pack to make creating birthday celebration scrapbook layouts easy and fun. Use these happy birthday scrapbook ideas the next time you go to create a happy birthday scrapbook page. 
The Party Time Paper Packetis double sided with two different color schemes. One is full of pinks, oranges and yellows and the other side is blue, green and yellow. It's super cute paper for kids or grown ups. The Party Time Coordinating Card Stock goes with everything too. The stickers are just adorable and have a variety of sizes for large stickers or smaller stickers to put together on a page. A really nice variety for creating creative scrapbook pages. 
If you are new to scrapbooking, here is a list of the basic scrapbook supplies you must have, and the secret to quick scrapbook layouts. You will love these tips I have for your in both of these post.
Cute Happy Birthday Scrapbook Ideas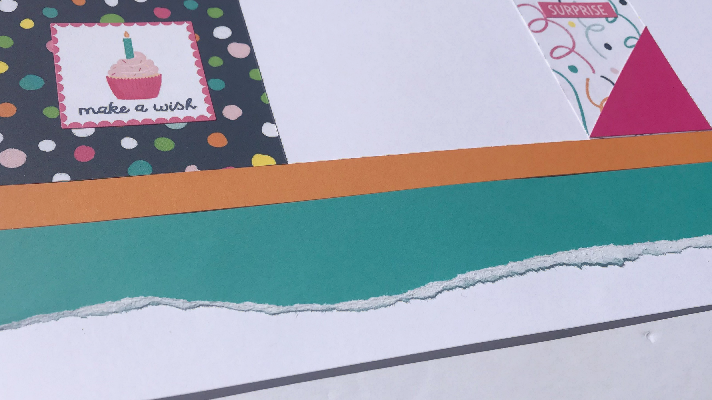 1- Tearing Paper Scrapbook Idea
Have you ever tore paper and added it your birthday celebration scrapbook page? It gives it a whole new look. I'll be honest- at first I didn't like it, but now I do.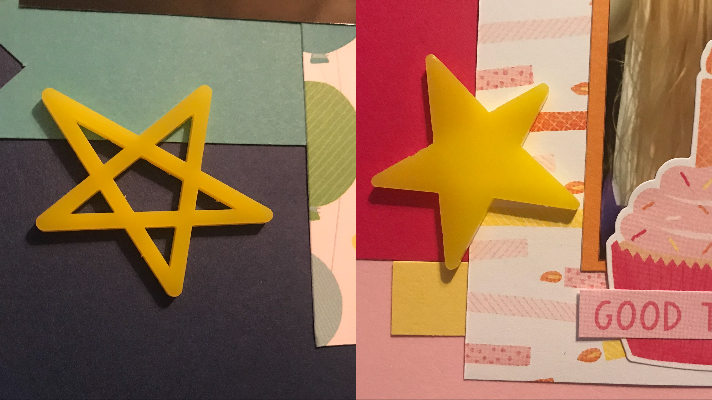 2- Acrylic Shapes is a Fun Embellishment for a Happy Scrapbook Idea 
Adding Acrylic Shapes to your birthday celebrations page. How cute are these yellow stars? Close To My Heart has a huge variety of acrylic and wooden shapes for your scrapbook.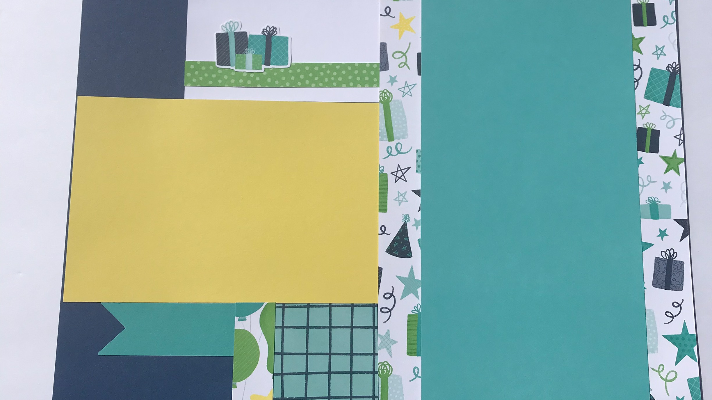 3- Using a Variety of  Card Stock and Patterned Paper 
Using a combination of card stock and patterned paper to decorate square layouts. Just add a few stickers and you have a super cute layout design.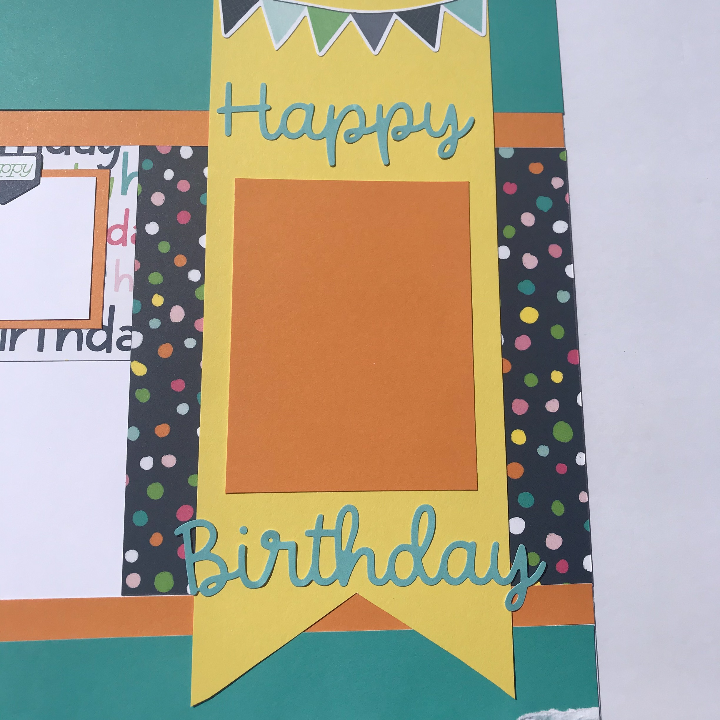 4- Dovetail the Paper
Dovetail the end of your paper for a new look and add some of the party time happy birthday stickers and banners. Super easy scrapbook layout idea and it's creative. 
5- Use lots of layering on the Scrapbook Page
Layer lots of paper with patterns, card stock, zip strips and stickers for a colorful and cute look.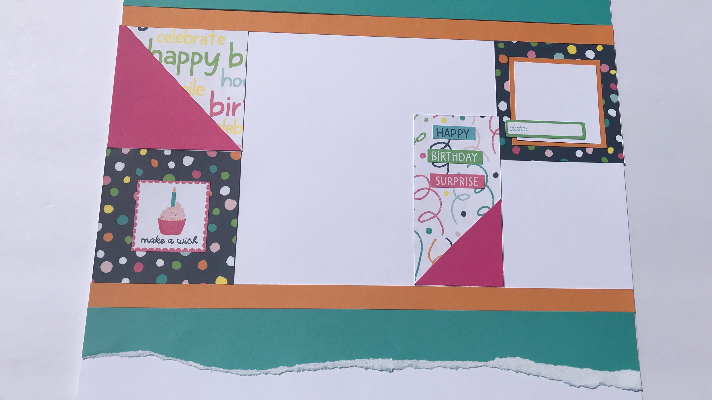 6- Use Different Sized Photos
Use a variety of different sized pictures for your scrapbook layouts. Stick with squares or rectangle, but change it up with some 3×3 or 4×3 or 4×4 (just to name a few).  This happy birthday scrapbook layout holds 2- 4×3 photos, 1- 3×3 and 1-4×4 photo. 

7- Journaling
Don't forget to add in journaling about the birthday party, the theme, funny moments, and more! Remember your scrapbook is a collection of not just pictures, but fun handwritten journaling too with cute anecdotes.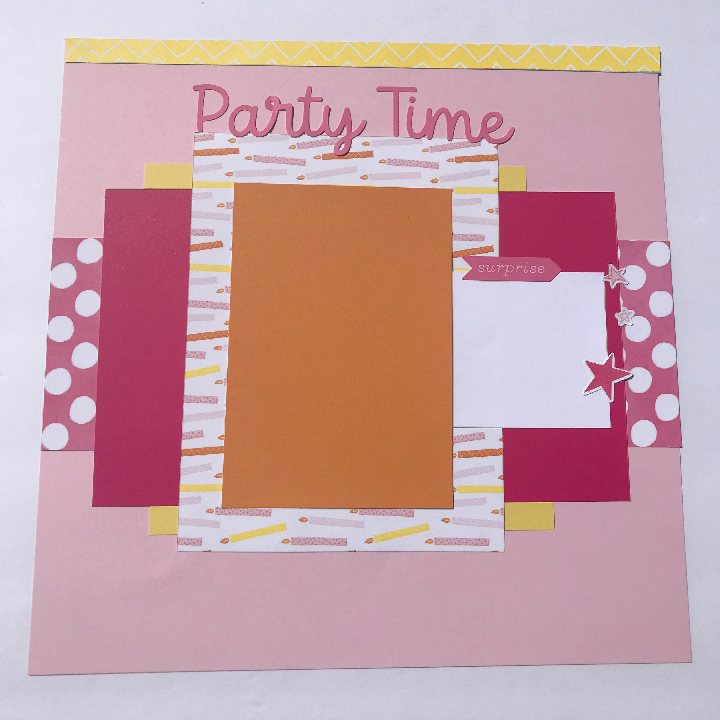 Use these 7 Happy Birthday Scrapbook Ideas the next time you create a page. The party time paper, stickers and coordinating card stock allow you to create a variety of scrapbook layouts that are cute and creative. Perfect for any birthday celebration!