5 Cricut Christmas Cards To Spark Your Card Making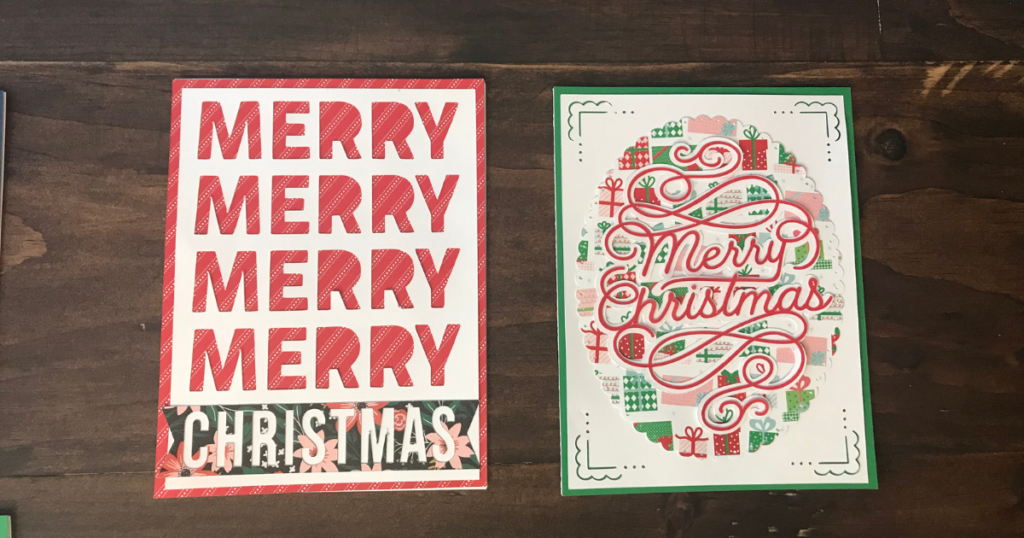 As a Close To My Heart Maker, I'm an independent consultant and may earn a commission when you buy products through my links and my shop (at no cost to you). All thougths and opinions of the products are my own.
For years I have bought overly expensive photo Christmas cards, but not this year. Between the price of items and shipping delays, I'm creating my own card making workshop. It's just me, my Cricut, card stock, and pretty Christmas paper. These Cricut Christmas Cards I'm sharing with you today are all part of a special image set, but the best part is they are already designed for you too. When I'm creating these handmade Christmas cards, I just imagine the smiles they will bring when they are opened. 
Last week I shared the Close To My Heart Complete Creativity image set and all the Christmas scrapbook pages in the set. These pages are detailed, gorgeous and one of a kind. Well this collection also has 5 pre-made Christmas cards to create.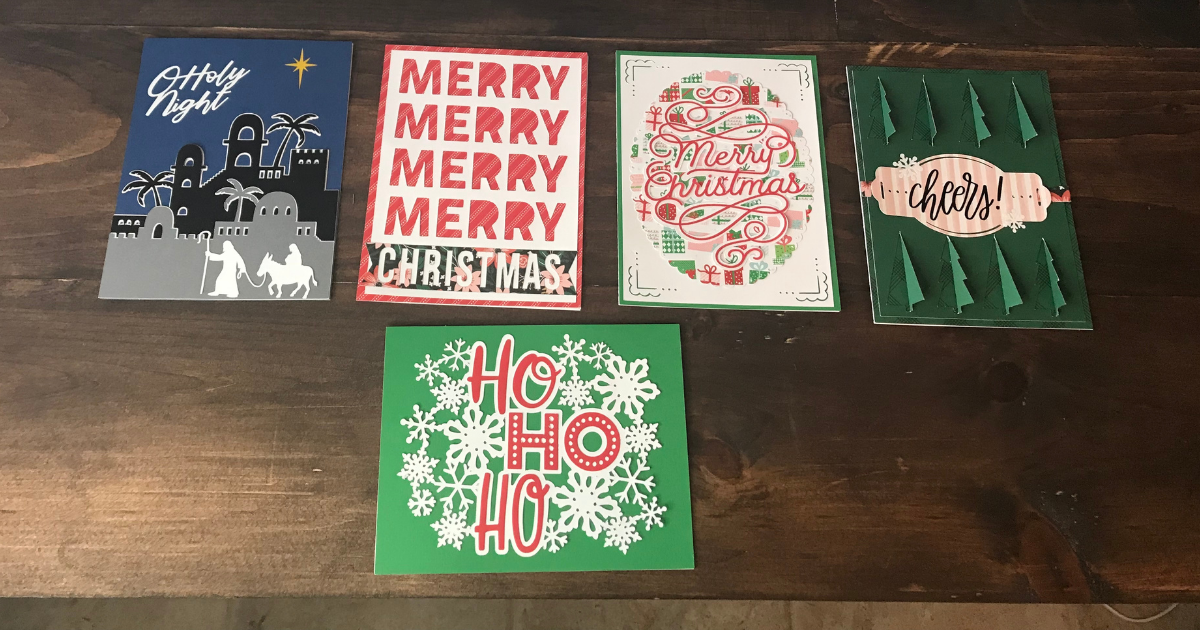 When you look at these card designs, don't be overwhelmed. The cards are already designed for you and the Cricut does all the work of cutting these intricate designs. Putting the cards together is easy and simple. Each card only has a few layers and they are easy to glue. I had on a Hallmark Christmas movie and watched it while I waited for the Cricut to finish cutting. 
5 Pre-Made Card Images
-Elegant Merry Christmas with swirls
-Minimalist Merry Merry Merry Christmas 
-Cheers with Trees and Snowflakes
-Oh Holy Night Religious Card
-Fun Ho Ho Ho Card with Snowflakes 
This collection is so useful, has one of a kind images and something for everyone. Click now to purchase the Complete Creatiivity. 
Supplies to Create the DIY Cricut Cards
Blank cards and envelopes or Make Your Own
Variety of Card Stock Colors
Patterned Christmas Scrapbook Paper 
Adhesive Runner
Cricut Maker or Explore AIr (any model) 
Green or Blue Cricut Mats
CTMH Complete Creativity Image Set
When I create handmade Cricut Christmas Cards, I like to use already made and folded cards. I have more than enough to make my Christmas cards so when I insert the images into Design Space, I will be removing the envelopes and the card form. I'll just be cutting the main design to add to my blank cards. This definitely saves on time and makes the cards simple and easy. If you want to create the envelopes and cards in Design Space, just leave the images as is and follow the instructions on the screen.
Another tip is to just use regular glue and no 3-D foam tape or dots. If you are giving the card to the individual than foam dot away, but if you are mailing it don't. The reason why I say this is because with the 3D foam, the card can't go through the post office machine and if it does it could be ruined. You can mail the card with a non-machine fee (it was about 30 cents awhile ago), but depending on how many cards you mail, it might not be worth it.
Finding the Complete Creativity Image Set
Purchase the complete creativity collection here and go into Design Space. The easiest way to find the set is to search by image sets. 
Open a new project and click images. Click all all images at the top and then click image sets. Type Complete Creativity in the search bar and the image set will appear at the top. Click and choose the images you want to use.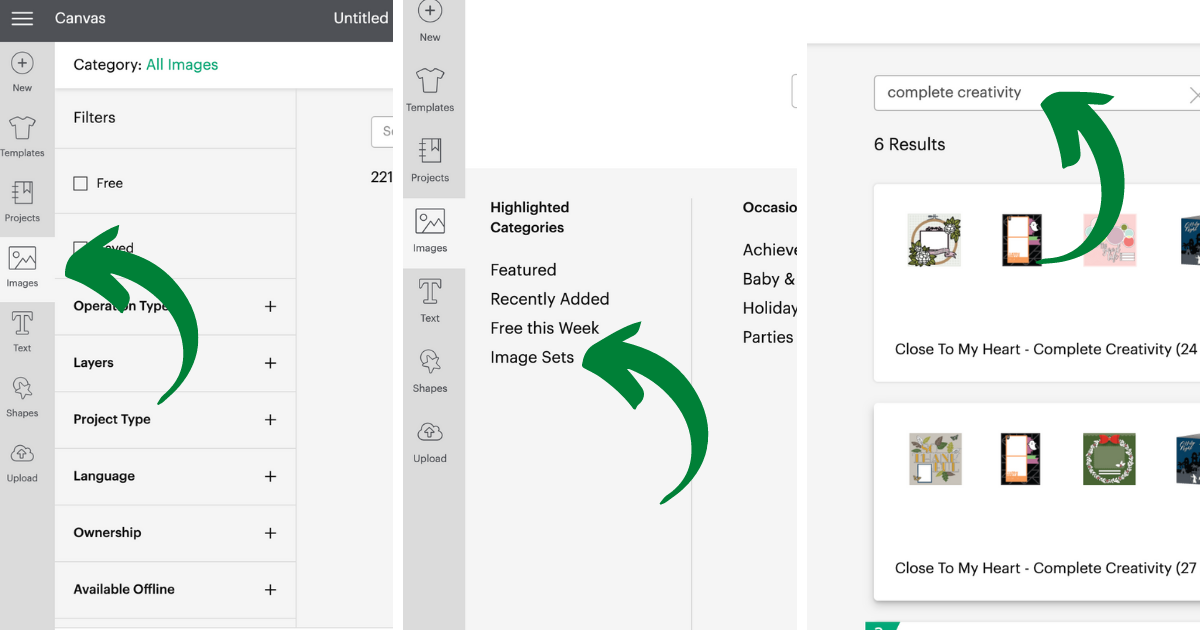 Personally I like to do one card per project because some of these images are large. I just find it easier for each card to have it's own project because it makes the card easier to work with. 
How To Make Easy, Simple, and Cute Cricut Christmas Cards
Once the card is uploaded and in a new project, it's time to start creating.  Keep the pieces you need and delete or hide the rest. Follow the cut instructions in Design Space. Since I'll be using already made cards as my base, I don't need a scoring wheel/stylus. If you are creating the card and the envelope with your Cricut, then you will. The 3D Christmas tree card requires a scoring wheel/stylus. 
My biggest tip is to make sure to resize all the cards to the 4.25×5.5 if you are using blank card bases. Also for the intricate designs, I used the card stock for intricate designs with more pressure for the cuts. 
Ho Ho Ho Cricut Card idea
Paper Used: White Daisy, Clover, Candy Apple Card Stock 
The Cricut Maker 3 did all the work and cut these beautiful designs. Then I just glued the pieces together. This card is super cute and easy to make. The longest part is waiting on the Cricut to cut the intricate design.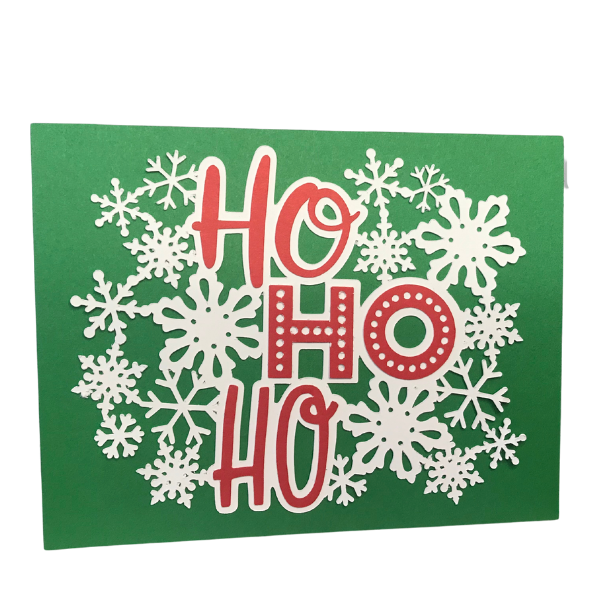 Minimalist Merry Christmas Card

 
Paper Used: Red & White Striped Paper and Poinsettia Paper from the Holiday Stack, White Daisy Card Stock 
For this card base, I chose to use red and white striped paper from the holiday stack instead of creating the background with the stripes. It was quicker and easier to me just to use stripe paper. Work smarter not harder right? Keep the small insides of R and A for the Christmas banner at the bottom of the card.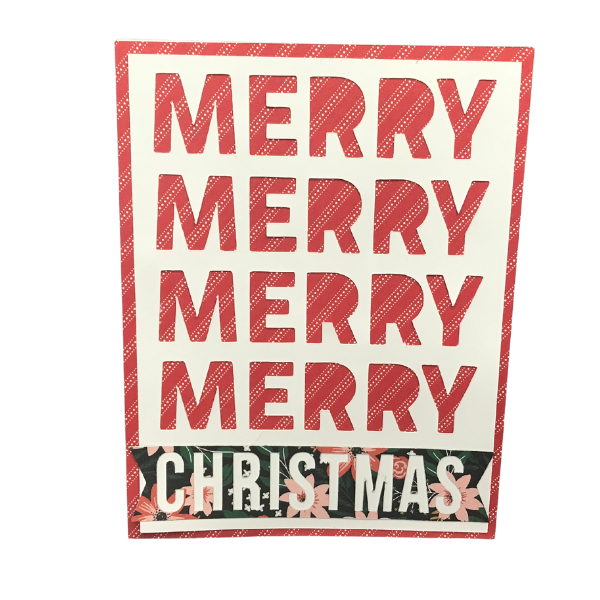 Elegant Swirls Merry Christmas Cricut Christmas Card Idea

 
Paper Used: Clover, White Daisy, Candy Apple Card Stock and gift paper from the Holiday Stack 
Again this card looks so detailed and elegant, but truly the Cricut does all the work. The layers are simple to glue together and works beautifully. This one might be my favorite.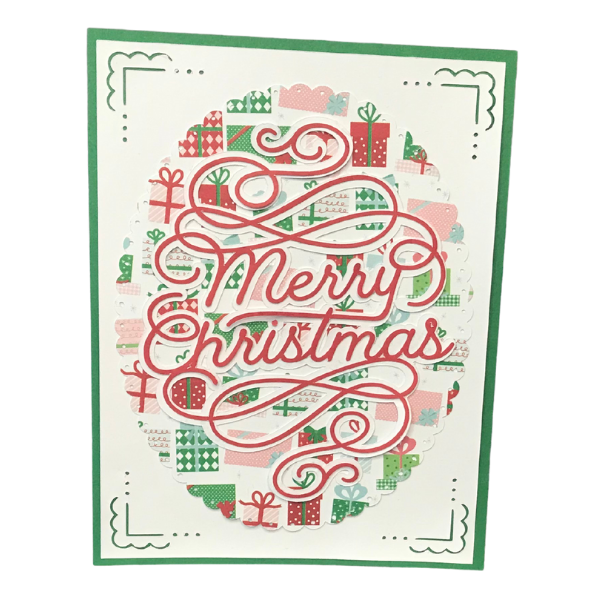 O Holy Night Christmas Card

 
Paper Used: White Daisy, Black, Pewter Card Stock, White and Yellow Vinyl 
For those who like to send religious holiday greetings, this one is perfect. I like the scene of Bethlehem, the star with the outline of Mary, Joseph and Baby Jesus. 
I tried several times cutting the star in card stock, but every time the points just where not sharp. So I went with vinyl instead and it worked perfectly. I also used vinyl for O Holy Night too. I like the shine vinyl gives the cards.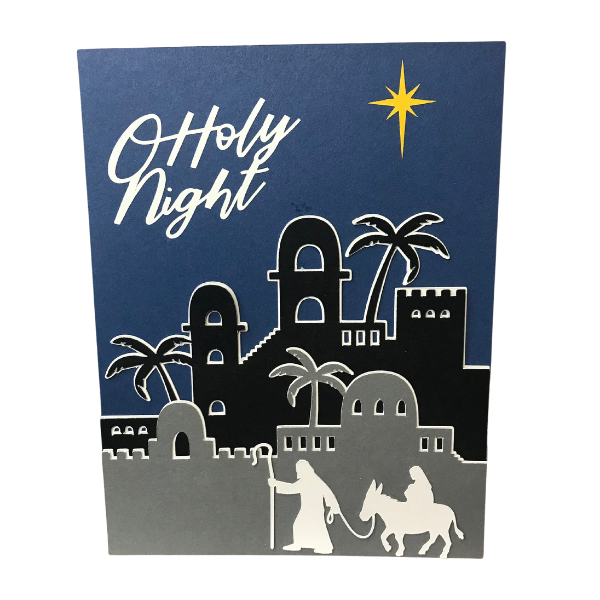 Christmas Cheers Christmas Card

 
Paper used: Evergreen Card Stock, Pink Striped, Poinsettia, Green Plaid from the Holiday Stack, Black and White Vinyl 
Extra Tool: Scoring Wheel or Stylus 
This cool 3D Christmas tree card just looks awesome. I did the patterned green plaid paper in the background and it looks beautiful (it's my favorite part of this card). To brighten up the card, I chose to use the poinsettia paper as the middle strip for a pop of color and the pink striped for the greeting. Then I used the vinyl for Cheers and the snowflakes. People will be wowed by this card. 
Again putting it together was super easy, the Cricut does all the work.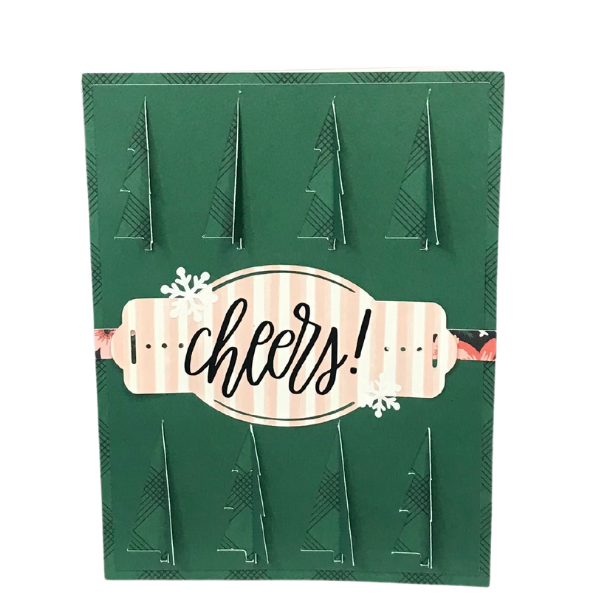 I hope you have been inspired to start making some handmade Cricut Christmas cards today. The CTMH Complete Creativity set is a Cricut crafters dream because of all the images, the already made cards, scrapbook pages and images. 
Your Cricut friends are going to be wowed by your cards because of their designs and details. They are also going to want to know all about the CTMH Complete Creativity set too.