Cricut Spring Scrapbook Pages- Perfect for Easter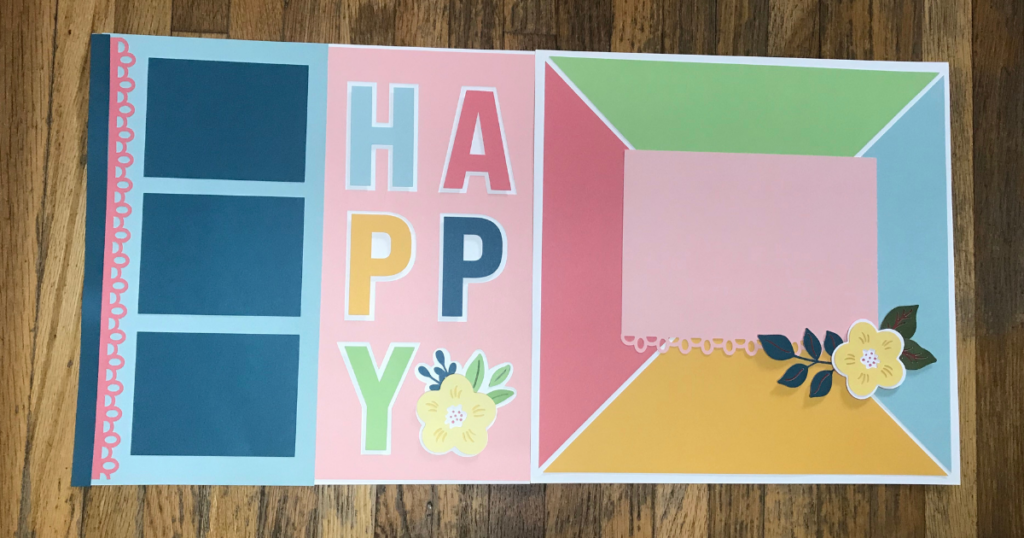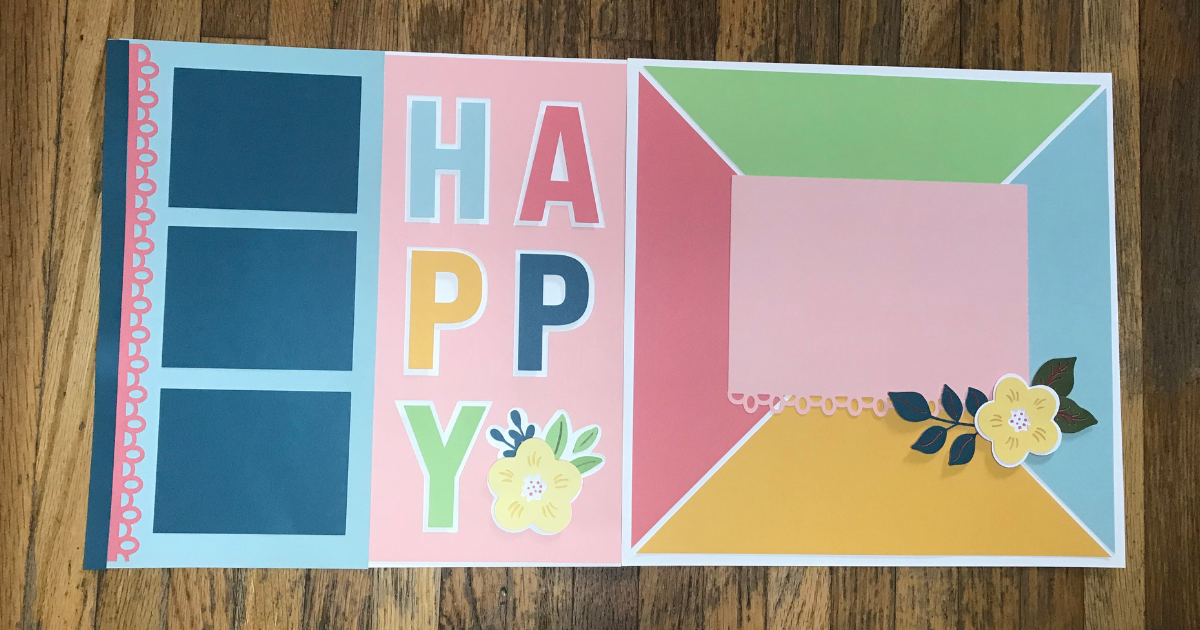 Note: As an Amazon Associate, I earn from qualifying purchases. If you click on a link from Amazon or another of my advertising affliates, I will earn a small commission at no additional cost to you. Please see my full disclosure policy here.
The other day I sat down with some pretty card stock, my Cricut Maker, a hot cup of coffee and spent a little bit of time scrapbooking. It was delightful. I have two 12×12 scrapbook pages that are spring themed and perfect for Easter. These Cricut Spring Scrapbook pages are part of the Daisy Meadow Collection. Close To My Heart and Cricut have created certain sets of images that you can purchase and create with. 
The Daisy Meadow Cricut Collection, can be purchased here. Just scroll down to the bottom of the page and click on the green C for Cricut. If you are a Cricut Access member, then you also receive 10% off. I still think that this collection is a great deal. You get this double page scrapbook layout, 2 cards to create and other images. The Easter eggs in this collection are adorable (you must see them). Remember you can also take these images and create your own unique scrapbook pages in Cricut Design Space. 
One of the best things about creating scrapbook pages with your Cricut is that you get to choose the colors. You can match it to your pictures or theme. Another great thing about this scrapbook layout is that you can really use it for anything. Just think birthdays or any happy memories. These Cricut Scrapbook pages are great because they are so customizable. 
For me, these scrapbook pages are going to be used for Easter pictures so I made them with the coordinating colors to go with the Close To My Heart Diaisy Meadow collection. I'm using the Daisy Meadow collection for all of my 2020 Easter pictures and my son's birthday (it landed on Easter last year). I have lots of pictures that go with this theme. When you have two important events in one day, it happens. 
Spring Daisy Meadow Collection of Scrapbook Paper
Scrapbook Workshop Kit
Paper Packet + Sticker Sheet
Picture My Life Cards
Coordinating Card Stock
Dots
Creating Cricut Spring Scrapbook Pages
Creating scrapbook pages in Cricut Design Space is very easy to do. The best thing about this one is that the spring happy layout is already designed for you. For these 12×12 scrapbook pages, you will need to use the Cricut Maker or the Air 2 because of the size.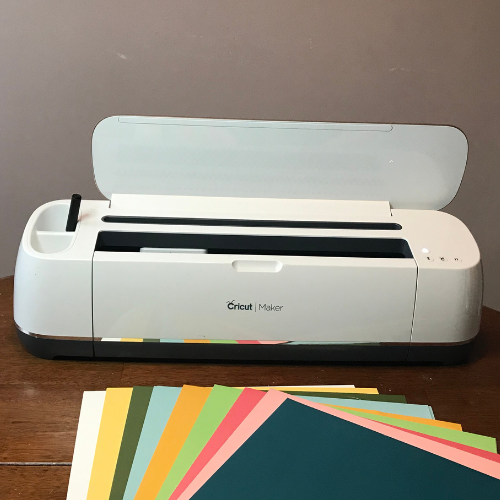 Open Cricut Design Space and a new project. Click on images, then at the top click All Image. Then under highlighted categories, click image sets. In the search bar type in Daisy Meadows and click on it. Choose the happy layout and click insert images. 
Now the spring scrapbook page is all set to start cutting. For me this is the hardest part to choose the card stock colors for my page. This took me the longest. I ended up using green apple, peach, smoothie, peacock, glacier, Sundance, new england ivy, sweet leaf, and cinnamon.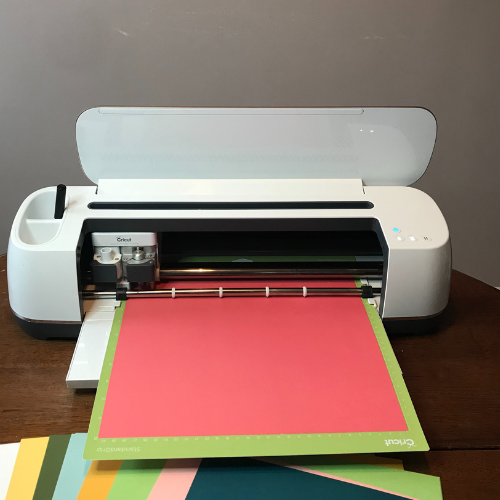 Once your card stock colors are chosen, hit make it and follow along with Design Space to cut all the pieces for the page. I have an older green mat that's not super sticky anymore so I use that or use your blue mat for the card stock. 
Putting the Cricut Scrapbook Template Together
Each of these pages have a base of white daisy card stock. I'm always running out of the white and I just bough a bulk pack of it. I constantly use it as the base for my Cricut scrapbook templates.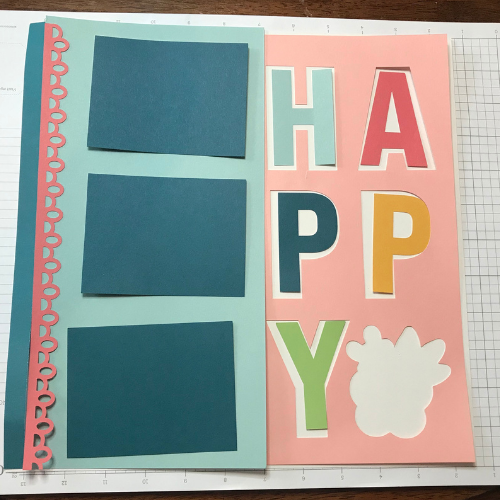 I always like to lay everything out before I glue. 
First start with the big pieces. On the happy page, I started with the pink happy rectangle, then the blue strip, the small zip strips and then the photo mats.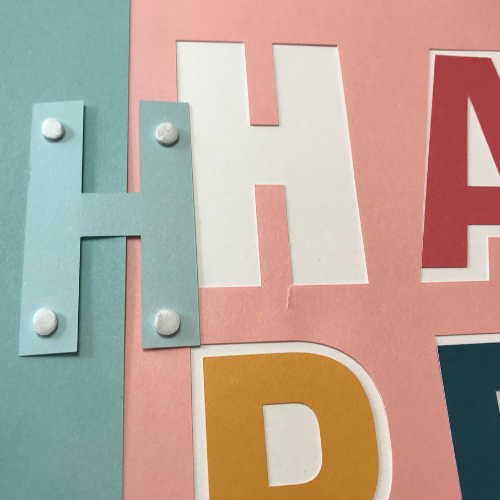 For the letters in happy and the flower, I used 3-D Foam Dots to give them a nice pop on the page.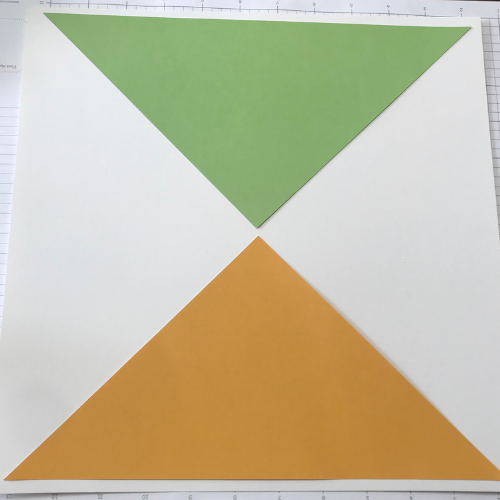 On the second page, know that this layout in Cricut Design Space has a base of 11.5 x 11.5 so bring the pieces more towards the center and you will have a white border on the outside. I started with the green triangle, then I did the orange triangle and finished with the sides.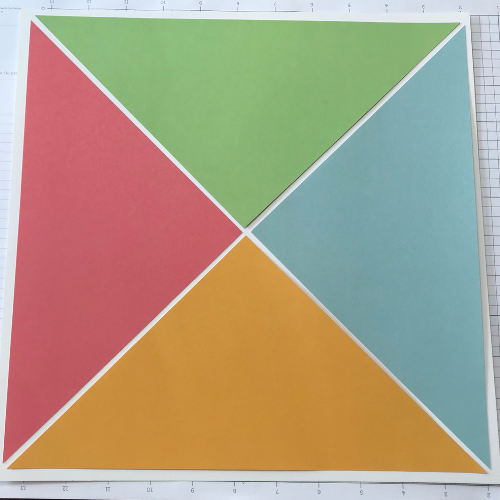 Add on the photo mat and the floral design. For the floral design and leaves, I used the 3D foam dots again.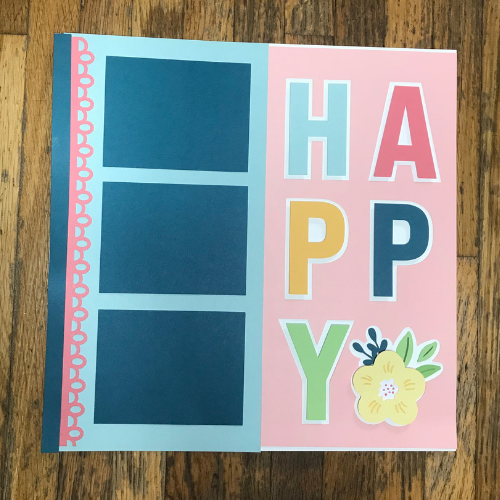 I ordered my Easter and birthday pictures and I can't wait to choose the right ones for this double page scrapbook layout.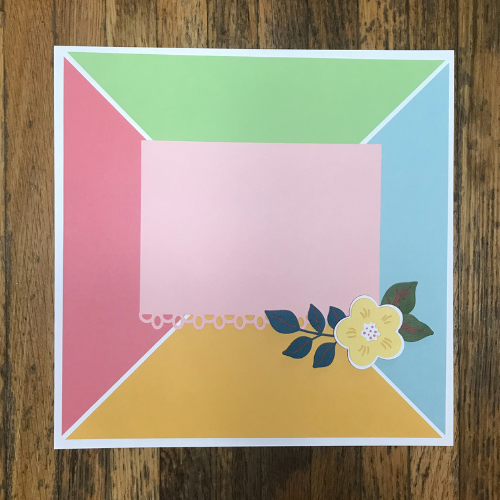 I'm thinking for the 5×7 picture I'm going to do a picture of the kids with the Easter Bunny in the front window. They were just so happy and excited to see him. Even though 2020 was hard, it was moments like that, that let me know it would be okay.