Beginner Scrapbook Theme Ideas (Easy and Useful Tips)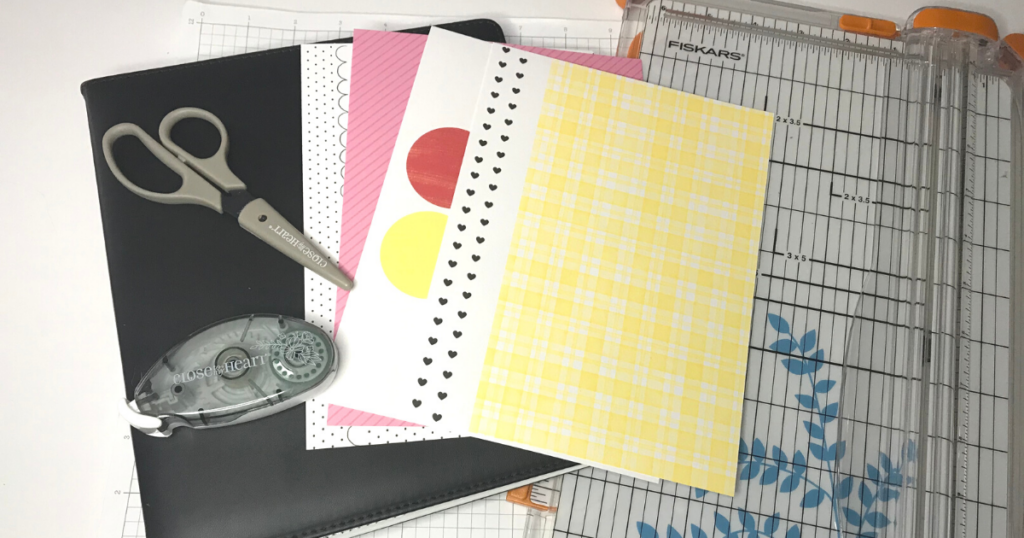 As a Close To My Heart Maker, I'm an independent consultant and may earn a commission when you buy products through my links and my shop (at no cost to you). All thougths and opinions of the products are my own.
If you are thinking about scrapbooking or maybe have stepped away from scrapbooking, I'm here to help you get started. Your scrapbook tells the story behind the pictures and your memories. Just think of all those little moments or anecdotes that you can add to your scrapbook albums. I want to help you start your scrapbooking journey and fall in love with it like I have. Getting started on something new can be scary and exciting at the same time. Here are some beginner scrapbook theme ideas (and lots of easy and useful tips) for you to make your first scrapbook. 
Scrapbook Tip #1
Before you start scrapbooking there are some scrapbook supplies that you will need to make scrapbooking easier and enjoyable. This is my Must Have Scrapbook Supply List. This is all that you will need to start your scrapbook journey. 
As a kid many years ago I started scrapbooking with construction paper, Crayola markers, scissors, a glue stick and stickers. These are still the basics supplies that I use, but a little more sophisticated now. I've traded in my construction paper for card stock, my Crayola for fancier markers/pens, and added in a paper trimmer to go along with my scissors. I use a whole bunch of different types of glue, but the glue stick still works great too. My oldest started scrapbooking with me and he uses the glue stick all the time. Just get the glue stick that says safe for photos. 
Scrapbook Tip #2
My biggest tip for beginner scrapbookers is to choose one theme and create a scrapbook album about it. Choose what you are passionate about and love. Your story will easily come through on your scrapbook pages and it will be easy to create because of your love for the theme. Don't take very very special photos and make your first scrapbook with them because you may regret it. Start small and work your way up to those photos. You will be a master scrapbooker in no time at all. For everyone this will be different because we are all passionate about different things. I created a list of some ideas at the end of the post that may inspire you to choose a theme. 

Beginner Scrapbook Theme Ideas Tip #3
For beginners, I think starting with a smaller scrapbook album and paper is helpful. I remember I made an 8×8 album that had Cinderella on the cover of just pictures of my family, friends, and pets. Again I was younger, but the concept is the same. Sometimes looking at a full 12×12 page could be overwhelming and you could have a hard time designing a layout. On the smaller pages, like 6×6, 8×8 or a 6×8 albums, with a couple stickers, paper and photos you will design and create an amazing one of a kind scrapbook album that tells your story. Also completing a scrapbook will make you so happy and encourage you to create more. 
Right now Close To My Heart has this adorable Best Friends Furever Cut Above Kit. It comes with the paper, stickers, and page holders. You just have to buy the album to put it in. This kit just arrived the other day and I can't wait to get started on it. It would be a great one to start with you have pets.
One more huge tip for beginners in creating a scrapbook themed album is to look for scrapbook kits that go with your theme. I love following scrapbook kits that have all the paper, die cuts, stickers, and instructions on how to put it all together. These kits save on time, finding paper that matches, and will help you get used to designing scrapbook page layouts. I'm all about these kits and I love how Close To My Heart has matching card stock and patterned paper already matched for you. It saves so much time and lets you do more scrapbooking. 
Beginner Scrapbook Tips (In Review)

 
#1 Basic Scrapbook Supplies to Create With 
#2 Choose A Theme for Your First Scrapbook Album
#3 Start with a Smaller Scrapbook Size 
Beginner Scrapbook Theme Ideas
Pets
Vacations
Beach
Hiking
Nature
Flowers
Your Home

 

Hobby

 

Brag Book for Family

 

Recipes
Graduation

 

Birthday

 

School Year

 

Friends
About You
Retirement

 

Holidays
Home Remodel

 

New Home

 

Thankful Album

 

All About Your Family- do one page for each member

 
I hope that you have found a scrapbook theme to go start creating today with. For me scrapbooking is preserving my memories and it's honestly like therapy for me. It keeps me calm, relaxed and I just enjoy doing it. Here are some more easy ways to start scrapbooking Using Scrapbook Kits with Instructions, Monthly Scrapbook Subscription(it will arrive the first of each month with a complete kit to make 2 double page layouts), Secret Tip for Quick and Easy Scrapbook Layouts, and Fun and Easy DIY Scrapbook Layout.