11 Cute Halloween Scrapbook Ideas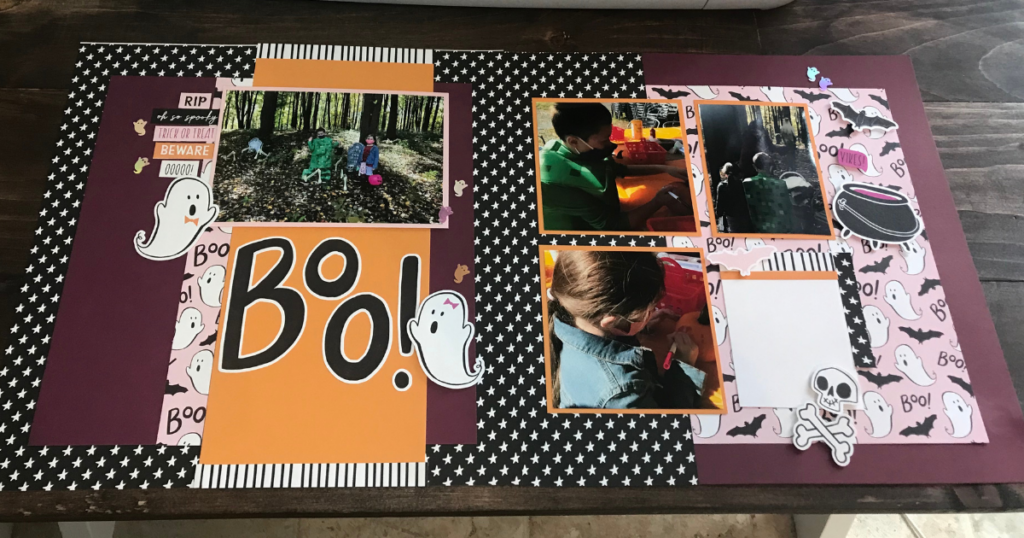 Note: As an Amazon Associate, I earn from qualifying purchases. If you click on a link from Amazon or another of my advertising affliates, I will earn a small commission at no additional cost to you. Please see my full disclosure policy here.
Halloween is a big holiday at our house and I always have tons of pictures too scrapbook. Every year I love finding new paper and stickers to create with. When I was creating these Halloween scrapbook pages I wanted to highlight cute Halloween Scrapbook ideas to share with you. These 11 ideas are perfect for any type of Halloween scrapbook page, but also these ideas can be used on any scrapbook page. 
I'm creating all of these Halloween pages with the Close To My Heart Boo Crew Collection I think this collection is perfect because the paper can be used for adult Halloween fun, for kid Halloween fun and any age in between. Also the paper has a great color collection of pinks, oranges, blacks, and purples. It has the CTMH color of the year, Wildberry, and it's such a pretty color. 
You might be thinking, this paper is too pink (I thought the same thing), but once you start creating with it, it's not. Plus I realized quite a few of the Halloween pictures had pink in the decorations so it was just the right touch. I chose not to use the wild berry, but **darker purple to make it feel more like Halloween and not to pinky. I'll be sharing a bonus tip at the end to help you out with your Halloween scrapbooking. 
CTMH Boo Crew Collection
Paper + Sticker Sheet
Paper Packet
Coordinating Card Stock
Boo Crew Sequins
Stamp Set/Stamp Set + Thin Cuts
Product Bundle
Workshop Kit
11 Halloween Scrapbook Ideas

 
#1 Halloween Scrapbook Paper
Pretty obvious right, but I feel like my favorite Halloween layouts and designs are created with paper that I love. If you have the right paper it will inspire you to create.
#2 Cut Words Out of the Scrapbook Paper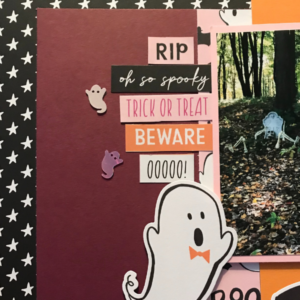 One side of this paper is filled with Halloween sayings and one thing you can do is cut them out with scissors. The words make great Halloween decorations for your page.
#3 Sequins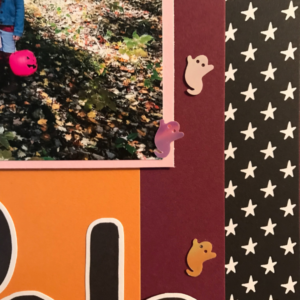 The ghost sequins are just he cutest, but adding any type of pop to your page adds that shimmer and shine. Like glitter gems , dots  dots , or black burst. 
#4 Decorate Journaling Cards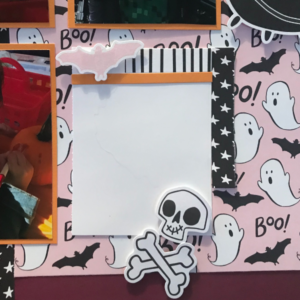 To the top or sides of your journaling card, at strips of paper and stickers to dress up a white card stock rectangle. 
#5 Switch Up the Base Paper from Halloween Paper to Card Stock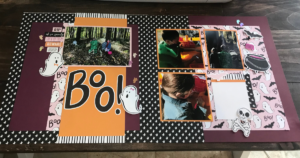 On this double page 12×12 layout, one page has a patterned paper as the base and one side has card stock. 
#6 Thin Strips of Paper Halloween Scrapbook Ideas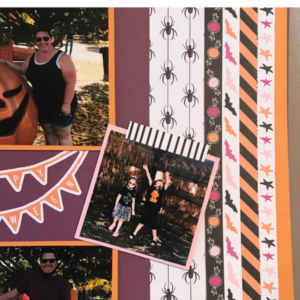 CTMH patterned paper has a zip strip on the top of each patterned paper sheet. The zip strips are .5 inches wide by 12 inches long. Using the zip strips or cutting thin strips of patterned paper is a great way to decorate Halloween scrapbook pages. 
#7 Use 3D Foam Strips on Photos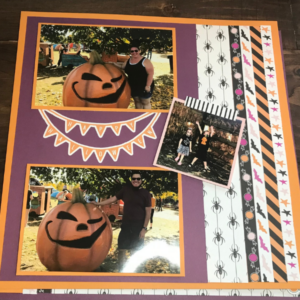 Add 3D foam strips on your photos so you can slide stickers under the photos for a smooth clean look. 
#8 Make Tags as Photo Mats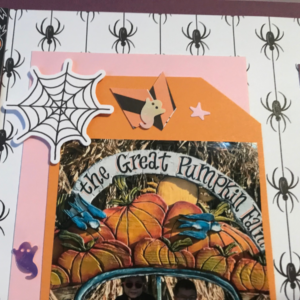 Create tags to mat the photos on and then decorate the tops. My gift tags are  3 1/4 x 5 1/4 for a 3×4 photo. 
#9 Add Strips of Paper to Look Like Ribbon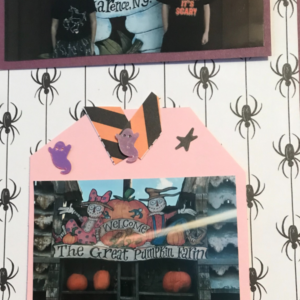 On tag photo mats or anywhere on the page, cut strips of paper diagonal and add them to the top of photos to look like ribbon. 
#10 Stickers
Having stickers that match the paper makes scrapbooking so much easier. I love how easy it is to add stickers to a Halloween page. 
#11 Take all the Scrap Piece and Design a Halloween Scrapbook Page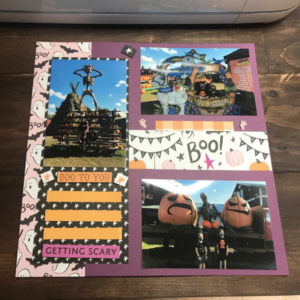 This is one thing I do all the time and it's my top scrapbook tip. I needed one more scrapbook page to complete our family pumpkin farm trip. So I just took all of the scrap pieces from the Boo Crew paper and designed a page.
Bonus Tip for Halloween Scrapbook Ideas

 
CTMH is offering right now a free Boo Crew Workshop Guide that anyone can download and use. It shows 6 layouts and a treat sack with measurements of how to cut the paper and create the pages. Lots of great tips and ideas for inspiration. As with all sketches you can use them as a guide. That's what I did for these page. 
Are you inspired to start creating some Halloween scrapbook pages? It's one of my favorite holidays to scrapbook. If your are looking for more inspiration, here are 5 Creative Ideas to Try.