5 Must Try Easy Scrapbook Christmas Cards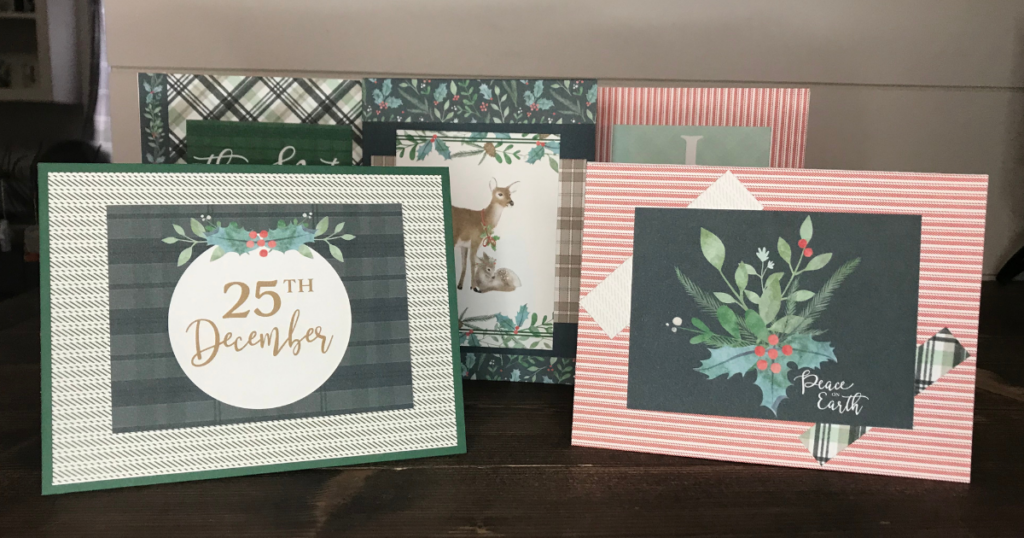 As a Close To My Heart Maker, I'm an independent consultant and may earn a commission when you buy products through my links and my shop (at no cost to you). All thougths and opinions of the products are my own.
I'm not trying to rush seasons or holidays, but Christmas has been on my mind lately. So I thought it was time to do a little Christmas card making. Scrapbooking and card making are very similar and you can use the same techniques with both. I'm all about quick, easy, cute and being creative. All 5 of my easy scrapbook Christmas Cards can be made in less than 5 minutes each. Just think in one hour, you could make 12 cards. That's what I like to think of as crafty goodness or if an hour seems unreachable, you can make 3 cards in 15 minutes. 
I have 5 Christmas card scrapbook ideas to share with you. When I go to make my Christmas cards, I'm going to pick my favorite design and just create it with different paper combinations. It will be the quickest and easiest way to create a set of Christmas cards and each one will still be special and unique. 
I've created all of these Christmas card with the **Close To My Heart Holly & Ivy paper collection. This Christmas patterned paper is a classic collection to me. Yes I'm a total traditionalist when it comes to Christmas, I like the red, green and the plaid. My favorite thing about CTMH collections is how everything matches perfectly and it makes it even easier to create the cards. You have matching patterned paper, card stock and picture my life cards. 
Supplies for Making Christmas Cards with Scrapbook Paper
Paper Trimmer
Adhesive Runner
Holly & Ivy Collection: Picture My Life Cards, Patterned Paper, Coordinating Card Stock 
Blank Cards
I like to buy my card bases already made. CTMH has a 50 pack of the A2 cards (4.25×5.5). You could make them if you like, but to me it's just easier to buy them. 
On each Christmas card scrapbook idea, always start with the base layer first. 
Then add the other paper and picture my life cards on top. I choose to only use adhesive runner on my cards because if you use 3D foam, your cards may get ruined going through the machine. You can pay a non-machine fee (it's about 20 cents) so it does't go through the machine. I don't do this for Christmas cards because I mail so many, but I do for birthdays and other special occasions. 
Picture my Life Cards are probably one of my favorite CTMH products. I love them for making easy scrapbook pages and birthday cards. The cards are double sided and have a variety of designs, sentiments and images, You get 12 4×6 cards and 12 3×4 cards.
Christmas Card Making Tips
-Start with the base layer and add on 
-Always start at the bottom of the card, if it has several card pieces
-use an adhesive runner
-save all the scrap papers 
-buy pre-made cards with envelopes 
-pick coordinating card stock and patterned paper so you don't have to spend tons of time matching paper and colors
-Make sure the card is positioned correctly before you start glueing on pieces 
5 Easy Scrapbook Christmas Cards
Christmas Card Scrapbook Idea #1

 
Base layer of evergreen card stock 4.25×5.5
Cut the patterned picture my life card to 5.25 in length and adhere it to the center of the card 
Add the 25th December picture my life card to the center of the card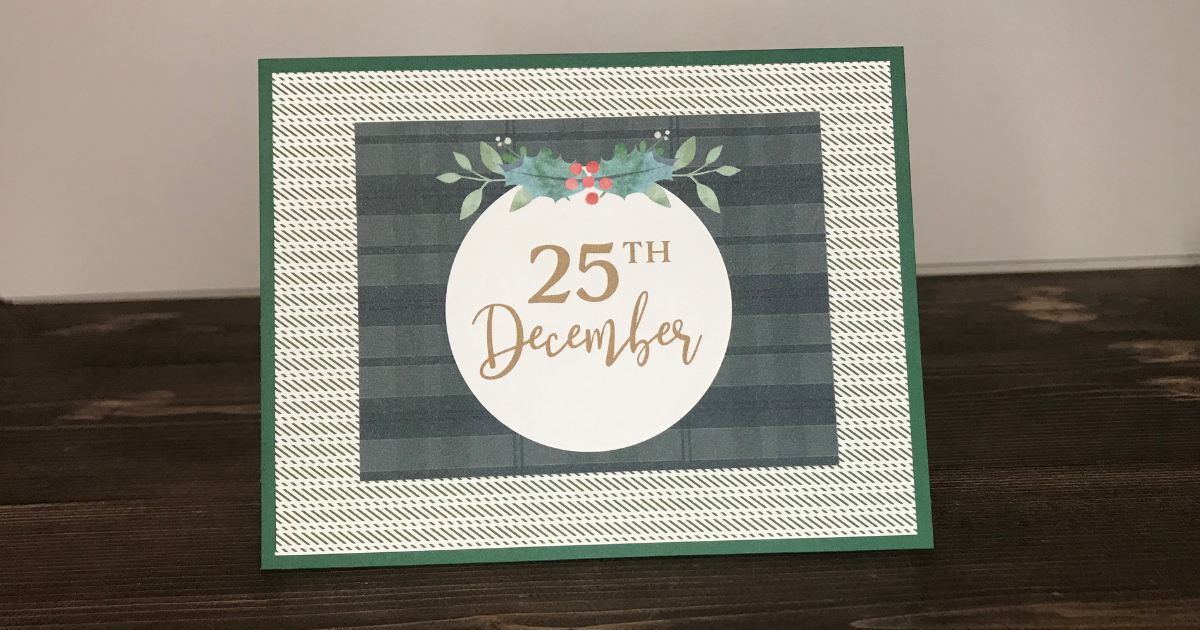 Scrapbook Christmas Card Design #2
Base layer is the plaid picture my life card cut to 5.5 length and glue it to the right edge of the card, this will leave a white strip on the left side
Cut the zip strip of holly off of the the patterned Holly & Ivy paper and cut it to 5.5 in length. Add it to the side of the plaid picture my life card (in the white space). 
Add "The Most Wonderful Time of the Year" picture my life card to the top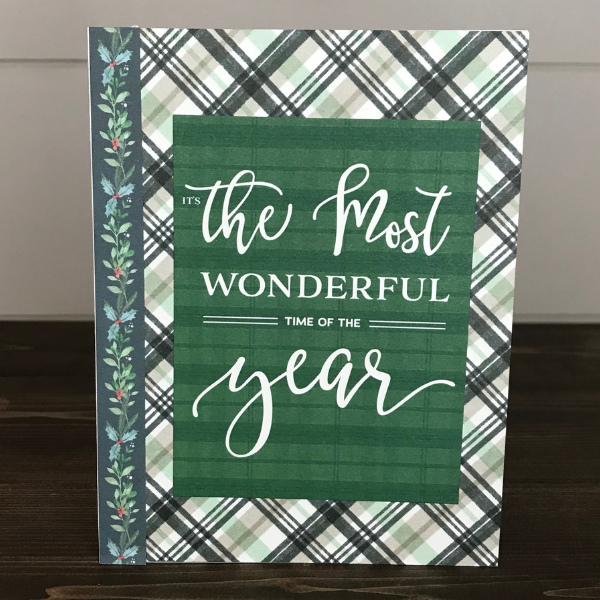 Christmas Card Scrapbook Idea #3

 
Cut the red and white striped patterned paper to 4.25x5x5 as the base layer
Take the scrap strips from the above cards and cut them to fit under the picture my life card of "Peace on Earth"
Glue just the center of the picture my life card, then glue the scrap strips under it, then adhere the card fully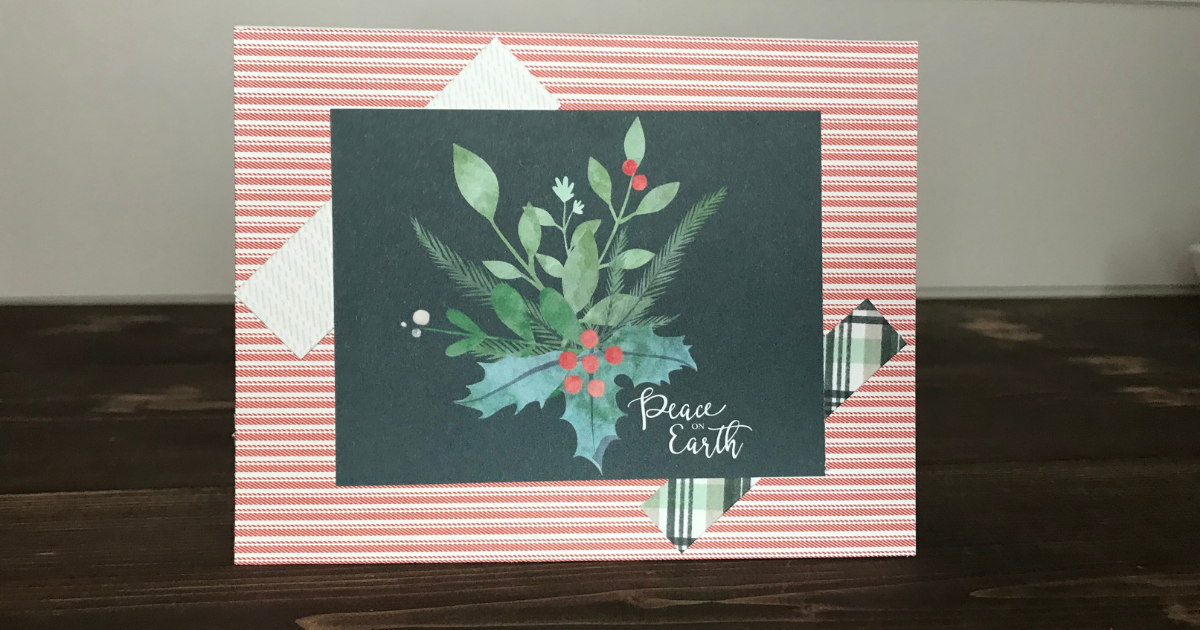 Scrapbook Card Design #4
Cut the ivy and the striped patterned paper 2.75×4.25. This will be the base layer. 
Glue the ivy paper at the bottom first and then the striped paper on top. 
Add a zip strip (from a top of the patterned Holly & Ivy paper) to the center. The zip strip will be 4.25 inches long. 
Lastly add the "Joy" picture my life card in the center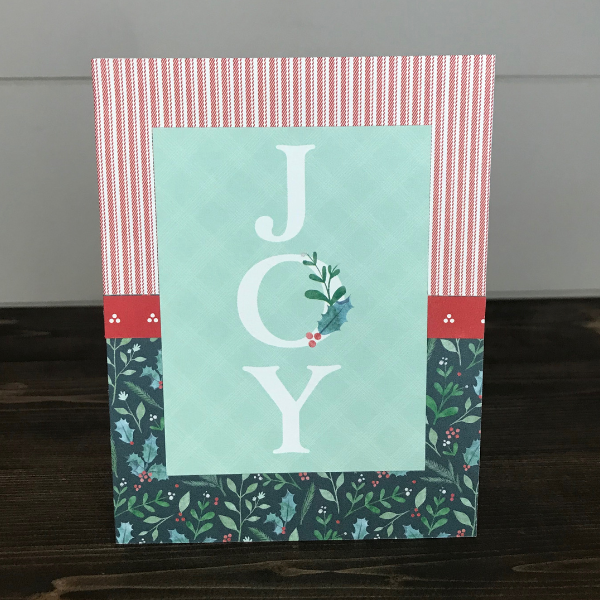 Christmas Card Scrapbook Idea #5

 
Cut the base layer 4.25×5.5 in harbour card stock 
Using the ivy scrapbook paper, cut the top strip .75×5.5 and the bottom strip .5×5.5 
Add the brown plaid picture my life card horizontal and place the deer picture my life card vertical over it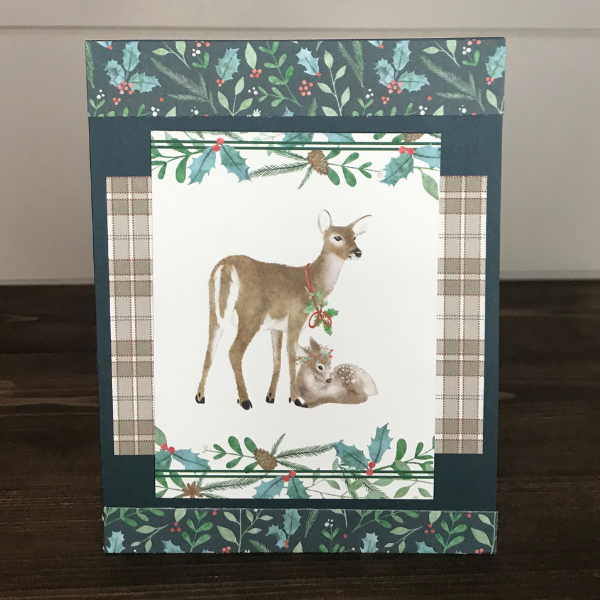 I hope you are inspired to start making Christmas cards with scrapbook paper today! These cards are all so easy to make and they barely made a dent in my Christmas scrapbook paper. With these quick designs, you can easily make a set of Christmas to create and share, just think of the smiles you will be making. 
Other Christmas Card Scrapbook Supplies
If the Holly & Ivy collection aren't your style then here are some other Christmas scrapbook paper you might like. Some of them are even on clearance and are an amazing deal. Also CTMH has card making workshop kits. With these kits you get all the supplies (just buy glue) and follow the directions to make unique Christmas cards. 
Holiday Sparkle Cut Above Kit– Holiday Shaker Window Cards or Jingle Joy Picture My Life Cards

Cedar and Pine Bulk Paper or a Cedar and Pine Card Making Kit

White Pines Paper Pack or a Card Making Workshop Kit