Fun & Sun: Cricut Summer Scrapbook Page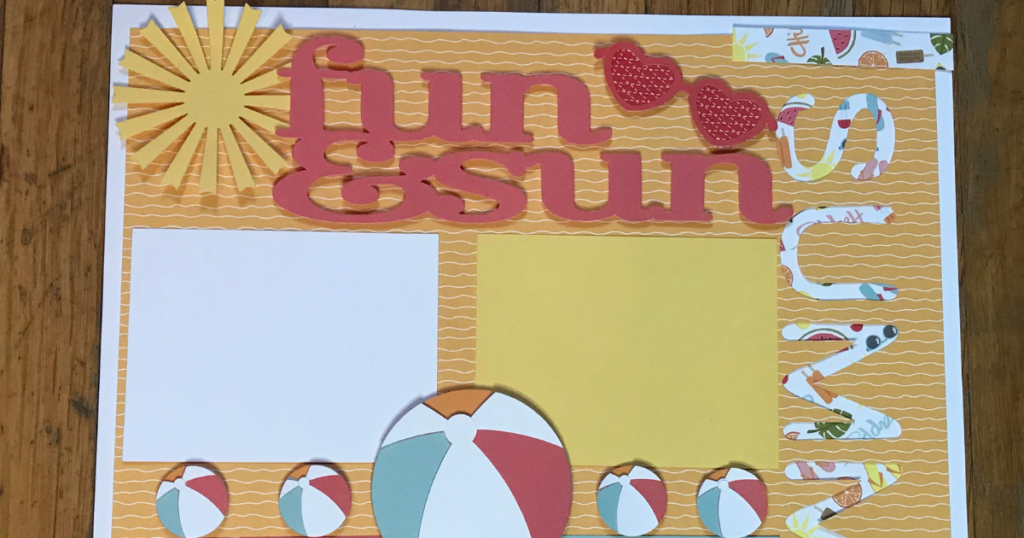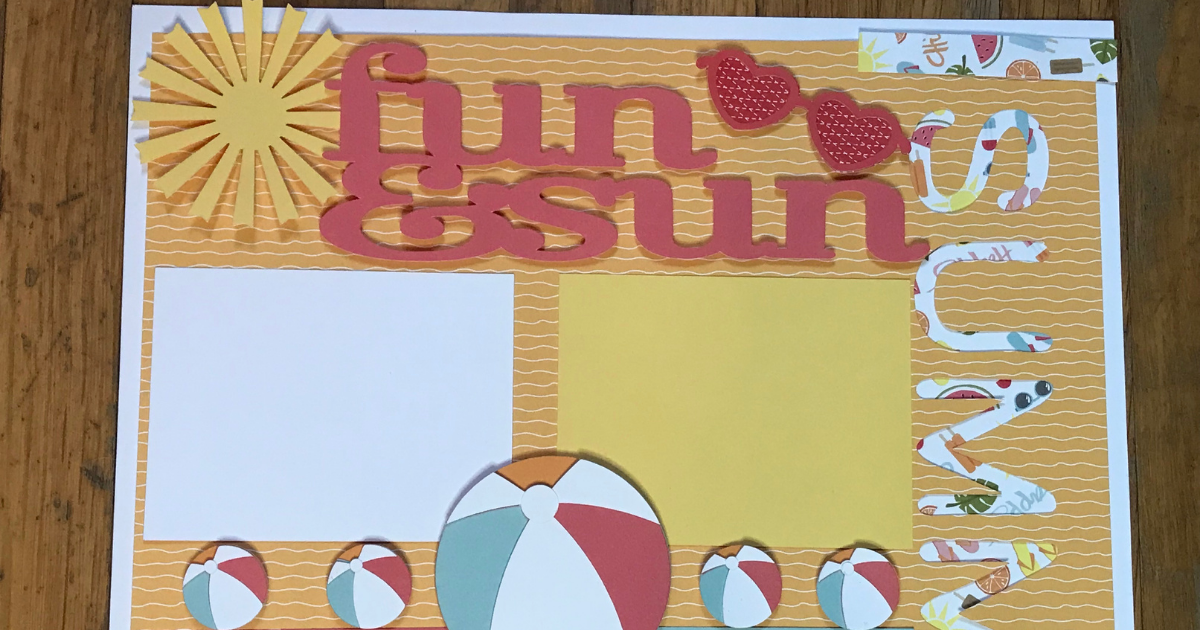 Note: As an Amazon Associate, I earn from qualifying purchases. If you click on a link from Amazon or another of my advertising affliates, I will earn a small commission at no additional cost to you. Please see my full disclosure policy here.
Fun and Sun are the perfect words to describe summer. The sunshine just makes everyone happy. Water balloons, squirt guns, playgrounds, picnics all those fun things we only get to do in summer. So it makes a great scrapbook page title and I found the best images in Cricut Design Space to build a summer themed page. Use these ideas to build and create your own Cricut summer scrapbook page. I'll be sharing my Design Space file so you can easily create your own page too.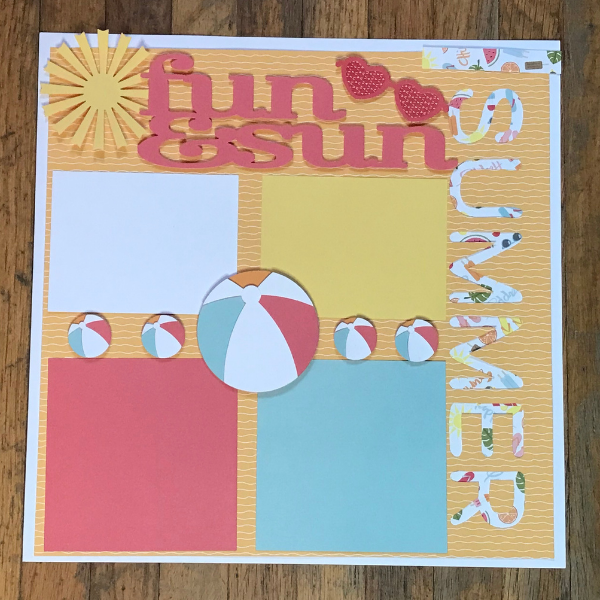 Designing a scrapbook page in Cricut Design Space can be overwhelming. There are just so many wonderful images to choose from. For my summer scrapbooking ideas, my go to our the Close To My Heart Image Sets. 
To find image sets, click images. Then in the 1st column (under the search bar), click image sets. A search bar will show and type in Close To My Heart (CTMH).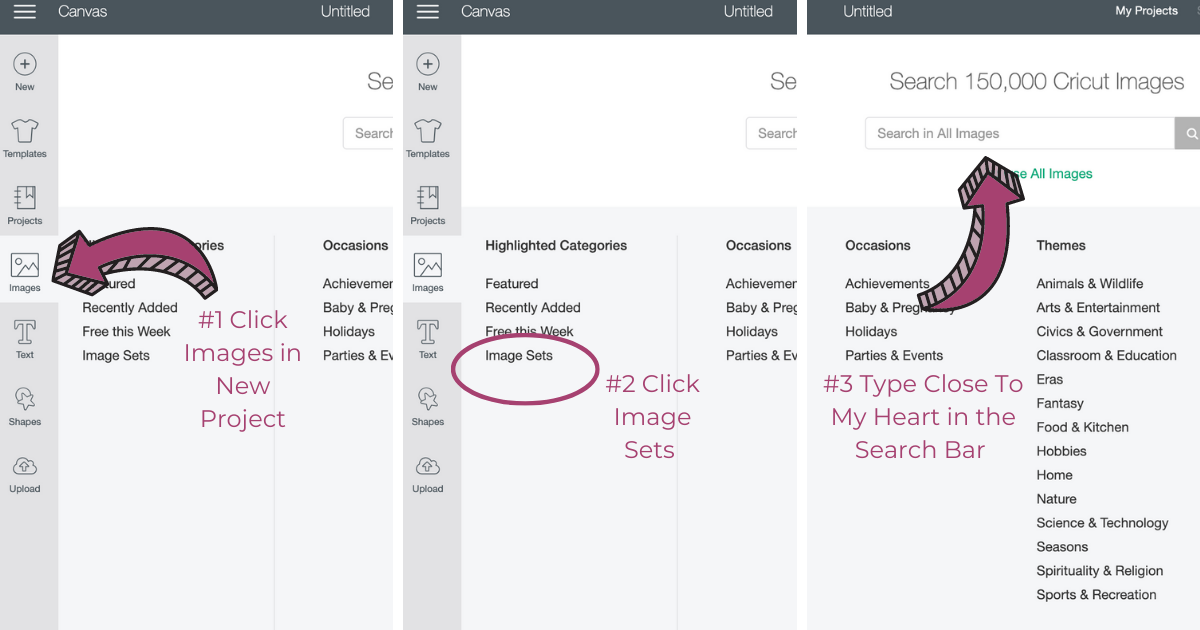 CTMH Images for Summer Scrapbook Layout
Summer Page Photo Mat #M3DE3A
Fun & Sun Title #M3EF3F 
Flower #M47400
Sunglasses #M2677DECA
Beach Ball #M1718D056
Let's talk about the image sets really fast before we get into this adorable summer page. I purchased the Stars and Sparklers image set, which is where the sunglasses are from. How can you resist those heart shaped sunnies. Here is all about the Cricut scrapbook layout template that is a part of that image set.
Now the Summer Vibes image set is still available, but I only wanted the beach ball. You can buy the individual images or the entire set.  The great thing is that once you purchase the image or image sets, they are yours forever. The image sets will always be available in your Design Space images.  Also CTMH and Cricut keep the digital sets available even after the paper has been retired. If you are a Cricut Access member (I highly recommend it) many of the CTMH images are included your access membership. Make sure you check out all of the CTMH Cricut Collections because they are so cute! 
Ideas for Cricut Summer Scrapbook Page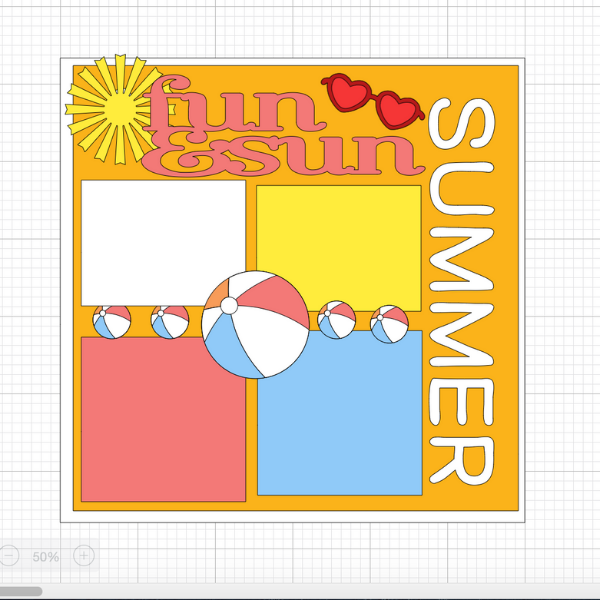 The base of this page is 12×12 White Daisy Card stock. I use it as a base in my Design Space file, but I will hide the image before cutting the design. When creating a scrapbook page, you always build the page from the bottom layer to the top layer.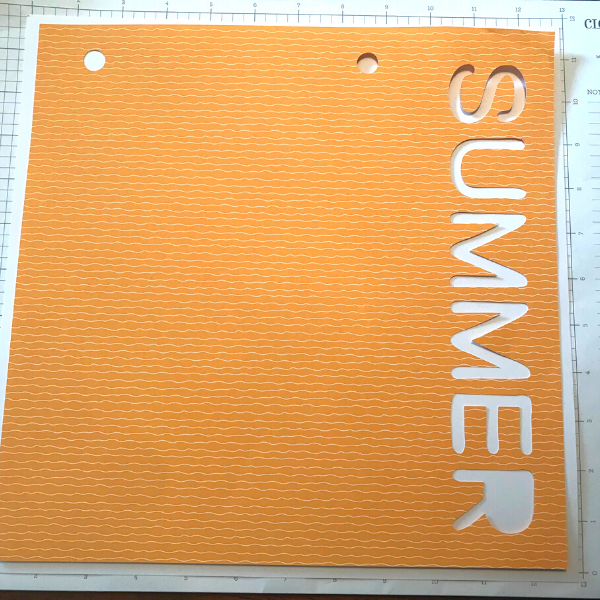 The next layer is the Summer Photo Mat. For this I used in a sheet of the Mixed-In Paper. The cool thing is that I now have the word summer to use on another scrapbook page. This will layer on top of the white daisy card stock.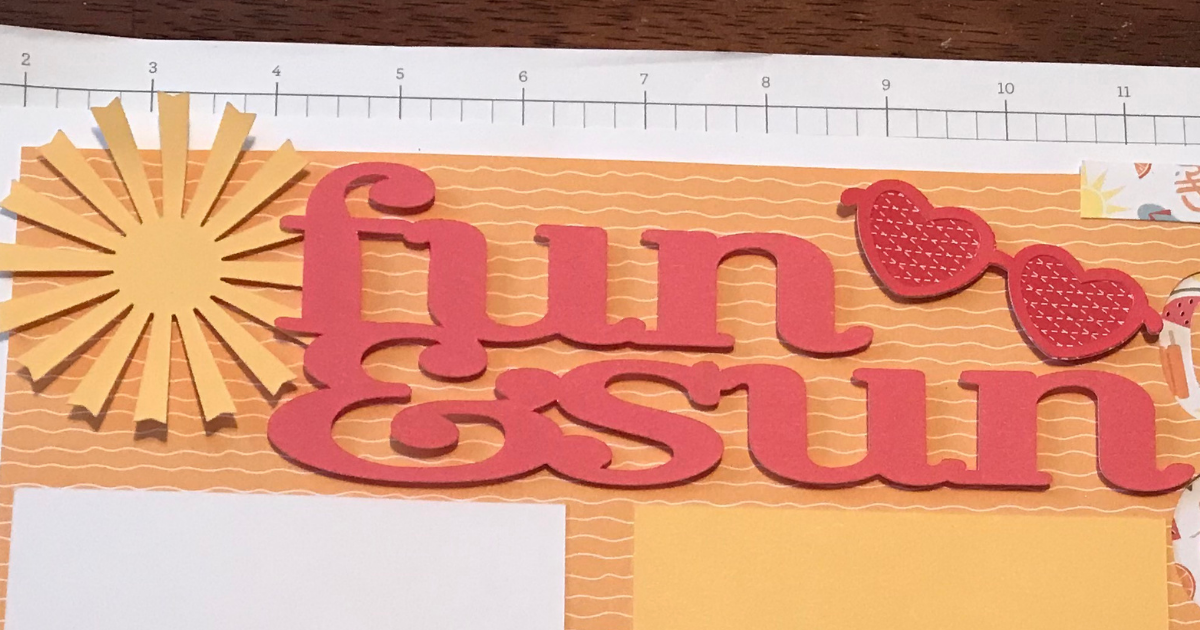 Next I created the title and the sun. The image says "flower", but I thought it made a great sun. I used 3D foam strips on the sun and the title, just layer the title a little over the sun. For the sunglasses, I hid the layer with the dots to cut out and used small polka dot paper instead. It worked out perfectly with the Mixed-In Paper and the candy apple red card stock.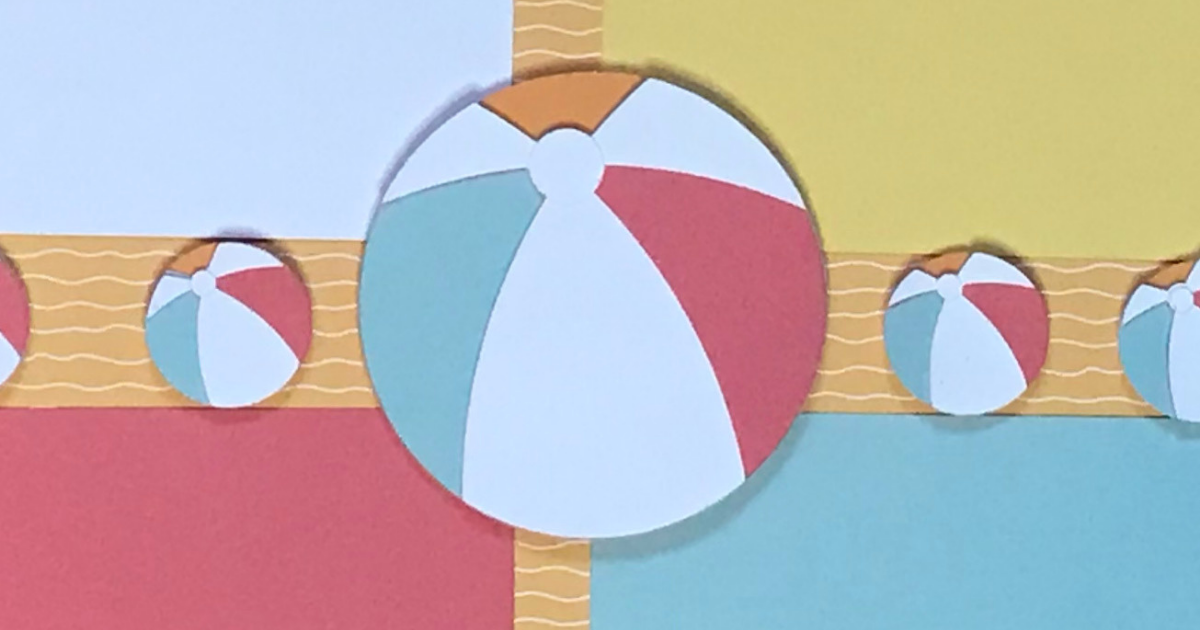 The beach ball is made with all Close To My Heart Card Stock. I say this in all my blog post, but this card stock is the best with the Cricut. It's smooth and cuts so well with all of my Cricut machines. 
Photos on Summer Page Design
This page holds two 4×4 photos and two 3×4 photos. For the photos, I did picture mats in coordinating colors with the beach ball. Using all the same brand of paper is such a time saver and makes matching paper so easy. Everything goes so well together.  The color scheme of this summer page is bright, cheerful and sunny.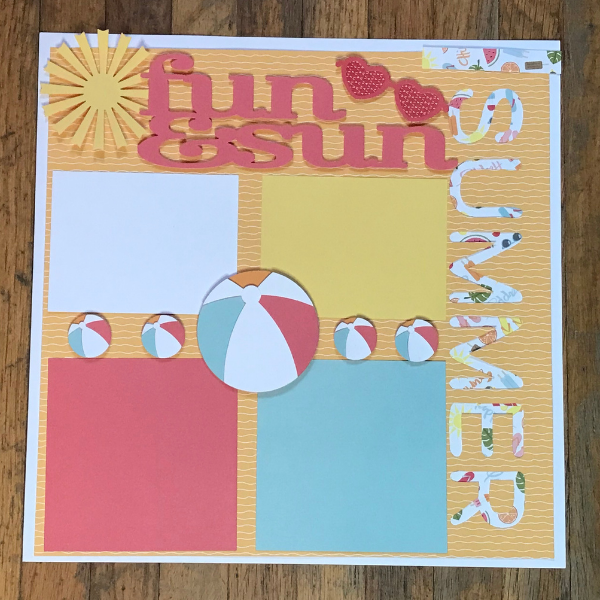 After I put the page together, I decided it needed something under the letters of summer on the photo mat. The plain white was just too boring. Sometimes this happens when creating scrapbook pages, but just think of a way to fix it up. Again using all CTMH paper saved me because the Summer Vibes scraps were perfect for under the letters in summer. I had exactly enough to fit behind all the letters, but it's just what this summer themed page needed. 
CTMH Scrapbook Paper Used
Mixed-In Paper
Smoothie Card Stock
Glacier Card Stock
Candy Apple Card Stock
Nectarine Card Stock
White Daisy Card Stock
The great thing about CTMH card stock is that you can buy 24 sheets of one color or get a custom card stock pack in a 24 packs or a 12 pack. 
Let's get started on those fun summer memories by using this Summer Scrapbook Page Design Space File to make your own page today.