How to Make Fun Cricut Kids Birthday Cards (they will go crazy for)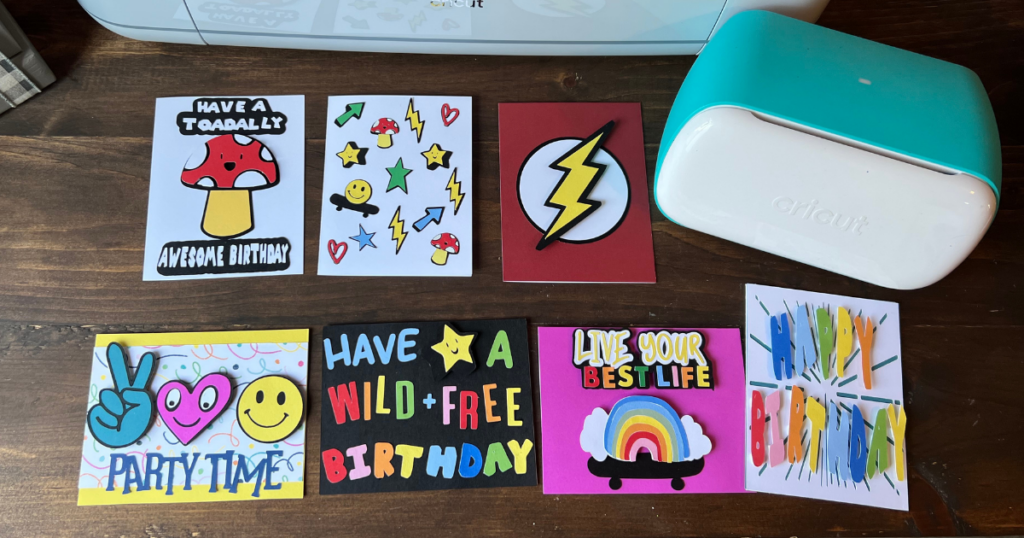 Note: As an Amazon Associate, I earn from qualifying purchases. If you click on a link from Amazon or another of my advertising affliates, I will earn a small commission at no additional cost to you. Please see my full disclosure policy here.
Who's ready for some exciting new card designs that are perfect for kids and teens? It's time for some bright, colorful, fun cards filled with iconic symbols. Do you remember doodling with gel pens on your paper bag book covers? Well the Fresh Paint collection is like all of those iconic symbols and your favorite things. I feel like all of these symbols have been passed down since the beginning of time and are always cool! These Cricut kids birthday cards are made for the older kids and teens who need to fill like a kid, but also more grown up. I mean who wouldn't love to see a rainbow riding a skateboard?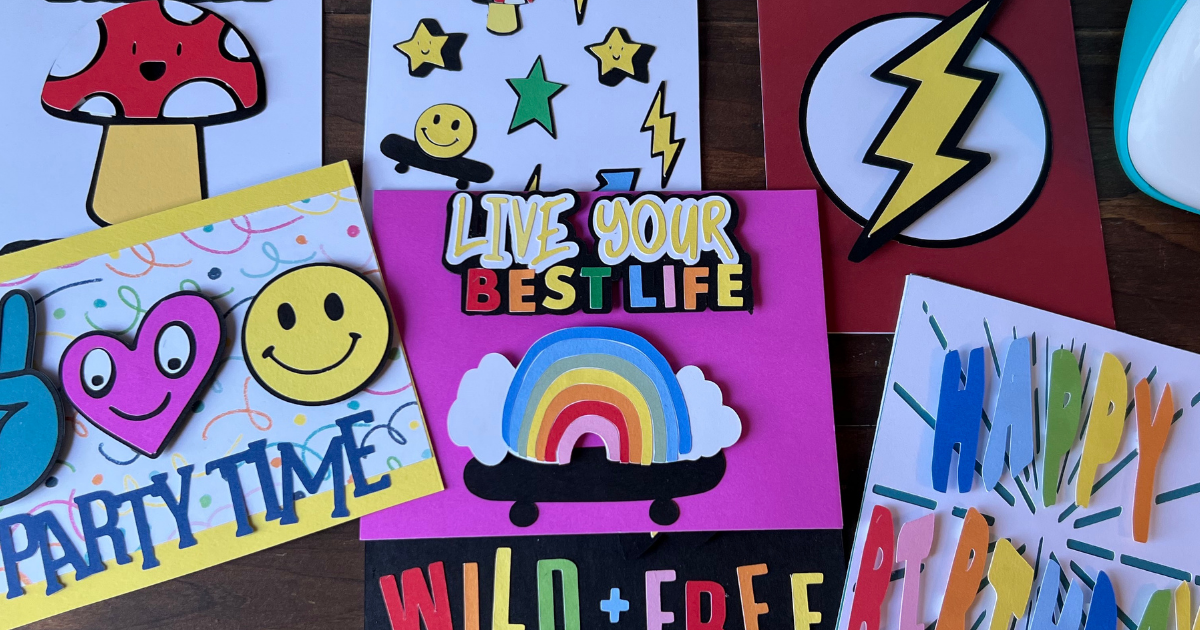 Some things I really love about these Cricut kids birthday cards are that they are created with the Cricut Joy, a paper trimmer, and use all scrap pieces of paper. They were so much fun to make and design! I only created 7, but so many more designs can be made. How cute are these images? 
If you love card making with your Cricut like me, try out How To Make a Slim Card or Tri-Fold Birthday Cards. Both of these types of cards will have to be made with a Cricut Machine that can score and cut a larger size than the Joy can.
Fresh Paint Digital Image Collection for Cricut Kids Birthday Card Ideas
Now the Fresh Paint digital art collection can be used with any cutting machine that uses an SVG. I use a Cricut machine, but the designs can be cut with any digital cutting machine. You can purchase the fresh paint images and then go to the digital library in your Close To My Heart account to download them. Then upload the digital images to your cutting machines software. 
The first step with any digital image collection is to upload all of the images to design space. Click new project and then upload. I upload all my new images at one time. 
Some of these images are a part of the scrapbook layouts, but you can still use them for cards and other designs. To use the images from the scrapbook layouts just add the scrapbook layout image to your project and start deleting all the pieces you don't need. 
How To Make Cricut Joy Birthday Cards
I chose to cut my base mats for my cards with a paper trimmer, but it's a personal choice not to use the Cricut Joy for that. If you are using a Cricut Joy, you won't be able to create a card base so I use already made **blank cards, For me it's just easier and I always have a set of blank white cards on hand. 
Using the Cricut Joy to make birthday cards is perfect because it's just the right size for it. In Cricut Design Space make a 4.25×5.5 rectangle as your base and start designing. The card can either be vertical or horizontal. Make sure all your images fit on the rectangle because that is the size of your card. It's that easy to make cute greeting cards. 
A tip for the Cricut Joy and the black Close To My Heart card stock is to rerun it though the joy again. Instead of clicking unload, just click rerun when it's done cutting. I don't know why, but it didn't cut all the way through, but it was only the black card stock. 
Today I have a deal for you! If you are a Cricut user and purchase the Fresh Paint digital image collection from me, I will email the Design Space links to all of the cards that I created. So all you have to do is open the designs and start cutting them.  
Cricut Kids Birthday Cards Materials
Cardstock: Carolina , Lemonade , Green Apple, Candy Apple , Nectarine , Ballerina , Bluebird , Wild Berry , Clover,  Black, White, Canary, Cinnamon, Harbour
White Cards & Envelopes
Glue
Paper Trimmer
Fresh Paint Digital Art
Cricut Joy
Cricut Kids Birthday Cards Ideas
Wild + Free Birthday Card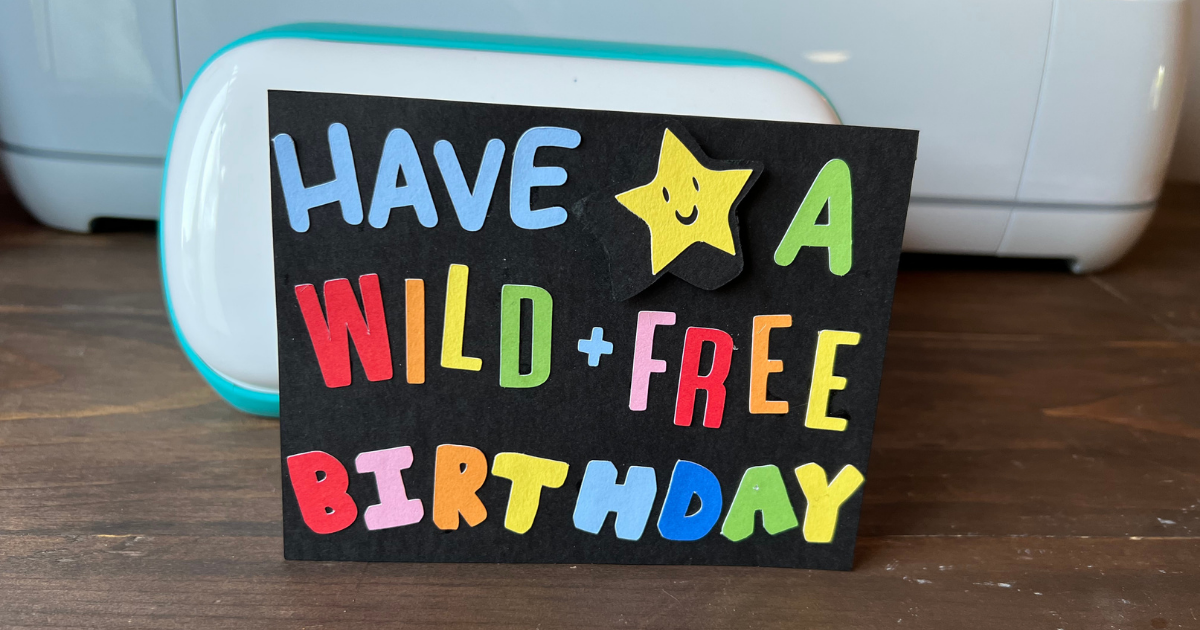 Happy Birthday Card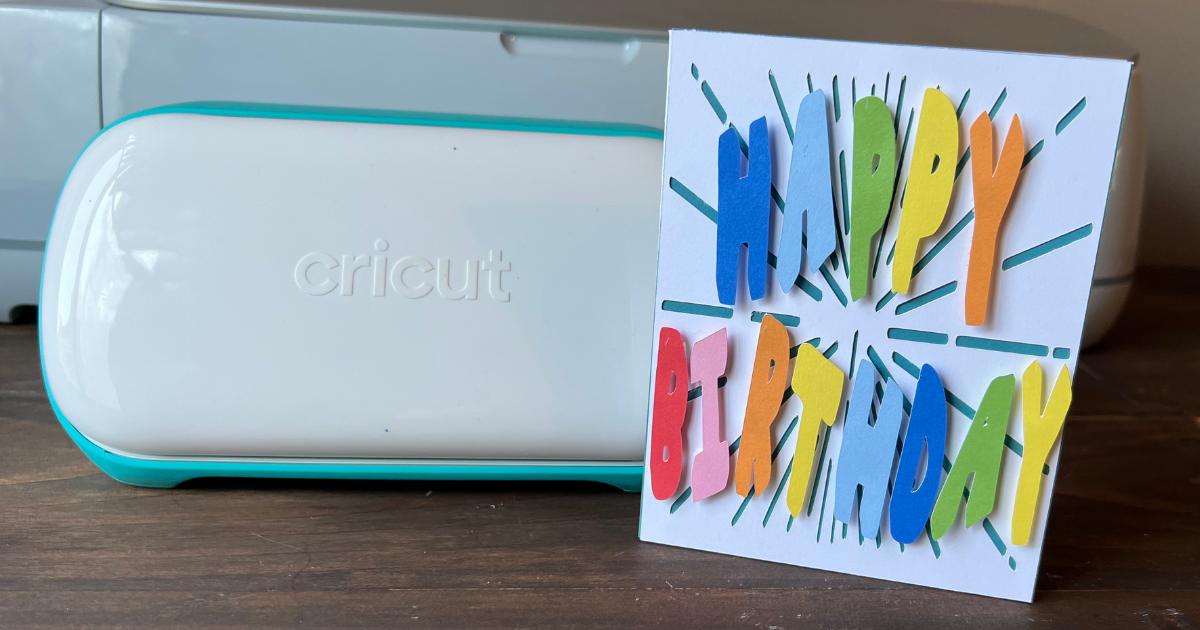 Live Your Best Life Card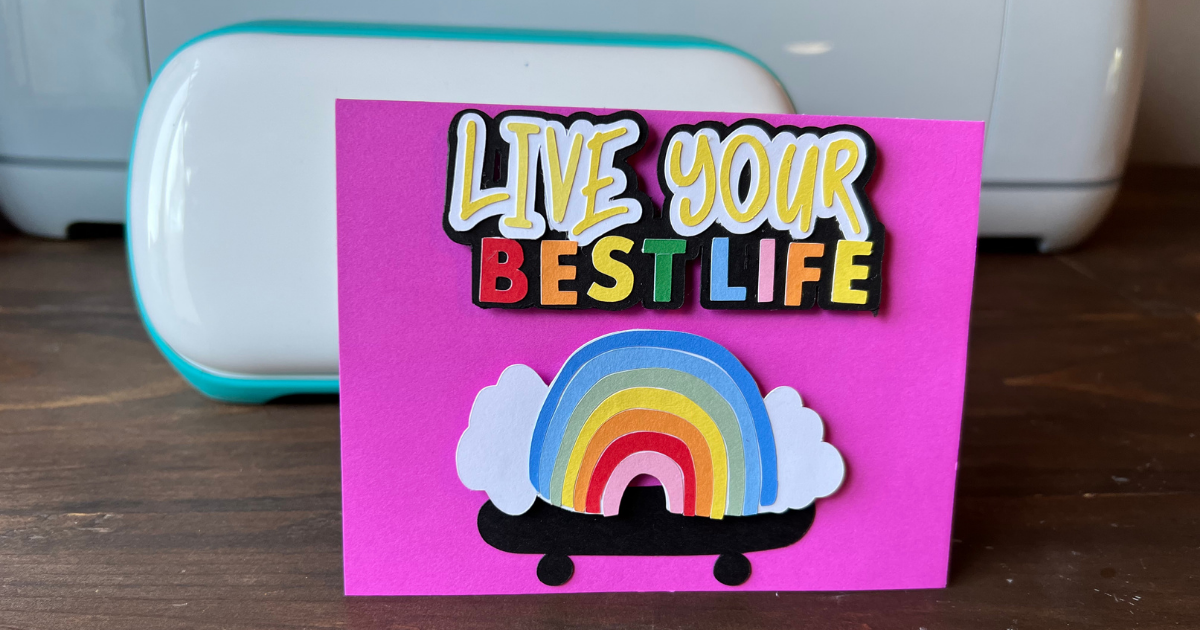 Party Time Birthday Wishes Card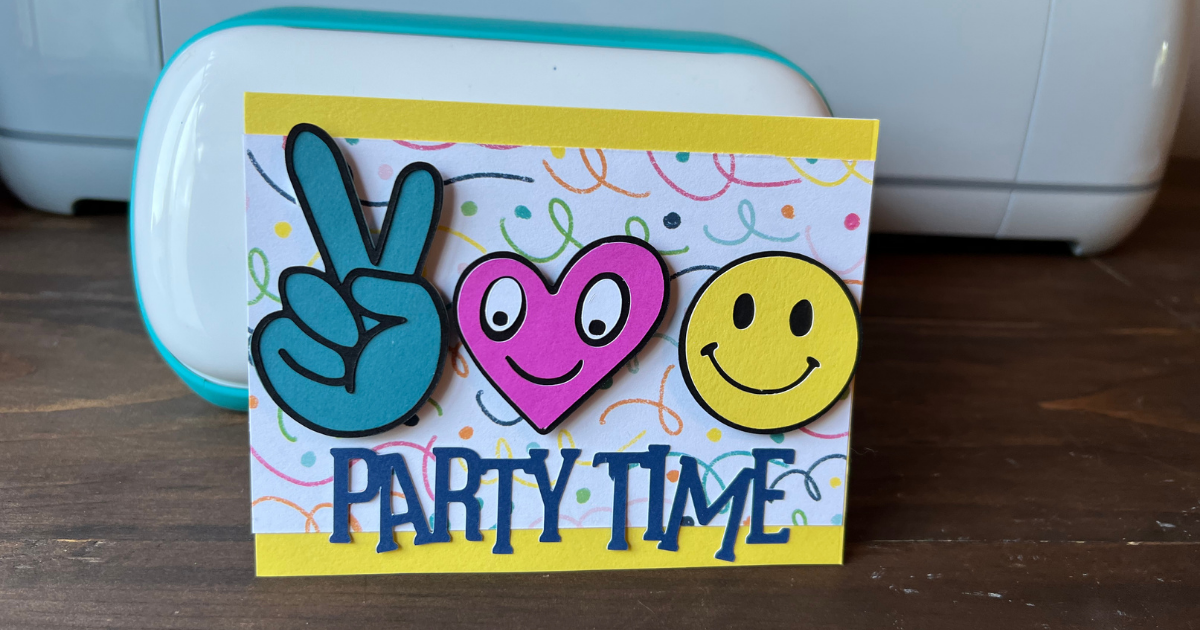 Icons All Over Card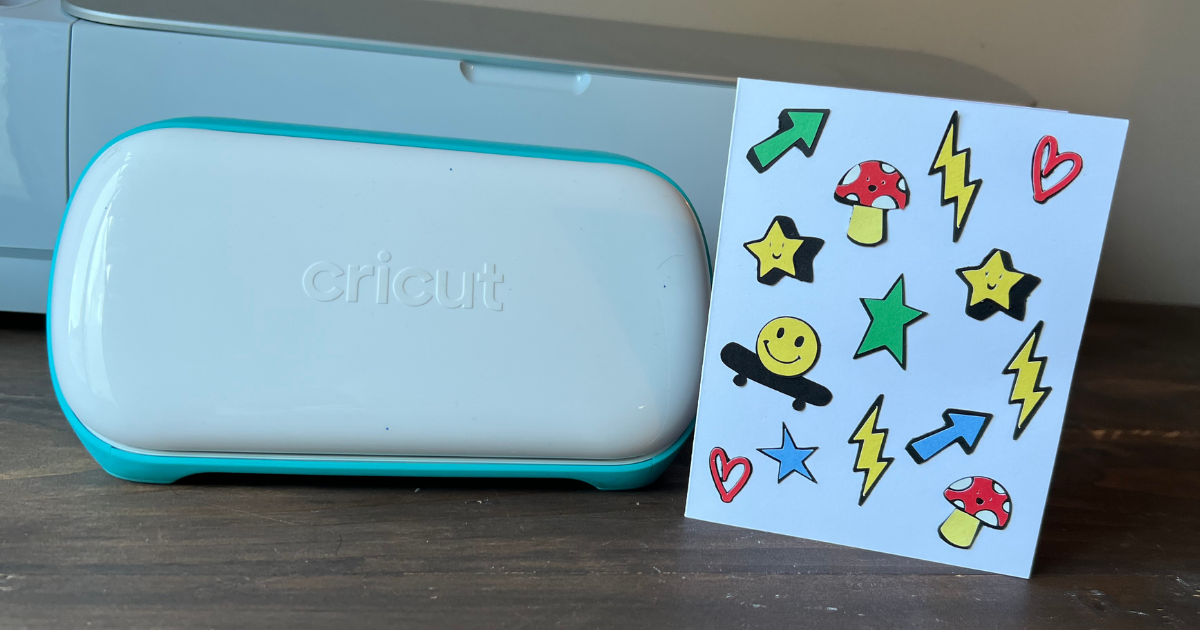 Mushroom Card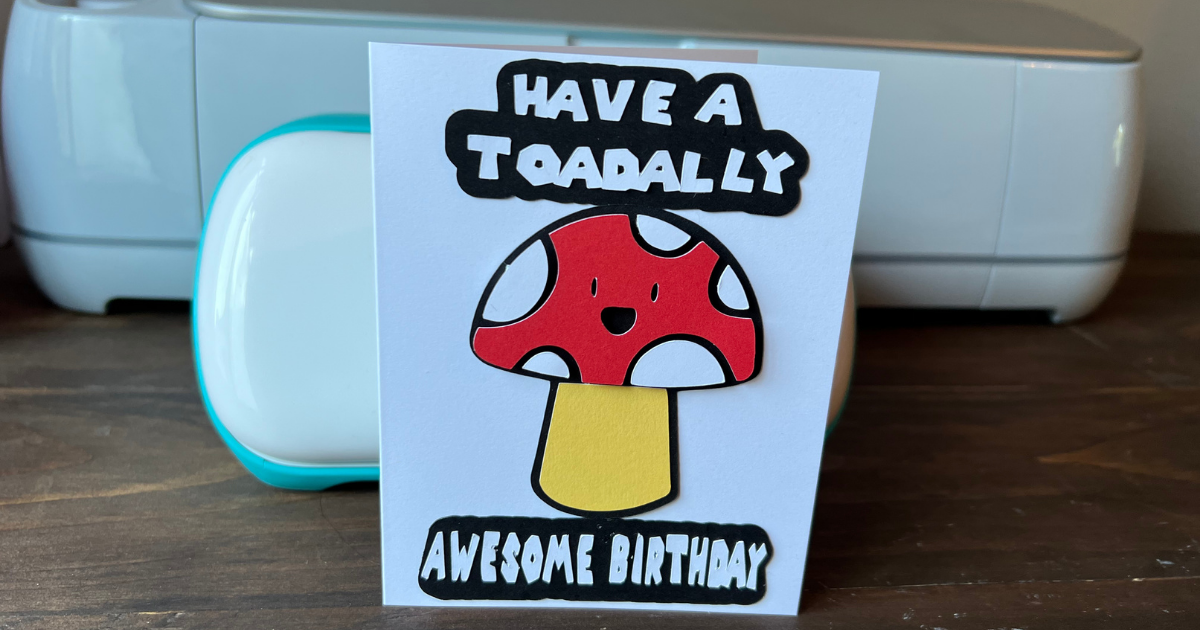 Flash Card