Vintage Family Scrapbook Design Ideas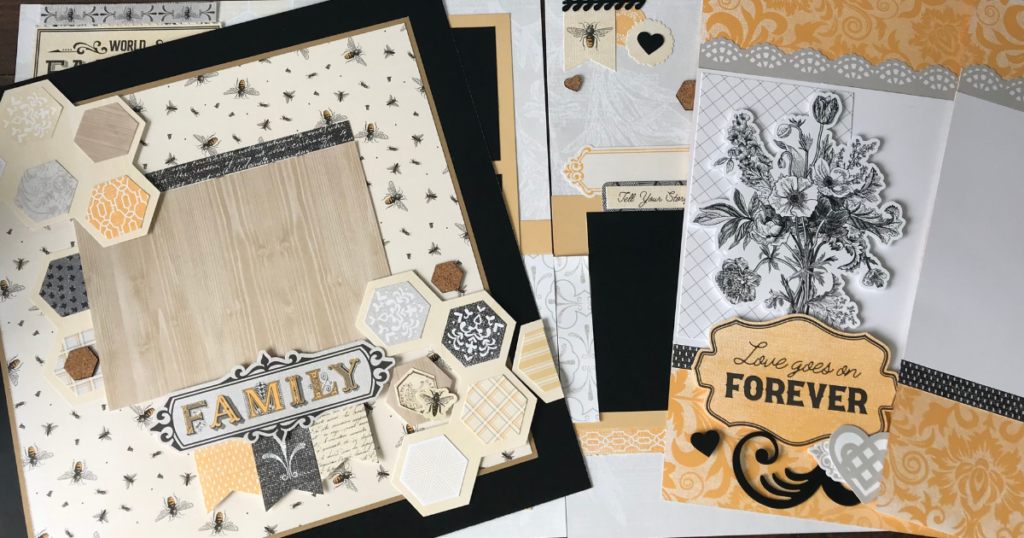 Note: As an Amazon Associate, I earn from qualifying purchases. If you click on a link from Amazon or another of my advertising affliates, I will earn a small commission at no additional cost to you. Please see my full disclosure policy here.
Family is a gift that last forever so It's something that is scrapbooked all the time. Sometimes scrapbooking family can become so mundane and boring because you feel like it's all been done. However sometimes you just have to change it up and think outside of the box (or beehive) for some family scrapbook design ideas. 
For all the queen bees out there, these family scrapbook designs are for you. Plus bees always work together as a family and there is just something cute about them on paper. 
Family Scrapbook Design Ideas
Use Hexagon Shapes as a Design Idea
One design element I really like about these family scrapbook layouts are the hexagon designs. It's just a shape I don't use a lot in my scrapbooking and you probably don't either. Using a new shape when designing gives the pages a fresh look and feel.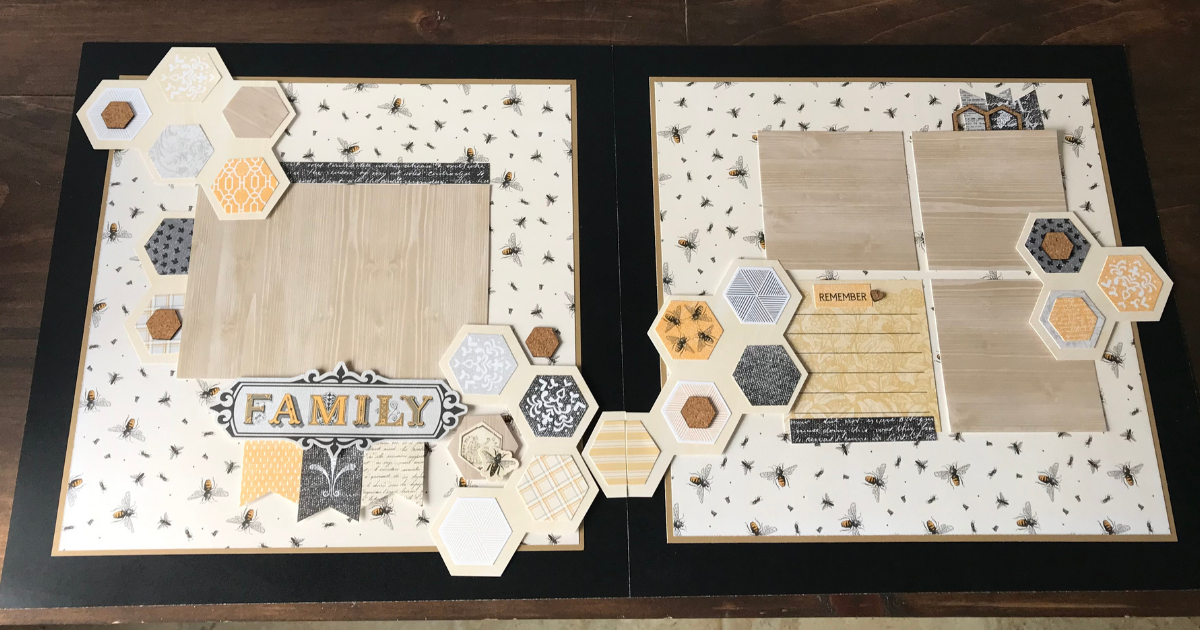 The honeycombs hexagons all fit together just like a family. I really like the look of the cork hexagons too. This is my first time using cork elements in my scrapbook, but I'm loving the look of it. It just gives a natural feel to the page. 
Use Different Color Schemes and Styles on the Family Layouts
Sometimes stepping out of your comfort zone and going with a new look can really give your family layouts a boost. The Sweet as Honey collection has a real vintage feel to it and would look amazing for a family tree or heirloom scrapbook.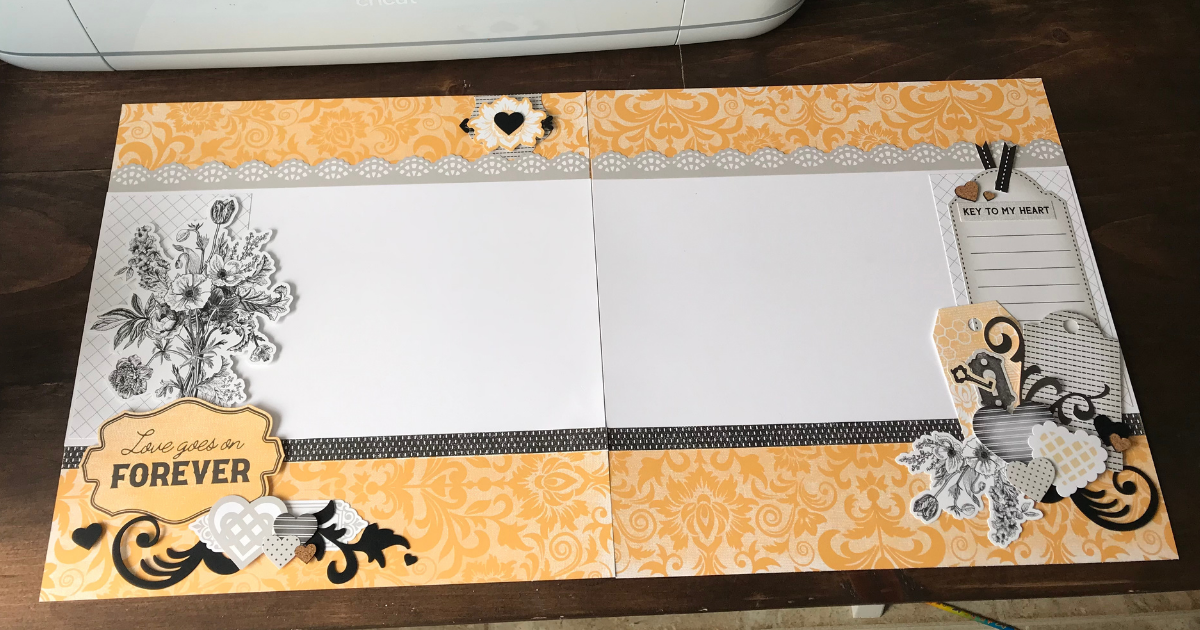 Going with mostly black and white with the bright colorful base page really makes everything pop on these pages. 
I also love the layout of these pages too because it holds four 4×6 photos portrait style. Using 4×6 photos in my scrapbook is my favorite thing to do. 
Another element of this family scrapbook design is how easy it will be to match photos to this page. By using mostly neutral colors almost all photos will go with this page design.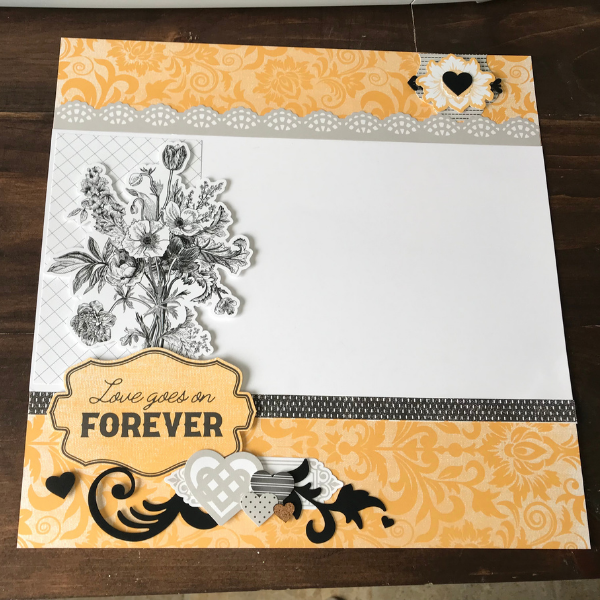 Also don't forget to give pages more depth and design by layering the die cuts and stickers on top of each other.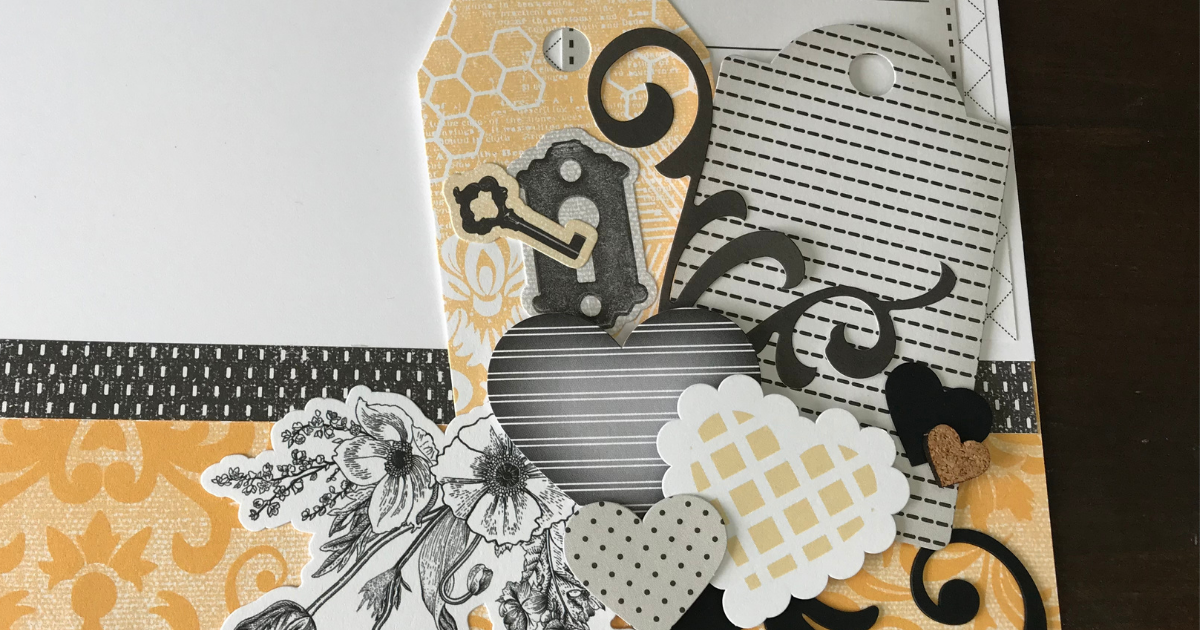 Add Bee Hives and Different Types of Stickers
My favorite family scrapbook design element on these 12×12 pages are the bee hives. How stinking cute are those? It's a different shape again (just like the hexagons), but it fits in perfectly for family because family always comes back to the hive.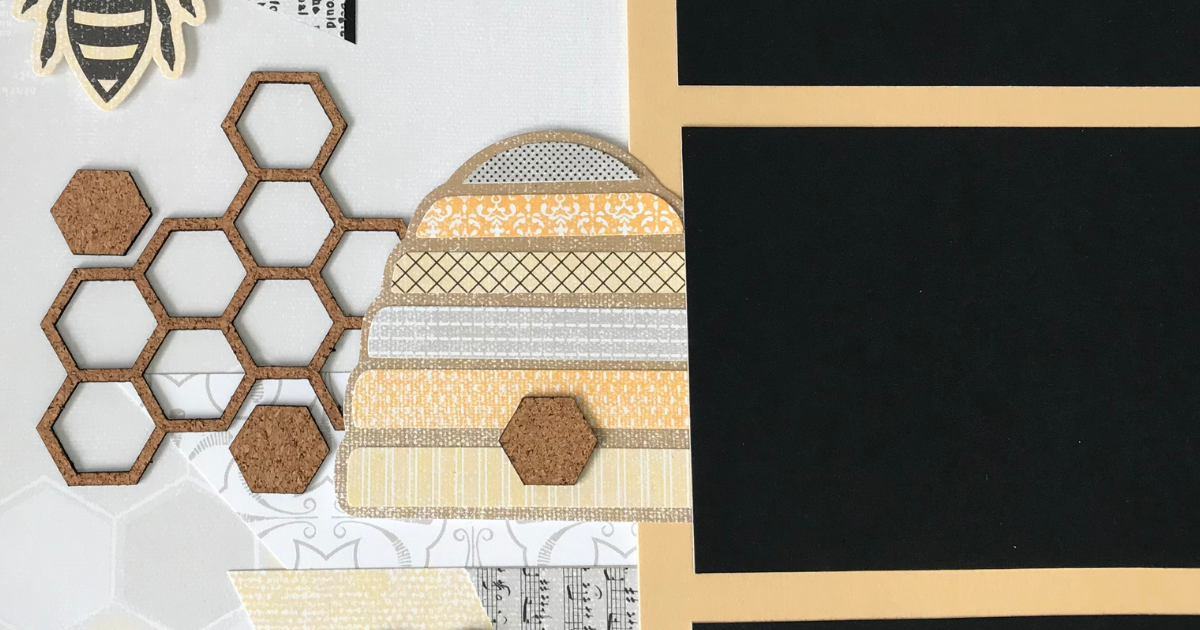 Mixing up how you add photos to your scrapbook layouts is always a good idea. I like how one page has the photos going vertical and the other horizontal.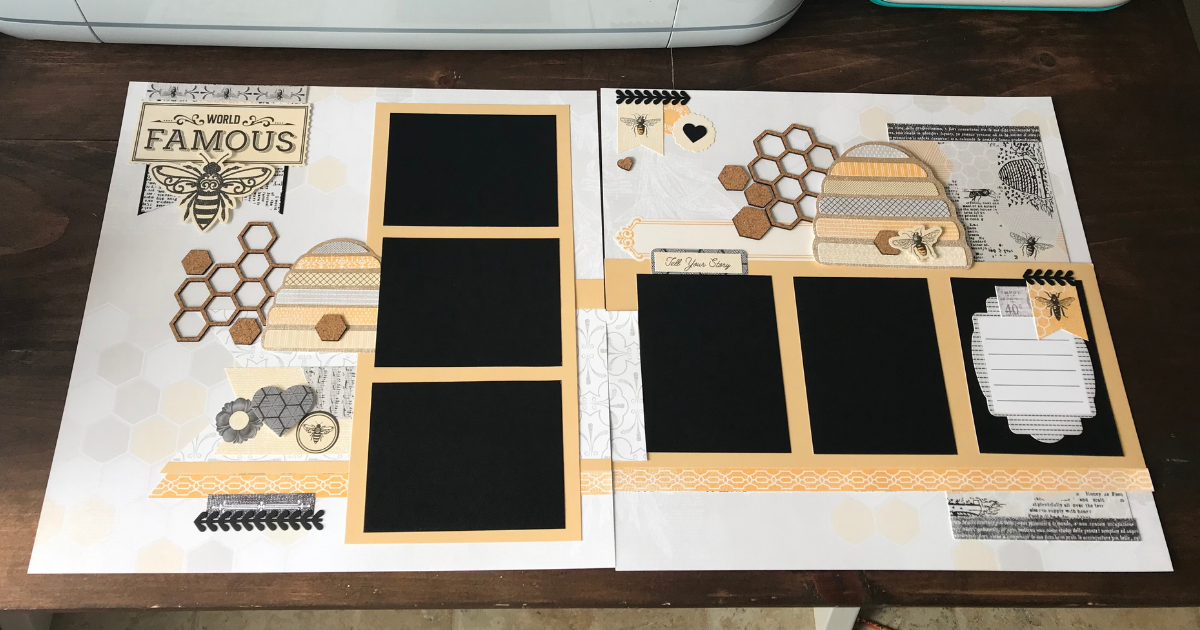 Again the cork honeycombs are perfect for this page and add such a fun and simple design element.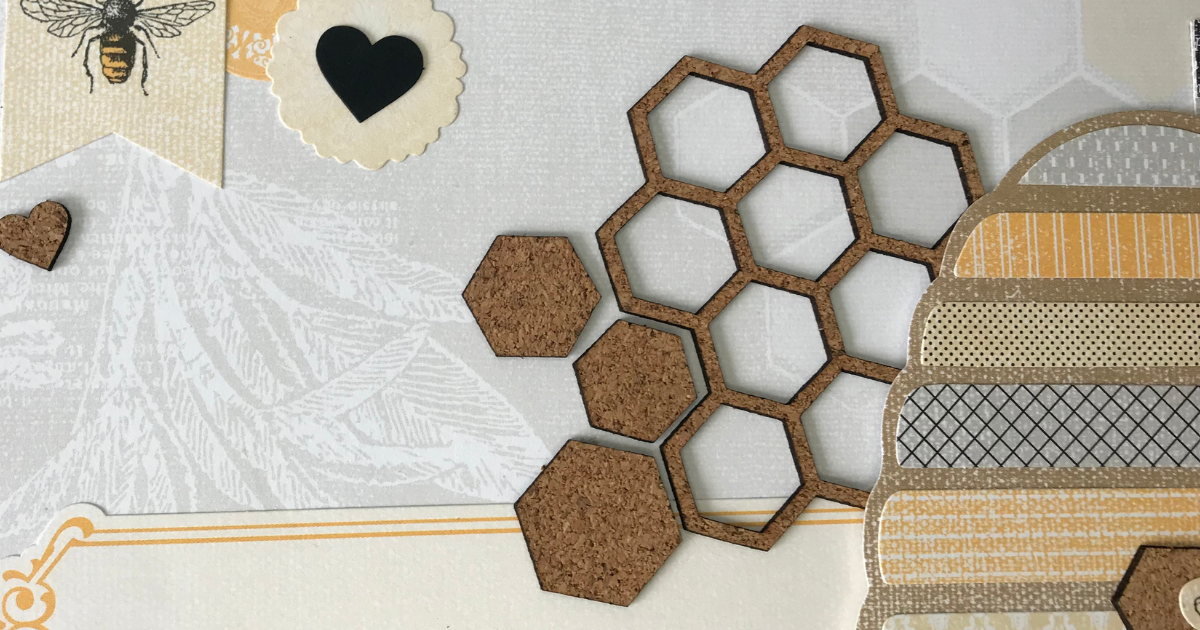 Who wants to have these scrapbook pages in your family scrapbook album? 
All you have to do is buy the Sweet as Honey Workshop Kit from Close To My Heart. I love the workshop kits because they always help me catch up on my scrapbooking. Everything is included in the kit to create the pages just add glue, a paper trimmer and ruler. 
The kit can be purchased with or without page protectors. The page protectors are top notch and I love completing my pages and sliding them in. 
For me I'm going to be using these family scrapbook layouts for our photos at the sunflower fields. Bees and sunflowers are a perfect match. 
Even if you don't purchase the kit, I hope you take these design ideas as inspiration the next time you create a family scrapbook page.