10 Fun and Simple Scrapbook Layouts | Easy Ideas To Use Now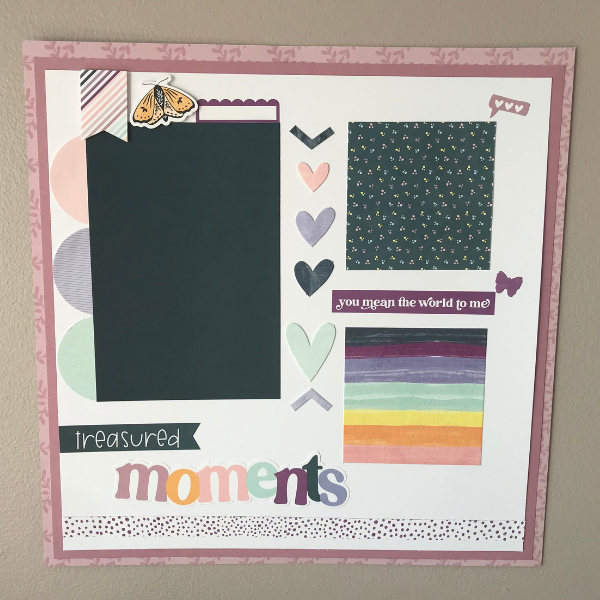 As a Close To My Heart Maker, I'm an independent consultant and may earn a commission when you buy products through my links and my shop (at no cost to you). All thougths and opinions of the products are my own.
Who's ready to be inspired to create some fun and simple scrapbook layouts? If you are an experienced scrapbooker or a beginner, these designs are just fun and easy to create. All of these page layouts are the kind that you can use over and over again in your scrapbooking. It's amazing how basic shapes come together to make creative, fun, and simple layouts. 
For all of these layouts I'm using Close To My Heart paper and card stock. I love the colors and the themed collections that they have.
Scrapbook Paper Used
Smitten
Happiest Place
In This Together
Mix-in Paper
Sawyer
Card Stock
All of these layouts and ideas are created using a paper trimmer, stickers, and embellishments. So if you have the basics or are looking for some basic scrapbooking supplies you can make these easy layouts. 
My other favorite thing about all of these layout designs is that they can be used for so many topics and themes. Honestly these fun ideas are for all ages and stages of life. They would be perfect for pets, kids or adventures full of fun. 
10 Fun and Simple Scrapbook Layouts
#1: Stay Home
 Scrapbook Page Idea 
How cute is this one? Use a patterned paper as the base and a complimentary patterned paper on top in the center of the paper. Add larger mats for the 3×4 photos and a title in the corner. Covid is a time in our lives we will never forget and this cute scrapbook paper makes it all feel better. Plus did you ever think you would be adding a toilet paper sticker to a scrapbook layout. 
#2 Miss Your Face
 Layout 
I love the colors of this paper collection because purple is my favorite color. Besides the mask paper, the rest of the paper is perfect for so many scrapbook page titles. If you love purple like me, then you will want this collection. The stickers are a really cute addition to the matching paper for a fun scrapbook idea. Also so many of the stickers can be used for non-Covid pages too. Remember I said fun and simple layouts well this one uses different size rectangles of a great look that you can recreate over and over again. 
#3: Mix In Paper
Use a patterned paper as a base that matches your photos and then add coordinating strips of paper across the top. Then I had a few scrap rectangles left over from my couples scrapbook page ideas and added them to the side of the phots. Add in a few stickers for embellishments and the page is complete.
#4: I Adore You
Both of these fun scrapbook layouts are available in the Smitten Workshop Guide that gives you all the measurements of how to create pages. It's free to download, but grab a set of the paper too because it's too cute to resist. 
The I adore you layout is perfect for anything you adore! It's so cute with all the different patterns of paper. A fun and easy way to embellish any page is with pop dots.
#5: I Only Have Eyes for You
The I only have eyes for you layout has cute banners and pennants in a mix of card stock and patterned paper. I had to change up this layout because I didn't notice that I had a paper cut and bled a little on my paper. Don't you hate when that happens? I covered up my oops at the bottom with some pennants. 
I always love the CTMH Valentines Paper Collection because its never in your face Valentines themed, but is subtle about love and friendship. This makes the paper very easy to use and for all year. The catch is its only available while supplies last, so grab yours today before it's gone. 
#6: You and Me
I keep all of my paper collections together which makes creating simple scrapbook layouts from the scraps so easy. Just be creative and see how the pieces come together in a design. That's how I created the you and me simple layout. 

#7: Be Mine
Sometimes patterned paper can be overwhelming so when you want to create a scrapbook page with patterned paper as the base make it clean and classic with a minimal design. Just add photos, a few paper strips, a spice for journaling and some stickers. It's a fun and simple scrapbook layout that is classic and easy to recreated for everything. The cool thing about using simple scrapbook pages is that they always look different because of the photos, paper and embellishments used. 
#8: Memories
Using white daisy card stock, add on a rectangle with a square in the center to put the photos on and a fun zip strip. Add on stickers from the matching sticker page and add journaling strips to complete the page. The patterned paper is from the Happiest Place Paper Collection. 
#9: Treasured Moments
A simple layout with 3 layered squares on top of each other. Add a small strip at the bottom of the white space for added color. You can either do two photos and a journal space or 3 photos and add journal strips. All stickers and die cuts are part of the Sawyer collection. 
#10: Best Friends
I don't normally do one page layouts, but sometimes it's a good idea for a favorite photo. This best friend layout is very simple and easy, it's just like the simple family layout I created with my Cricut. However this one doesn't require a Cricut, just a paper trimer and the Sawyer sticker sheet. 
Are you inspired to design some fun and simple pages or copy these? Don't just have digital images, but print them and create a wonderful scrapbook full of your memories. These are perfect for beginners because of the easy shapes used and to make it even easier, buy paper collections (like CTMH) because everything is matched for you.