Lucky Me | St. Patrick's Day Scrapbook Layout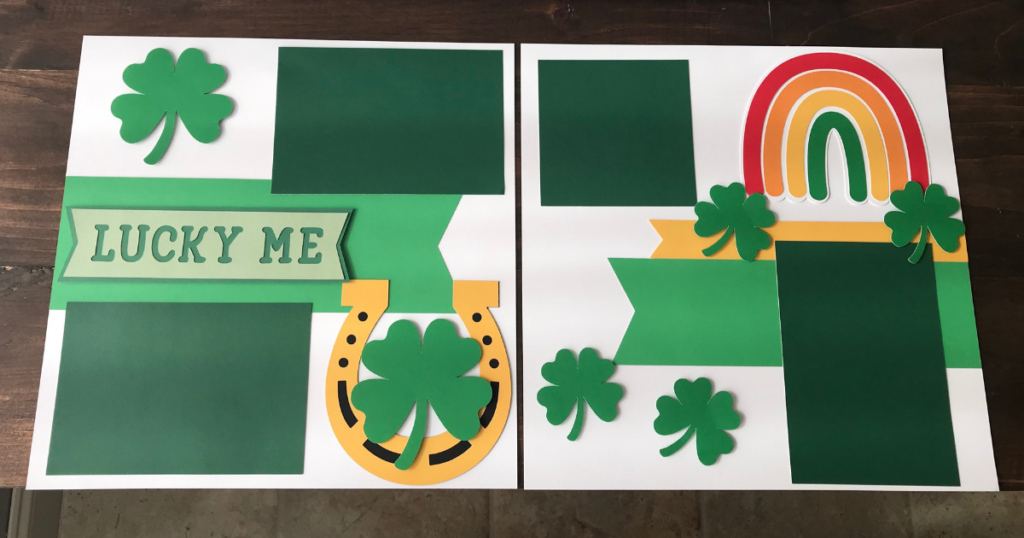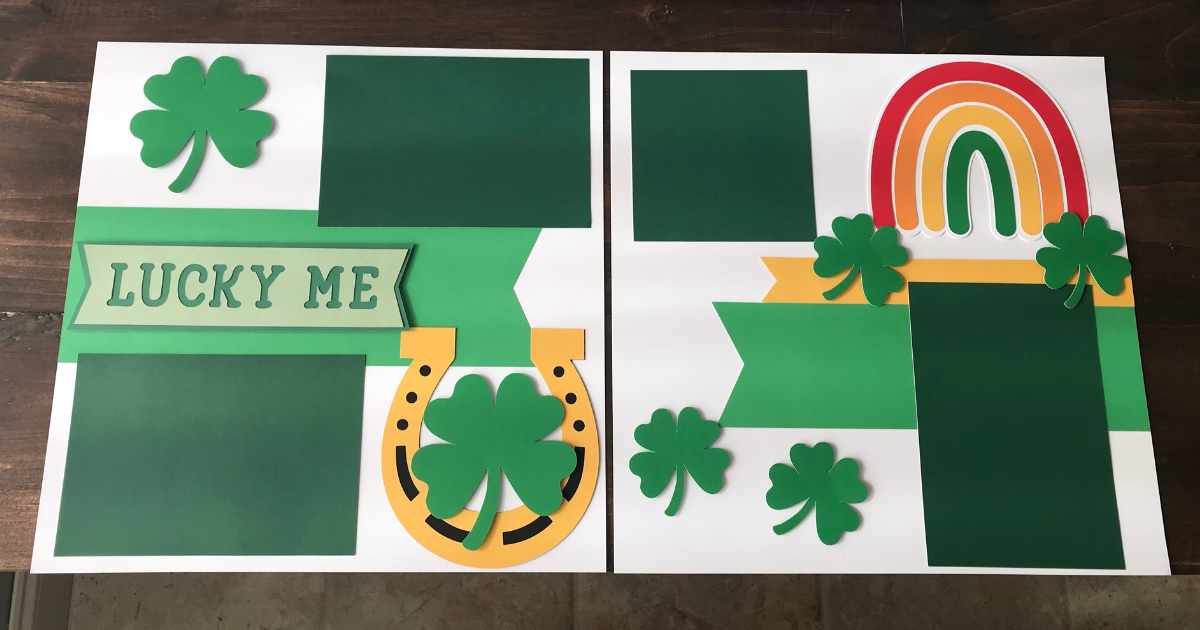 Note: As an Amazon Associate, I earn from qualifying purchases. If you click on a link from Amazon or another of my advertising affliates, I will earn a small commission at no additional cost to you. Please see my full disclosure policy here.
Do you ever stop and think how lucky you are in your life? Take all the small things that make you feel lucky and your list will wow you. Lucky me scrapbook page is perfect for St. Patrick's Day or anytime when you want to celebrate what makes you feel lucky. Just think of a moment when feeling lucky filled your heart and use this scrapbook page to celebrate that memory. Create this Luck Me St. Patrick's day scrapbook layout, but remember it can be used for so much more than that day. It would be perfect for a trip to Ireland too.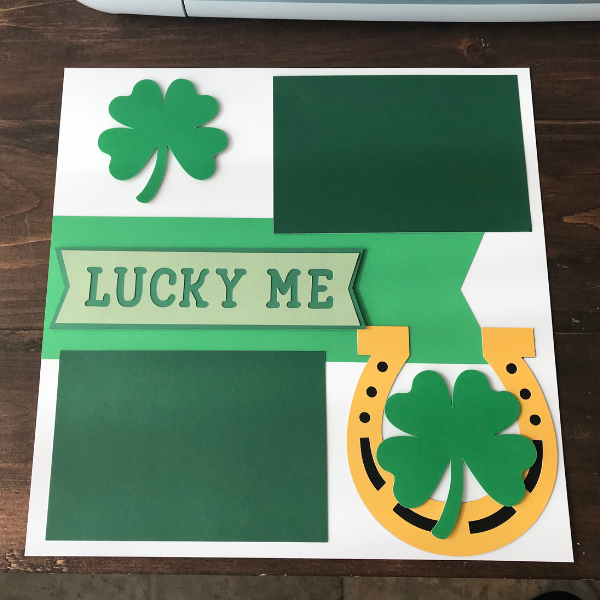 I created this page using my Cricut Maker 3 and a scrapbook template from Close To My Heart, but the images on this page can easily be recreated with stickers, die cuts, or stamps.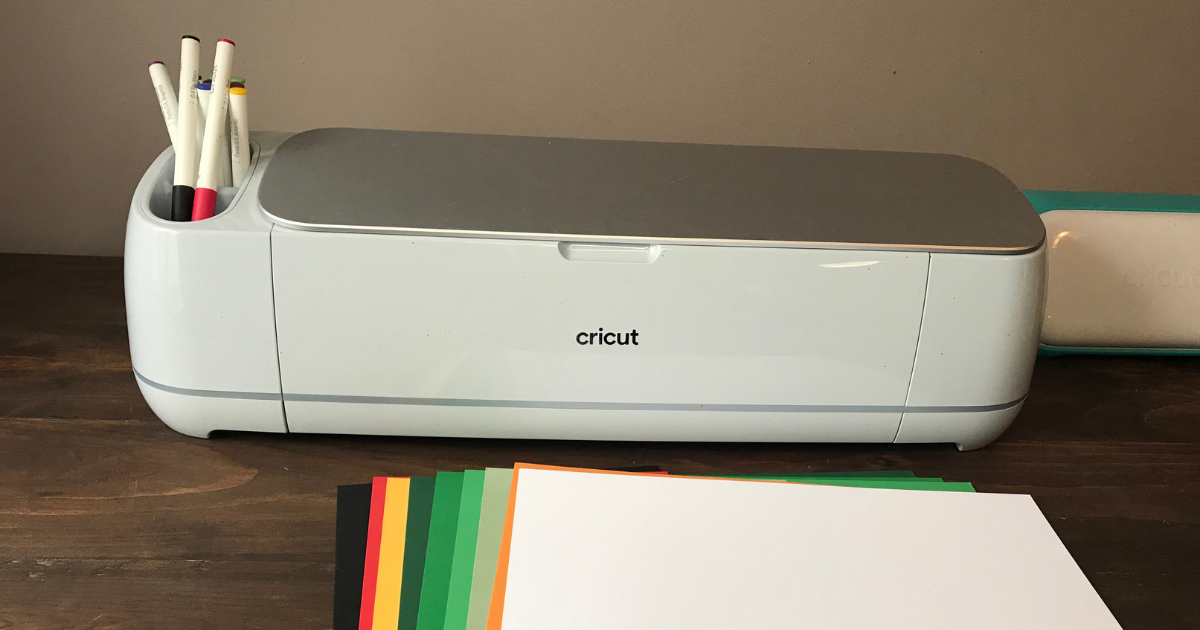 Lucky Me Scrapbook Page Materials

 
CTMH Flower Market- Lucky Me, Shamrock
CTMH Artistry- Horseshoe 
Sawyer Digital Art Collection– Rainbow
Pumpkin Spice DIgital Art– Hello Pumpkin Layout 
Card Stock: Canary, Clover, Evergreen, Black, White Daisy, Candy Apple, Nectarine, Sage 
Cricut Maker 3 
Cricut Brayer 
Scrapbook Template SVG for the St. Patrick's Day Layout

 
The base of this St. Patrick's Day layout uses the Close To My Heart Pumpkin Spice Digital Image set and the hello pumpkin layout. Start by purchasing the digital image set. I love the CTMH digital image sets because they can be used with any cutting machine that uses svg and they have several images in each set. Also you can take the images from the scrapbook pages and create new projects. For example I took the poinsettia from the Complete Creativity collection and created Christmas Gift Tags with them. 
To learn more about the CTMH digital image sets, I share how to purchase and use them in my cutest svg files for paper crafts. These can be used for so much more than scrapbooking, you can make cards, gift tags, and table decor (just a few ideas).
Creating the St. Patrick's Scrapbook Page in Cricut Design Space

 
Open Cricut Design Space and upload the hello pumpkin layout from the Pumpkin Spice collection. Ungroup the scrapbook template and delete the leaf overlay, leaves and the page title. 
Your scrapbook page will look like this.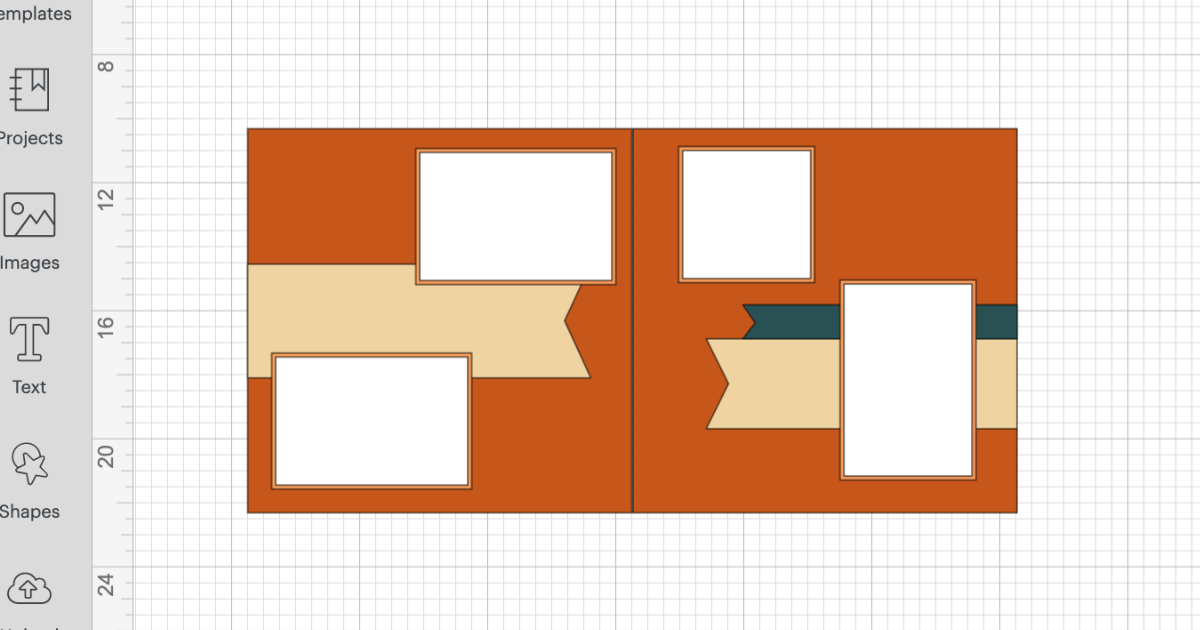 Start by changing the base paper to white and the photo mats to dark green. Change the banners to a clover green and the top small banner yellow.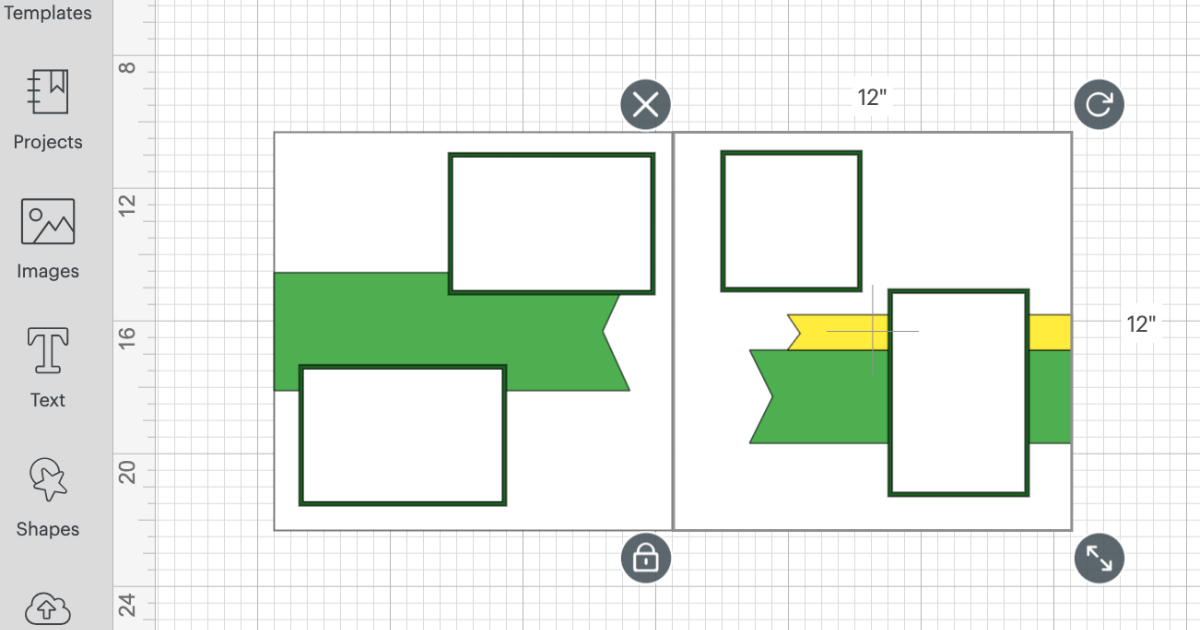 Now it's time to start decorating the page. I added in the rainbow from the Candid Moments digital image set and found the other designs in the Close To My Heart Flower Market and Artistry set.
If you have a Cricut Access membership the CTMH Flower Market and Artistry are apart of it and all the images are free. Before you go to cut the design, hide the base layer and all the photo mats. You can cut the white photo mats if you like, but I choose not too.
When the page design is done, hit Make it. Follow the directions in Design Space and cut the images. I like to cut the CTMH card stock with more pressure on medium card stock.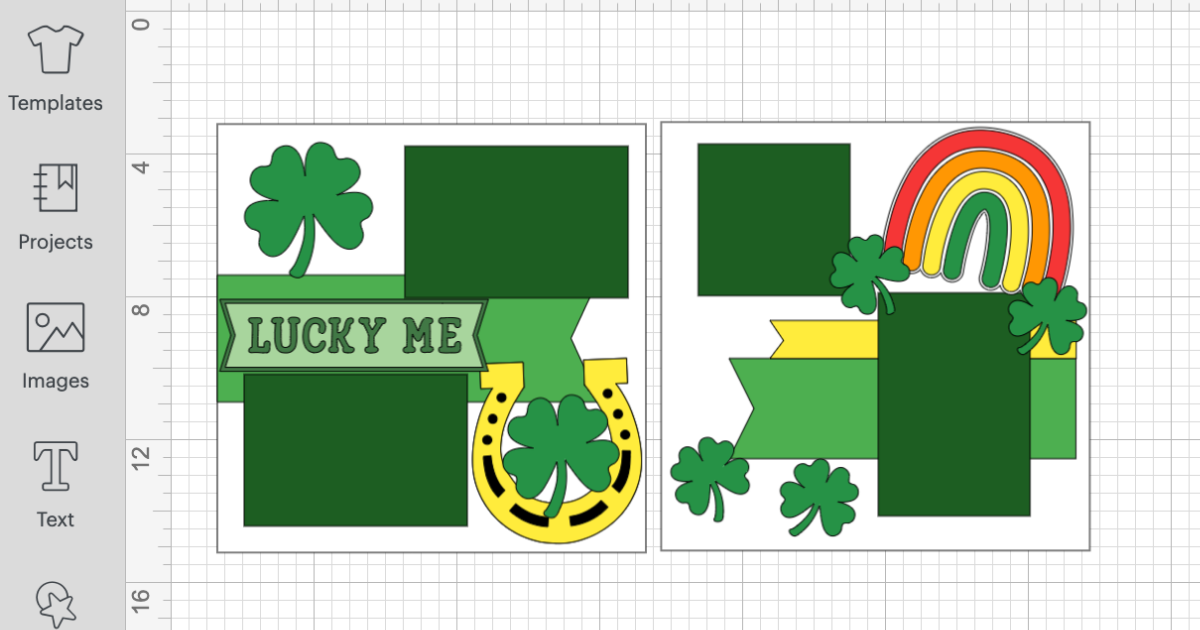 St. Patrick's Day Scrapbook Layout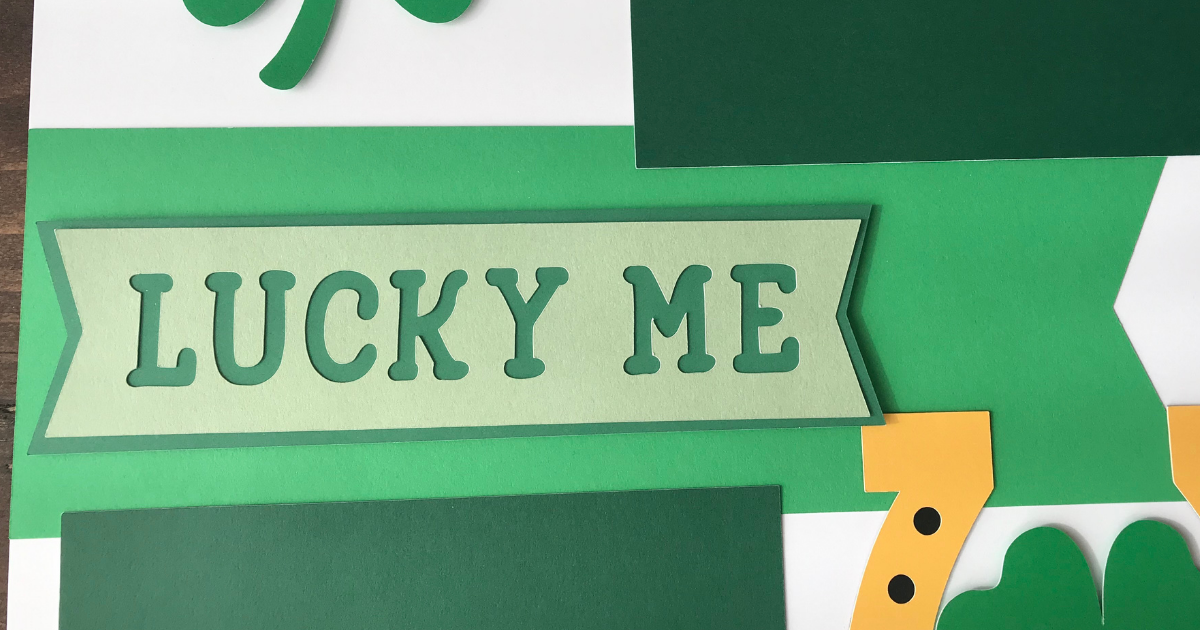 The St. Patrick's scrapbook page holds three 4×6 and one 4×4. 
To put the page together start by glueing the images together so all the pieces are ready to create the scrapbook page.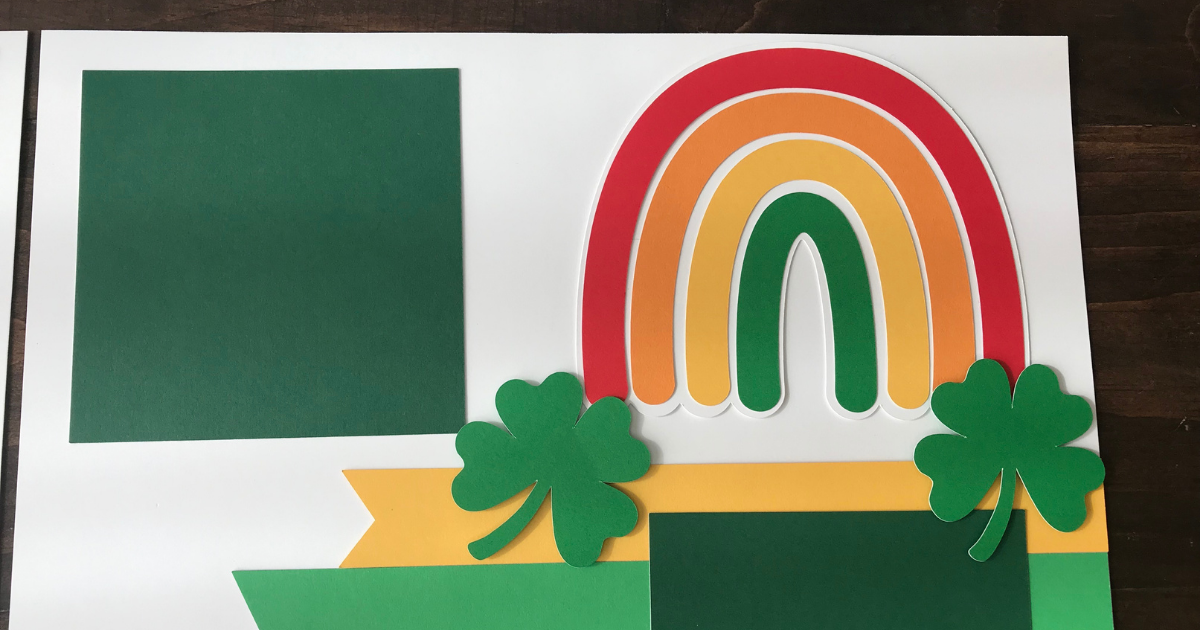 Begin by placing the images on the page to see how it looks. Glue the bottom images first and then add the layers on top. 
Use 3D foam for depth and dimension. It works great for layering on scrapbook pages.